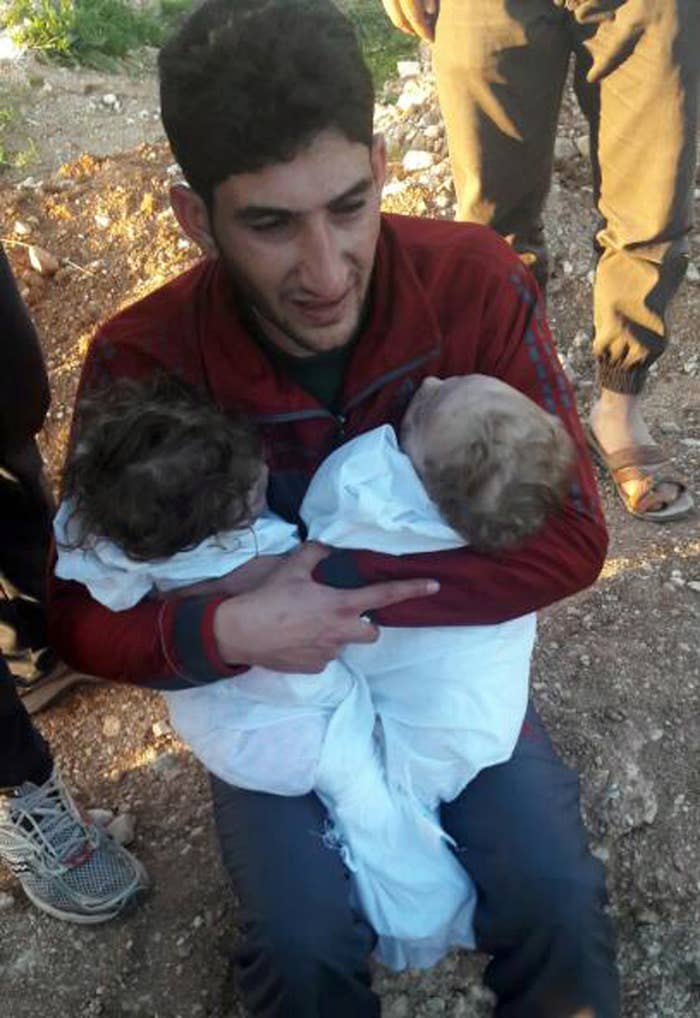 Abdel Hameed Alyousef lost both his children and his wife in the suspected chemical attack on the small Syrian town of Khan Sheikhoun in Idlib province earlier this week.
Alyousef's 9-month-old twins Aya and Ahmed and his wife Dalal were among the 72 people who were killed following reports of repeated airstrikes on the town on Tuesday.
Pictures of Alyousef desperately cradling the bodies of his lifeless children have been widely shared since they were published on Wednesday. On Thursday, a video posted online showed Alyousef grieving and in shock after he buried his children.
"My blonde baby, I will never leave you," he cries at the grave of his twins. Alyousef's friends and family try to pick him up and carry him from the cemetery.

In an interview with a local journalist, the 29-year-old shopkeeper described leaving the house with his wife and children on the day of the attack. But he told them to go back as they started to sense a "nasty smell."

"I was right beside them and I carried them outside the house with their mother," he told the Associated Press. "They were conscious at first, but 10 minutes later we could smell the odor."
Alyousef, who in the video can be seen having trouble breathing, went back into the town to help rescue other members of the family. "People were falling down on the road and I didn't know the reason," he said, describing being affected by the gas himself.
By the time he had got back to his wife and children, they were dead. "God wanted them by his side," Alyousef said. "I couldn't save anyone. They're all dead now."
"I saw Ahmed and Aya and I carried them close to my heart," he said. "I took Ahmed and Aya and buried them with my siblings. I buried my own children."
The video, taken by Alyousef's cousin Alaa, has been widely shared. "Abdel Hameed is in very bad shape," Alaa told the AP, saying he was being treated for exposure to the gas. "But he's especially broken down over his massive loss."