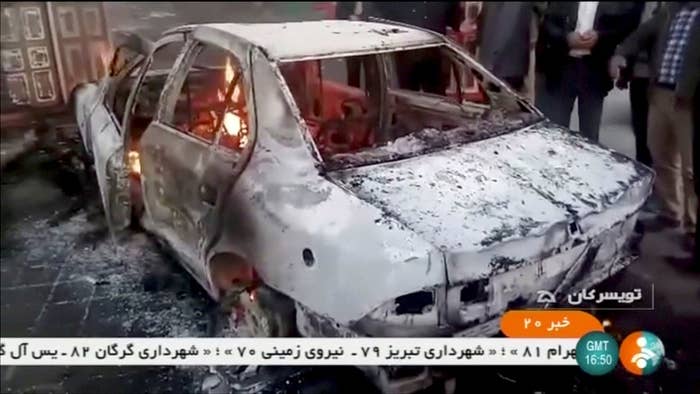 Raucous anti-government rallies swept across Iran for a sixth day Tuesday, as the country's supreme leader derided a burgeoning protest movement as agents of foreign enemies and US President Donald Trump voiced support for the demonstrators.
Clashes between protesters and security forces have already claimed at last 20 lives. As night fell, protesters — enraged by economic troubles and political repression — headed into the streets to face off against black-clad riot police on motorcycles and plainclothes militiamen, with more violence expected.
The protests have erupted in more than a dozen cities and towns. In Tabriz, protesters set off sound bombs. In Khomeini-Shahr, they torched an Islamic seminary, a symbol of the country's clerical leadership. And in Hamadan they called out against Supreme Leader Ali Khamenei as they marched through the streets. "Khamenei is a murder. His leadership is expired," they chanted, according unverified video footage posted online.
Trump praised the demonstrations in a tweet on Tuesday morning. "The people of Iran are finally acting against the brutal and corrupt Iranian regime," he wrote on Twitter, apparently unaware of 1999, 2003, and 2009 anti-government protests that drew tens or hundreds of thousands into the streets.

Nikki Haley, the US Ambassador to the United Nations, called on Tuesday for emergency sessions of the UN Security Council and Human Rights Council on Iran.

And White House press secretary Sarah Sanders said the "Iranian regime spends people's wealth on terror" and that "the Iranian people are rising at the rising tide of corruption in their daily lives. The people are tired of paying the price for their corrupt rulers. As a result we are seeing an organic popular uprising organized by brave Iranian citizens on the largest scale since 2009."
"The United States supports the Iranian people and we call in the regime to respect its citizens basic right to peacefully express their desire for change," she added.
When asked if Iran's handling of the protests would lead to sanctions, Sanders said Trump is keeping his options open.
Protesters have called for nighttime demonstrations throughout the country, and for larger rallies on Friday night, according to announcements circulated on social media channels.
Iran's government has restricted social media platforms such as Instagram and Telegram, and on Tuesday the Trump administration called for that to stop.
U.S. Undersecretary of State Steve Goldstein said the US wants Iran to "open these sites" and called them "legitimate avenues for communication."
Goldstein said the US wants to "encourage the protesters to continue to fight for what's right."
Haley added, "We must not be silent. The people of Iran are crying out for freedom. All freedom loving people must stand with their cause."
Shortly before Trump's comments, Khamenei made his first remarks about the uprising, blaming "enemies" of the country — presumably the US, Saudi Arabia, and Israel — for the recent unrest.
"In recent days, enemies of Iran used different tools including cash, weapons, politics and intelligence services to create troubles for the Islamic Republic," said Khamenei, whose powers exceed those of the elected president, Hassan Rouhani.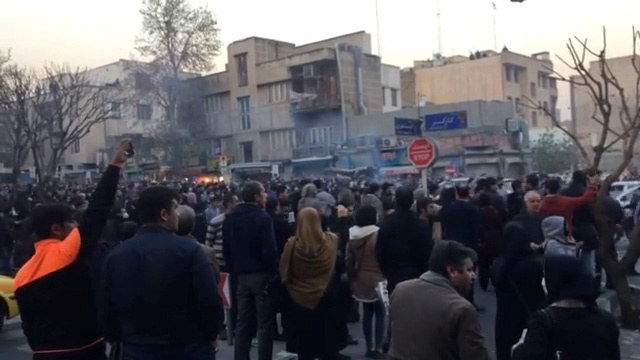 Rouhani had called on security forces to exercise restraint. But reports of violence were escalating. The state radio channel reported that six "rioters" were killed by police after they attempted "to seize the police armory" of Qahdarijan, in Esfahan province, overnight. Three police officers were also injured in the violence, the agency reported. Three officers were reported to have been wounded, and one man died, in a burst of shooting in Najafabad, near Isfahan.
A member of the Revolutionary Guard was also fatally injured in Kahrizsang, according to state media.
In comments on Sunday and Monday, Rouhani had promised to address people's concerns about the economy and lack of freedoms, defending the right to peaceful protest. But on the ground, security forces implemented a vast crackdown, with photos showing anti-riot vehicles equipped with water cannons making their way into cities, and videos crackling with the sound of tear gas canisters being fired at chaotic protests. Tehran province's deputy governor-general, Ali Asghar Naserbakht, said about 200 people were arrested on Saturday, 150 on Sunday, and 100 on Monday.
Hundreds more people have reportedly been arrested in other cities across Iran after protests broke out in Mashhad on Thursday, according to state news agencies and social media postings.
While the original protests appeared to be centered on the country's dire economic problems, in the past five days the tone of the demonstrations has shifted, with people calling for regime change in what some commentators are characterizing as the most serious threat to Iran's leadership in a decade.
Many of those protesting appear young and unconnected to the educated, politically connected middle-class who poured into the streets to challenge the reelection of hardliner Mahmoud Ahmadinejad in 2009. Deputy Interior Minister Hossein Zolfaghari said 90% of those detained in Tehran were younger than 25.
While a debate rages in Washington over how much or how little the US should do to support the protesters, Iranian officials have demanded the US stay out of it. Prior to Trump's latest tweet, Iran's Foreign Ministry spokesperson Bahram Qassemi condemned the US president's previous "absurd and insulting" comments.
"He should pay attention to domestic affairs and issues in his own country ... instead of writing absurd and insulting tweets about other nations and countries," Qassemi was quoted as saying by the semiofficial ISNA news agency.
Tweeting about Iran last week, Trump again blamed his predecessor, Barack Obama, for botching the country's relationship with Iran, referencing the nuclear deal, and warning that the US would be looking for any human rights violations.