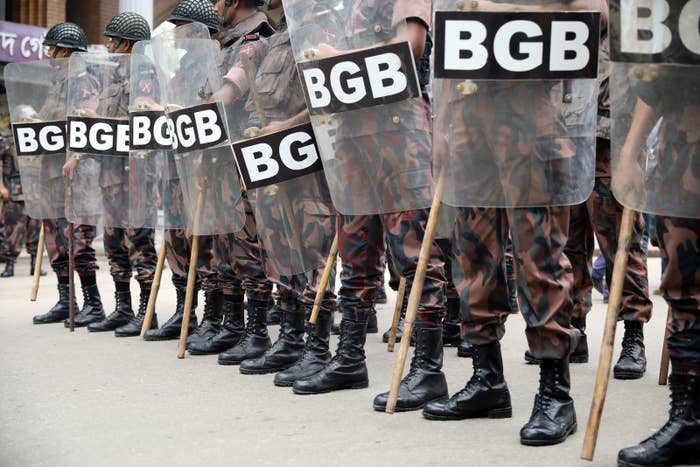 Huge anti-government protests in Bangladesh that lasted more than a week have come to an end after the authorities cracked down on student demonstrations both online and on the streets, with dozens of people detained, journalists attacked, and photographers arrested for speaking out.
Students who had been part of the demonstrations told BuzzFeed News they were terrified of arrest following the protests and were deleting any messages of support they'd posted online, while a photojournalist who was badly injured covering the demonstrations described the situation as chaos and said anyone with a camera had become a target.
Much of this fear rests on a loosely worded law passed in Bangladesh 12 years ago — widely referred to as Section 57 — that allows for the prosecution of anyone posting material online that the authorities determine could "deprave and corrupt" its audience, cause a "deterioration in law and order," or prejudice "the image of the state or a person."
A critical Human Rights Watch report earlier this year labeled the law "draconian." And a 2018 Freedom House report, detailing freedom of speech, noted several activists and writers had been detained under the law, as "censorship of digital content and surveillance ... become increasingly common."
The students and the photojournalist BuzzFeed News spoke to referenced Section 57 as a major factor in the climate of fear: As a result, none were willing to be identified and only spoke on the condition of anonymity.
The protests were initially sparked by the deaths of two teenagers hit by an out-of-control bus but evolved into a huge street movement against government corruption, and saw thousands expressing their rage at the country's notoriously dangerous roads and ineffective authorities.

Protesters, many of them teenagers, marched along Dhaka's busiest roads for eight days, but the demonstrations were marred by allegations of violence. Videos and photos shared online purportedly showed members of the Bangladesh Chhatra League (BCL), a student political movement linked to the ruling Awami political party, attacking both students and journalists at the marches.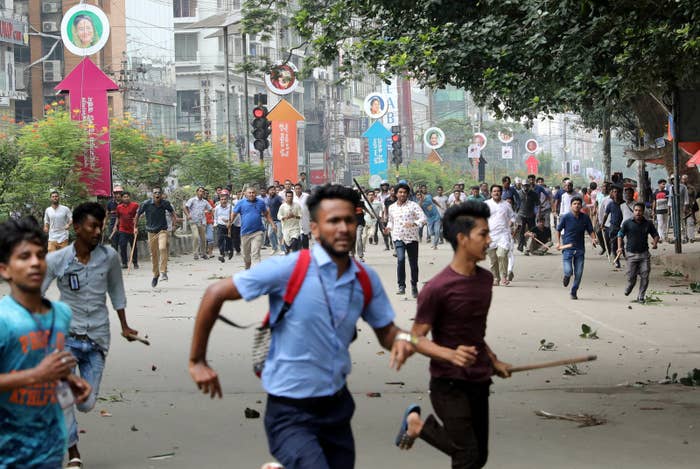 Rumors swirled that several students had been killed and four women raped at the protests. While a female journalist was reportedly molested, there is no evidence that any women were raped by anti-demonstration groups during the protests. But while both claims went viral, with social media accounts sharing images and similar messages, no one can substantiate them and there is no official record of any deaths or sexual assaults taking place.
"The situation here is insanely bad," Azwaad, a student who asked to be identified only by his first name because of fear of reprisals, told BuzzFeed News. "I'm very tense and scared."

The 19-year-old, who is finishing his studies before university, said via WhatsApp that he was among those protesting near Bashundhara Gate, a point along one of the main roads in Dhaka, on Monday when violence broke out. "Then pro-government goons (Chhatra league) started attacking us from one side of the road, and police officers started shooting at us; rubber bullets and real bullets, tear gas."
Azwaad said the protesters scattered, with some running for shelter in the university buildings nearby, but he ended up in a small building off to the side. When he made a break to escape, "they attacked us with bamboo sticks, [so] we all ran with our lives, got away with minor bruises."
In the aftermath of this violence, Bangladesh's Daily Star newspaper reported that although scores of students were arrested on Aug. 7 for charges including vandalism, no individuals linked to the ruling Awami party have been detained — or even questioned.
Speaking to the newspaper, an anonymous senior official at the Dhaka Metropolitan Police said: "Does any officer has the guts to file a case against ruling party activists unless a political decision comes to that end?"
Azwaad said a few of his friends were missing and "a lot of them are injured" after the demonstrations. "We are helpless and hopeless," he said. "The state is doing a great job on hiding the facts and covering it up with fiction."
He then shared a text message that he said he had received from Bangladesh's Ministry of Home Affairs.

The message read: "No students were killed or raped in the capital's Jigatola [a district in Dhaka]. The whole situation report by students were a hoax. Don't get distressed by such news. Please provide information about people spreading such rumours to the police."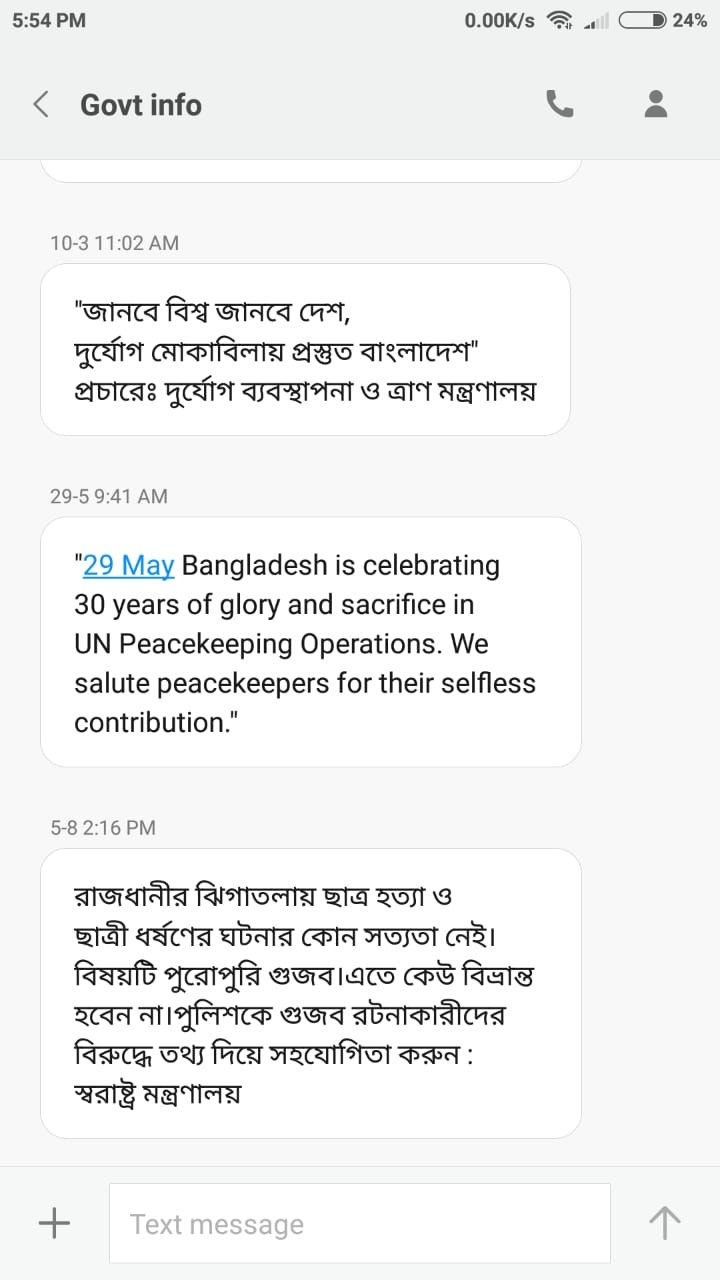 But the rumors have generated enough attention inside Bangladesh for BCL's general secretary, Golam Rabbani, in another interview with the Daily Star, to directly deny any claims of rape by his organization's members. "Some vested quarters spread rumors of rape and murder on Facebook. Those are absolutely fabricated," Rabbani told reporters on Sunday.
Rabbani's comment failed to halt the growing rage online, where fake news had been going viral, often under hashtags like #WeWantJustice.
Among the accounts pushing this information were often fan pages for BTS (a seven-member South Korean boy band) with tens of thousands of followers, who started tweeting about the protests on Aug. 2. The fans, who refer to themselves as "ARMYs," often tweet or share posts about global issues. Within days, a concerted move from these accounts saw them urging their followers to tweet about the situation in Bangladesh. Many of these tweets racked up tens of thousands of retweets, while on Instagram and Facebook the same videos and photos were screen-grabbed and shared repeatedly.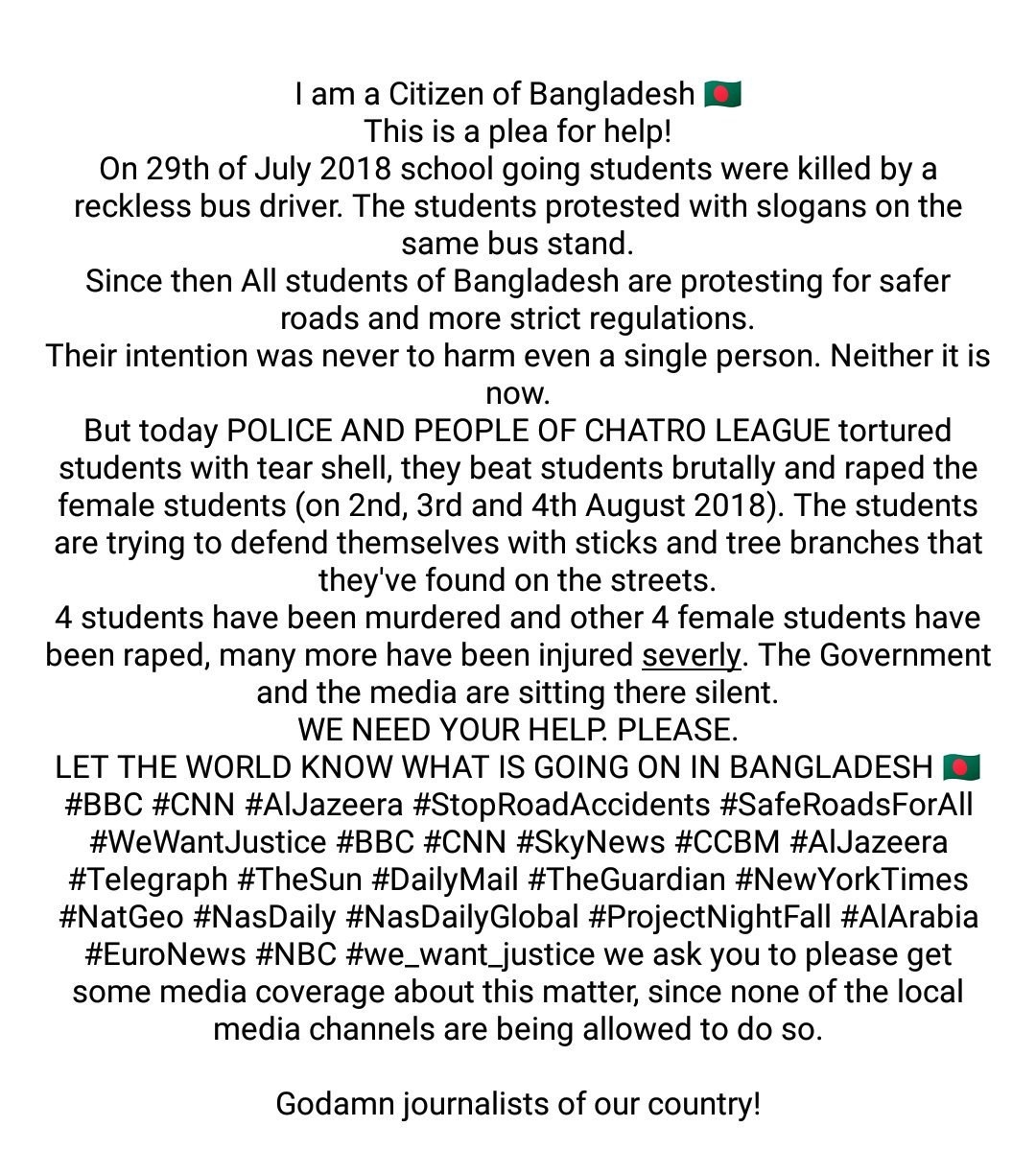 Frequently, the posts were encouraging accounts to share the news because supposedly international media outlets were not covering the story. (In fact, the BBC, the New York Times, CNN, the Guardian, and the Washington Post, among others, all covered the protests.)
In addition, accounts on Instagram and Twitter were flooding the inboxes of reporters and news organizations' social platforms with DMs about the students' treatment and the actions of counterprotesters. These messages often followed a similar pattern.
In the case of many of the accounts contacted by BuzzFeed News, the individuals behind them were not in Bangladesh. Repeatedly, they urged reporters to pay attention to what was happening in Dhaka, citing the alleged killings and rapes, but were unable to specify where they had first heard these rumors.
A 21-year-old student who is studying at Ahsanullah University of Science and Technology in Dhaka and didn't want to be named told BuzzFeed News that "it's so hard to trust anything right now."
"The government is using the media to telecast false news by saying whatever is happening is not true and is putting the blame on other opposition parties," she said. The student said there would be no more protests, and claimed "the government is also tracking down people who are sharing the posts and events and arresting them."
"All I'm getting is call from all of my friends saying to delete everything," she added.
While there have been only a small number of student arrests reported by local media, the arrest of the acclaimed photojournalist Shahidul Alam on Sunday made international headlines.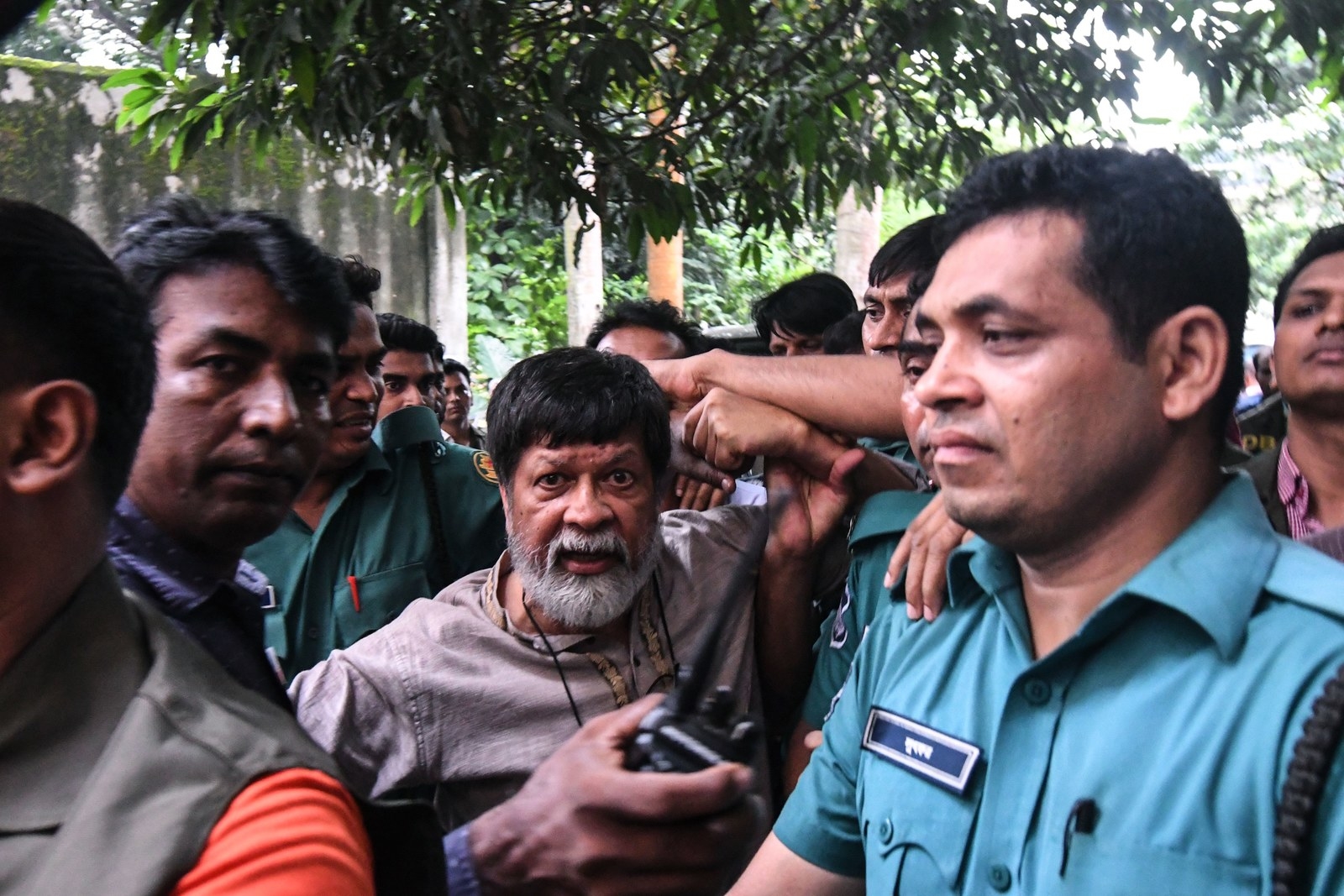 He was charged with making "provocative comments" under Section 57 of the Information and Communication Technology Act after an interview with Al Jazeera, and his arrest was condemned internationally. When Alam appeared in court on Aug. 8, he told observers he had been tortured, before he was briefly transferred to the hospital and then returned to police custody. Reporters without Borders (also known as Reporters Sans Frontières, or RSF) called it a "dark day for press freedom."
RSF reported that at least 23 journalists had been attacked on Dhaka's streets while covering the protests last Sunday.

Among them was a freelance photojournalist who spoke to BuzzFeed News from his home in Dhaka as he recovered from blows to his leg, which have rendered him unable to move. Speaking on condition of anonymity, he said the situation was calm now — but he was shocked by what he had witnessed while trying to cover the protests.
"Even working in a warzone, there are some kind of protocols, there are some kind of rules. But here they were targeting the journalists or anyone with any camera, who was trying to take pictures," he said over WhatsApp.
The photojournalist (who has worked around the world) described how the protests had been fairly restrained until late Monday evening. He was aware of a number of students, BCL members, and police in the crowd when the mood changed. "At that very moment I realised that I was the only photojournalist who was there and working for international media because all EPA, AFP, Reuters, AP, all of them were gone at that time," he wrote. "There were only some local medias."
Suddenly, he said, the crowd turned on those with cameras: "I got so lucky, there were two guys, one kicked me, one hit me with a wooden log. I got hurt on my leg, some ligament issues and some pain and shock. I cannot walk properly right now."
"Many of my colleagues got hurt, and severely injured," he said.
He repeatedly expressed worry about what could happen next. "There is an added layer of surveillance that has already started and maybe they are tracking down some people, activists or photojournalists, who are trying to contact international media.
"The situation is in complete chaos. At this moment I am in my house, but then again, you never know."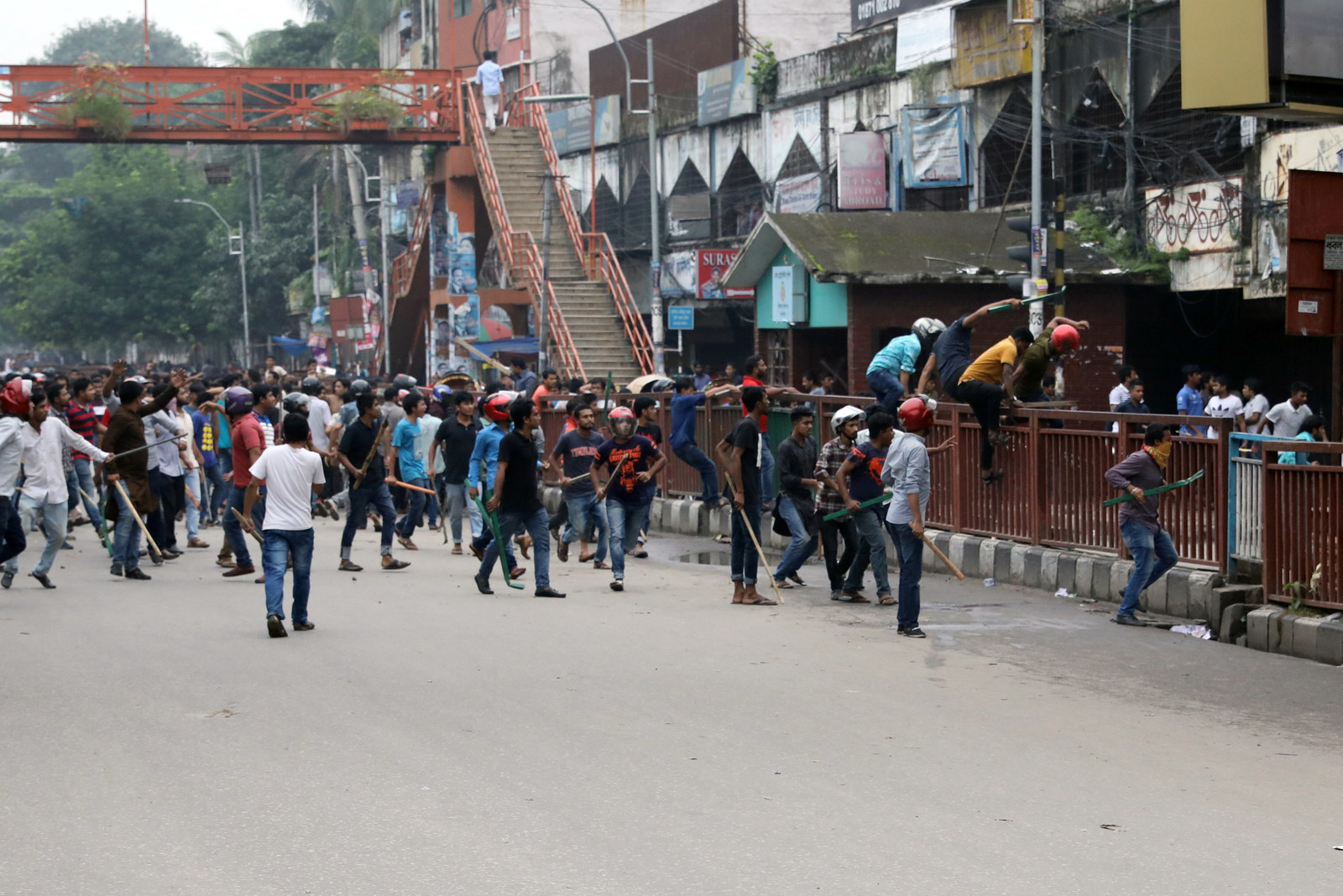 The sense of unease was reinforced by other students.
"We need people to know what is real and not just any hoax," Noor, a 17-year-old student who asked to be identified only by her first name, told BuzzFeed News via Instagram direct message.
By Wednesday, when the protests had died down, she confirmed that things were quiet in Dhaka. "Everyone seems to have given up," she said, "the students aren't protesting anymore. No one came to help. Everything went in vain."
"We figured that there is not a point in fighting against our government."
Noor — who had not marched herself — said she was worried about being identified as supporting the demonstrators after she posted pro-demonstration messages on her Instagram and Facebook.
"People are getting arrested for explaining our conditions," she said. "We have all stopped posting about the protests as we have all lost hope for now and don't want more lives to be lost. And things were getting scary for people who were posting."
The government's actions meant Noor was now frantically scrubbing her social media accounts, "I brought down everything I had posted."
"An atmosphere of fear escalated with [a] few arrests are enough for everyone to bring down their posts," she said. "Freedom of speech is dead."