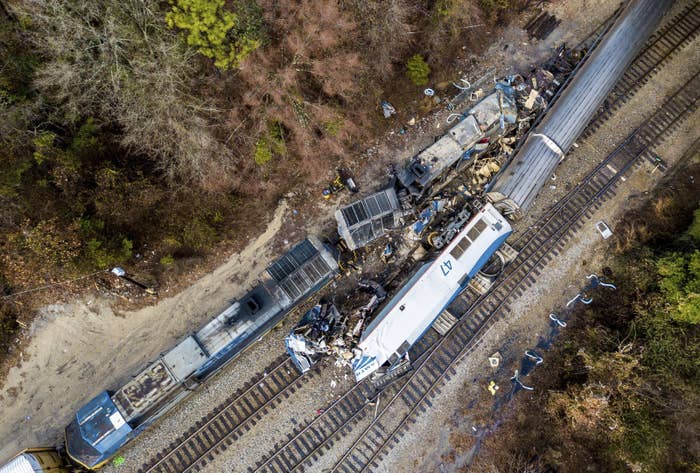 Two people have died and at least 100 others were injured after an Amtrak train traveling between New York and Miami collided with a freight train in South Carolina early Sunday morning.
Train 91 was carrying approximately 147 people, including eight crew members, when it crashed at around 2:35 a.m., according to a statement issued to BuzzFeed News from Amtrak. The two killed were both Amtrak employees.
"Amtrak is working to take care of everyone who was on the train, including family members of our passengers and crew," a spokesperson said in a statement Sunday afternoon.
County coroner Margaret Fisher confirmed two people had died in the collision, later naming them as 54-year-old engineer Michael Kempf, of Savannah, Georgia, and a train conductor, Michael Cella, 36, of Orange Park, Florida.
Lexington County spokesman Harrison Cahill said that 116 people had been injured in the crash, revising the initial count of 70 released by the Lexington Sheriff's Department on Twitter Sunday.
"We have anything from small scratches and bumps to more severe broken bones. They run the gamut," Cahill said during a press conference early Sunday morning.
A spokesperson for Amtrak said both the lead engine and several passenger cars had derailed.
South Carolina Governor Henry McMaster, speaking at a press conference midday Sunday, said: "It appears that the Amtrak was on the wrong track."
The Amtrak seemingly crashed into the freight train, parked on a loading track.
"They weren't supposed to be meeting right there by the bridge, clearly," McMaster told the conference. "And it may be a time factor, but that's what it appears to me. But I defer to those who are experts in that and do have the correct information, but it appears that Amtrak was on the wrong track."

The National Transportation Safety Board will investigate the crash, the Associated Press reported, alongside the Federal Railroad Administration, with Amtrak spokespeople saying the company will cooperate fully with all investigations.

Earlier, captain Adam Myrick, of the Lexington County Sheriff's Department, said officers were on the scene, working closely with the Red Cross and state troopers.
"We have transported those who are not injured to our reception site. We know that they are shaken up quite a bit. This is unlike anything they have ever been through," he said.
"Our hearts are with those families right now," Myrick said of the fatalities. "Our focus is on the passengers on that train."
Red Cross spokesperson Cuthbert Langley said around a dozen volunteers were either already present or making their way across the state to assist on Sunday.
"The Red Cross will be here for as long as needed. We are going to step in any way that we are asked to help," he said. "Obviously, today is a tragedy."
President Donald Trump also said his thoughts and prayers were with the victims.

On social media, some Amtrak passengers shared images of the aftermath of the collision. One man, Derek Pattaway, said he and a companion had been on board when the incident occurred, telling CNN: "No one was panicking. I think most people were asleep. I think people were more in shock."

Earlier, he wrote on Instagram: "Prayers and thoughts with the injured."
All passengers have now been removed from the Amtrak train, the South Carolina Emergency Management Division said in a statement, and a reception center has been established at Pine Ridge Middle School, according to Lexington County officials.
"Passengers who were not transported to local area hospitals with injuries were transported to a nearby shelter," Lexington County also confirmed.

In an earlier statement, the Red Cross confirmed it was "working closely with first responders and other partners to determine needs."
It is unclear how many people were on board the CSX freight train at the time of the collision.

Speaking at the press conference, officials also said that roughly 5,000 gallons (22,000 liters) of fuel had been split in the collision. However, there was no threat to the public and national authorities were working on the leak.
The crash comes only four days after another Amtrak train, carrying Republican politicians, crashed into a garbage truck in West Virginia. One person was killed in the collision.

This is a developing story. Check back here or follow @BuzzFeedNews for updates.

CORRECTION
The Red Cross reception center was established at Pine Ridge Middle School. An earlier version of this post misidentified it as an elementary school.