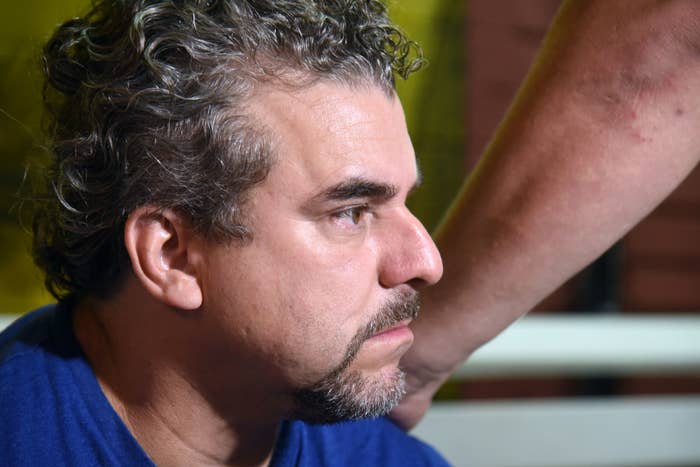 Woman across Paraguay are reacting with shock and fury after a young woman was murdered in the cell of a Brazilian crime lord, in an apparent attempt to prevent himself from being deported.

Lidia Meza Burgos, 18, was found in the cell of Marcelo "Piloto" Pinheiro on Nov. 17 in the Paraguayan capital, Asunción. She had been repeatedly beaten and stabbed with a kitchen knife, authorities said.

The details around why the teenager was there remain unclear. Local news organization UltimoHora reported it was the second time she had visited the cartel boss, who faces 26 years in jail in Brazil on charges of homicide, arms smuggling, robbery, and drug trafficking.
When guards at riot police barracks in Asunción, where Pinheiro has been kept since he was arrested last December following six years on the run, found Meza she was immediately taken to the hospital. However, doctors pronounced her dead on arrival.

Her father, Francisco, said the family had been living in Argentina but had moved back to Paraguay and that his daughter had most recently been caring for a 90-year-old woman.

In the aftermath of her death, women in Paraguay are calling for justice and a proper investigation into Meza's murder. Many of the calls came through social media, rallied around the hashtag #JusticiaParaLidia.
Many women tweeted "We are all Lidia" in solidarity with the murdered teen.

Paraguayan TV presenter Mercedes Barriocanal noted that Meza was seemingly used as "bait," and that it was a brutal reminder of how little women are valued in the country.
Paraguay only specifically criminalized violence against women, as well as femicide, earlier this year, after vocal calls from South American women, echoing the #MeToo movement with #YoTeCreo (I believe you).

There were 49 femicides and 13,491 incidents of gender-based violence against women in 2018, according to Paraguay's department for women — the highest ever recorded. Across South America, a 2017 report found on average 12 women were killed by their partners every single day.
Local TV station ABC Color reported that the killing was carefully planned and that guards heard Meza's cries for help but did not intervene.

In a strange twist, a New York Times journalist interviewed Pinheiro on the day of Meza's murder, with the crime lord's lawyer present. After he the journalist left, Meza entered Pinheiro's's cell at around 12:30 p.m. local time, according to UltimaHora.

In the aftermath of her death, Pinheiro's lawyer immediately called for his client to face murder charges in Paraguay, rather than Brazil, and stay in the country.

Paraguay is known for offering wealthy inmates "VIP" cells in exchange for bribes. Asked by a reporter why he wanted to remain in the country at the beginning of November, Pinheiro responded, "Paraguay is a country of corruption, of impunity."

However, Paraguay's president, Mario Abdo Benítez, has already set in motion Pinheiro's extradition. He has been moved to a maximum-security federal prison in solitary confinement, ahead of being deported to Brazil.