This humanitarian worker met his 3-year-old niece for the first time when he rescued her from a refugee boat on a Greek beach.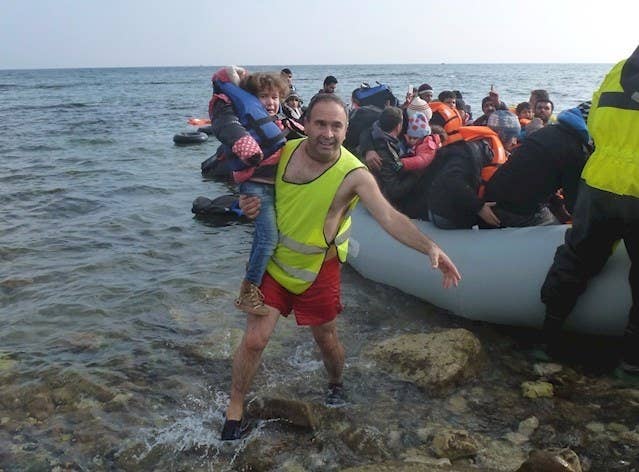 "I felt like something crazy was happening, something unrealistic," Ghias Aljundi, 48, told BuzzFeed News. "I didn't know what to say," he said, "I can't describe the feeling."

He had not seen his brother – and hadn't even met some of his extended family – since he fled to the U.K. from Syria in 1998. Like many Syrians, Aljundi was forced to run from his country after the current regime threatened, then tortured him because of his outspoken views.
"I [had] completely lost all hope that I would see them again in the near future," he said.
Aljundi, who works as an independent human rights adviser based in London as well as doing some work for Amnesty International, had been motivated to volunteer on the Greek islands last year, after he saw the devastating images coming from the beaches. He first went to Lesbos in October.
"I went for five days initially," he said. "I missed three flights and I went back again."
In December last year, Aljundi was on Lesbos, working with volunteers to get people off the boats and into safety. But he had no idea his own family would be among those he'd pluck from the sea. "I didn't know they were coming, or their children," Aljundi said.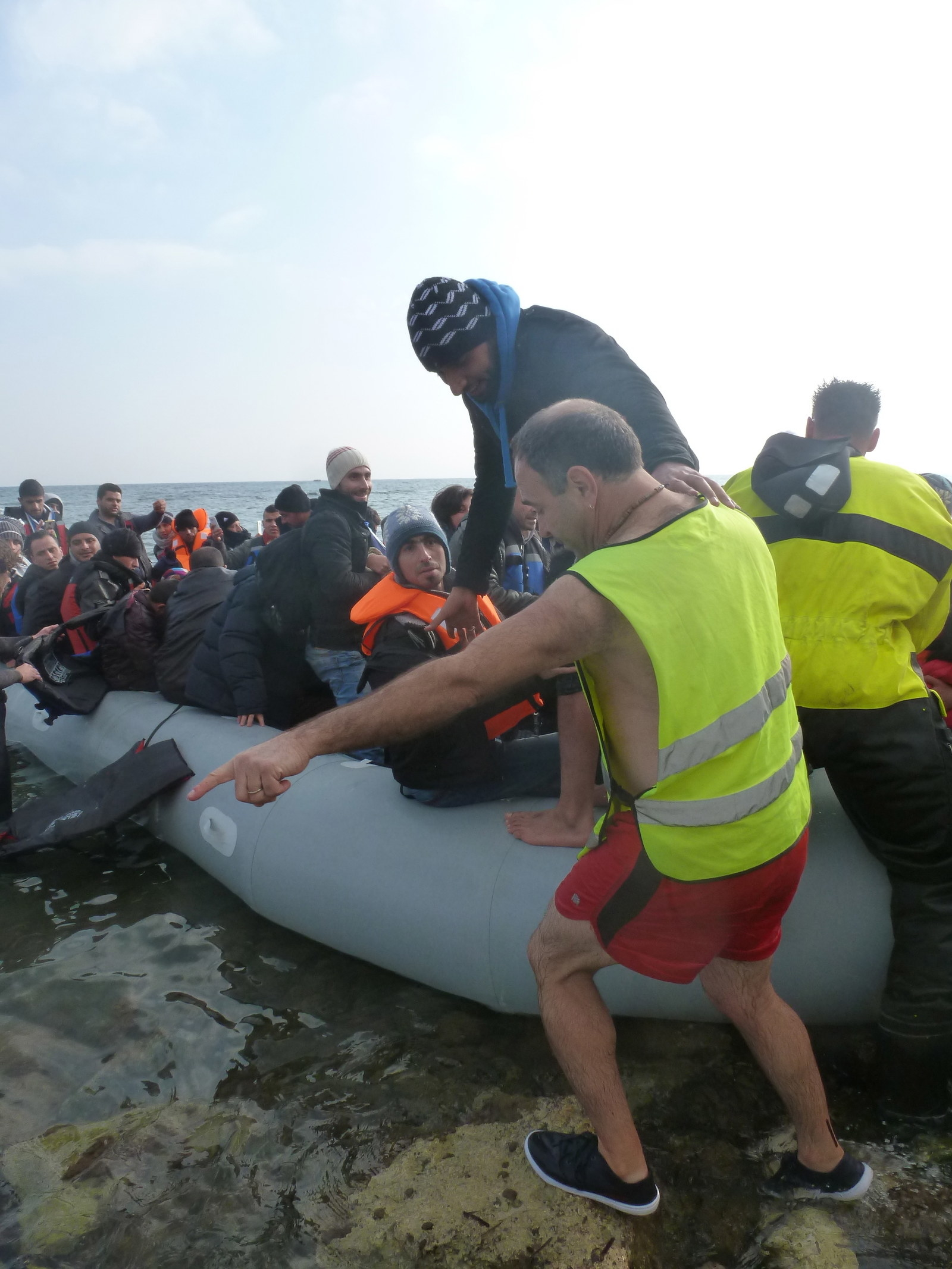 "I worked on hundreds of boats, really thousands and thousands and thousands of refugees — I took them out of the boats and some of them I rescued from the sea."
He was in touch with his brother, 37-year-old Safi, who had been living with his young family in the Syrian port city of Tartus, in the east of the country. The situation in Syria continued to deteriorate, and Aljundi said for his family it was particularly bad: "Our family's usually targeted because we are clearly against the regime."
"They told me they had to leave, and I didn't know what was happening," he said. Aljundi used WhatsApp to communicate with his brother, who told him they had made it to Lebanon and then onto Turkey, where they were preparing to cross.

More than 900 people have died attempting to cross from Turkey to Greece since the start of Europe's refugee crisis. Aljundi was terrified for his family, warning them not to travel at night as it was more dangerous, to find proper lifejackets, to put plastic bags on their feet.
"And I told them not to scream, because it scares the children," he said.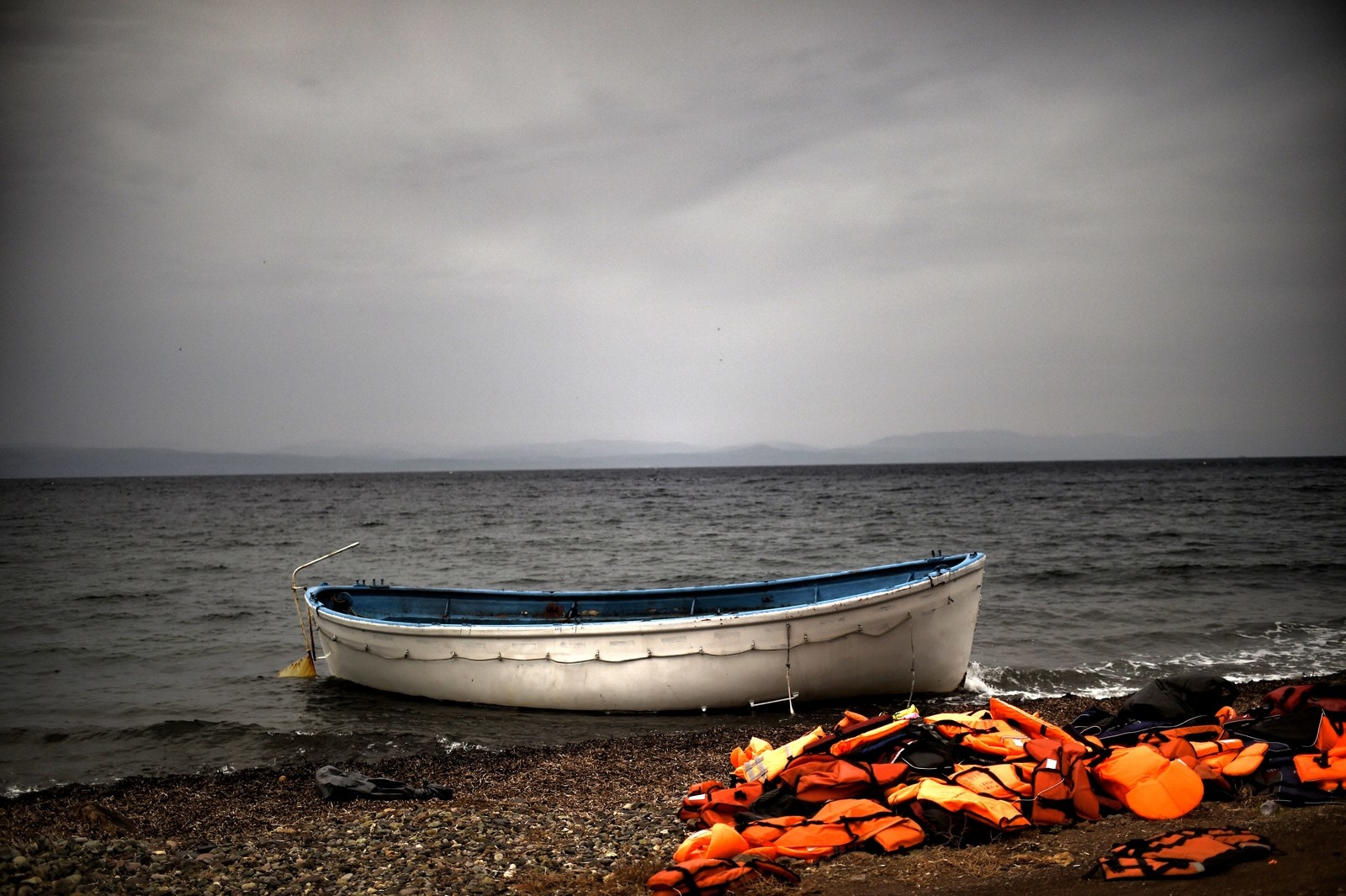 In December — Aljundi doesn't remember the exact date — he helped a boat come ashore, working as usual, picking people out of the vessel and water. "I picked up my niece, handed back, and someone was saying, 'Oh! This is your niece!'" he said.

"I never met her. She was with her mum, I never met her mum. I had never met any of them, except my brother and my nephew."
Then Aljundi saw his brother and nephew and also helped them off the boat. He said that hearing his nephew say "Oh uncle, it's me" was a great moment.

After getting his relatives off the boat, Aljundi arranged for the small family to stay outside of the camps where refugees and migrants were being accommodated last year. His 25-year-old sister-in-law, Nina, was six months pregnant and hysterical with worry that something had happened to her baby because people on the boat had stepped on her. But a doctor in Greece managed to find a heartbeat, and three months later Nina gave birth to a "little son, named Alec." Aljundi picked his baby nephew's name.

The family, including Aljundi's 29-year-old nephew, are now settled and have residency in Germany. They are attending language schools, and Aljundi's niece, Sirin, is waiting for her place in the local kindergarten.

"I never used to have a brother in Europe, I never used to have this feeling. I just thought I would never see them for a long time...I can't believe it."
Aljundi said: "My brother and his wife, they are very, very happy. He say to me: 'Now I feel like a human being.' That sums up everything."
There are roughly 17.9 million people in Syria, down from an estimated 24 million before the start of the conflict. The United Nations Humanitarian Commission for Refugees (UNHCR) estimates the war has created more than 4 million refugees, as of June 16, 2016. Inside the country, roughly 6 million people are classed as internally displaced, and 13.5 million people are in urgent need of humanitarian assistance. Estimates for the number killed vary between 200,000 and more than 400,000 people, according to the U.N. and the Syrian Observatory for Human Rights (SOHR).