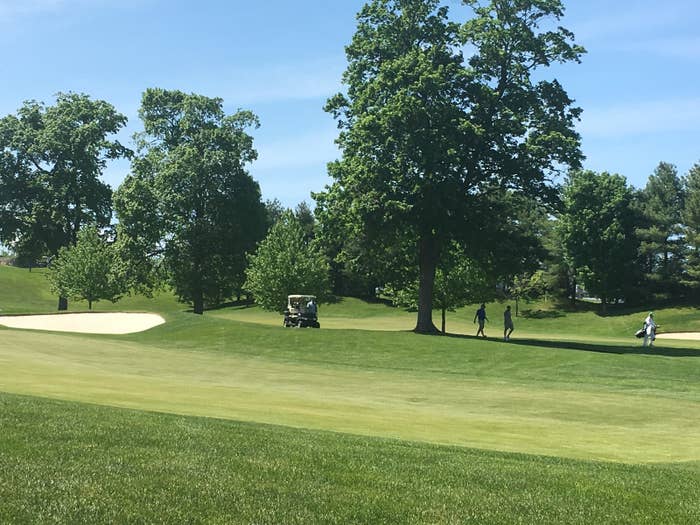 Since Donald Trump launched his presidential campaign last June on a platform that includes restoring American jobs, companies owned by him or bearing his name have sought and won permission from the Department of Labor to hire at least 149 foreign guest workers for jobs at resorts, golf courses, and vineyards in New York, Florida, and Virginia, including 34 this year.
Among them were 10 waiters and waitresses whose visas were approved by the Labor Department last week to work temporarily at Trump National Golf Club in Briarcliff Manor, New York, in Westchester County — just 35 miles from Manhattan and New York's vast labor market.

A bedrock principle of the guest worker program is that no American worker should ever be deprived of a job in favor of a foreign guest worker. Before applying for the special visas, known as H-2, employers have to show that they have tried but failed to find American workers.
Speaking in September about the guest workers he employs in Florida, the presumptive Republican nominee said it was impossible to find Americans who wanted those seasonal jobs. "You can't get help," he said.
The jobs at Trump National Golf Course pay a base wage of $13.21 and require three months of experience. That's about $2 an hour higher than the average wage for waiters in the surrounding area, according to officials at the Westchester County Employment Center. And in nearby New York City, four stops away on Metro North trains, wait staff jobs often pay only minimum wage, though they may include tips.
Trump's campaign did not respond to a question about his use of the program. It is not clear whether the workers have arrived to start their jobs.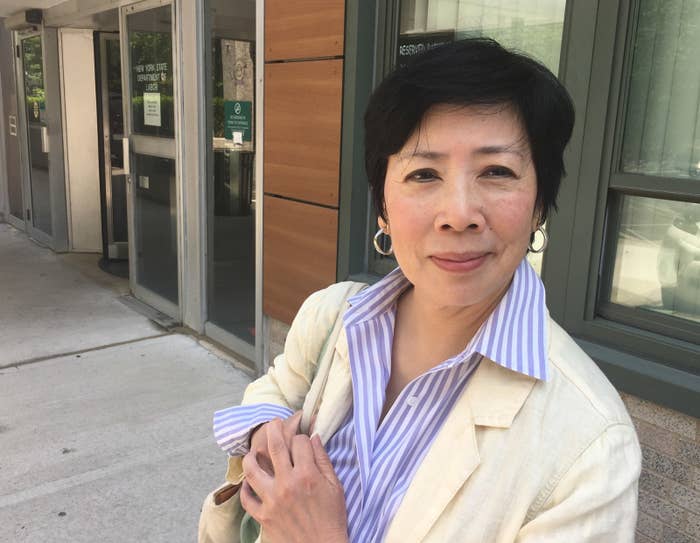 Irene Wong, who came to the employment center Friday morning to meet with a job counselor, said she found it "a little hard to believe" that no qualified Americans wanted the job.
"I think there are a lot of Americans who can do that job," said Wong. She herself lacks experience as a restaurant server. But, she said, "You don't have to go out of the country for that."
Paola Stuff, also at the job center, offered a different perspective: She said she wouldn't have taken a job at Trump's golf course even if it was offered to her. "Why would I, on any level, contribute to him getting richer?" she asked. "I'd rather continue collecting unemployment."
In its application to the Department of Labor, officials at the golf course explained that they needed foreign guest workers during the club's busy season from May to October because "members require excellence in the Club's services and facilities. However, the demographic makeup of the Westchester, NY area shows that the temporary workforce required to staff the many private country clubs, restaurants and hotels is not sufficient."
A call to the general manager at the club was not returned.
In keeping with the rules of the H-2 visa program, the Trump golf course listed the jobs at the Westchester Employment Center in March, to give Americans time to apply for them. An official there said the center referred one applicant to the golf course but had no information about whether the person was hired. When asked in a follow up email whether a serving job that pays $13 an hour would typically attract lots of applicants, New York Labor department officials responded that the average wage for a waiter in the Hudson Valley is $11 an hour and that job seekers' interest in positions "vary based on a number of factors; economic, regional, and the qualifications, or lack thereof, of interested job seekers."
Down the street from the exclusive Trump National Golf Course, which its website describes as "among the most highly regarded in the state," Frank Caccoma, a local resident, said he had "no problem" with the use of guest workers. Businesses, he said, "have to have people who are qualified. That's what keeps the economy going. If citizens don't want those jobs, then whoever applies for those jobs should get it."
Other Trump companies that have been approved for visas in the last year include a winery in Virginia and a beach resort in Florida.
Previous BuzzFeed news stories have found that the increasingly popular guest worker program is rife with abuse and that many H-2 employers illegally deny jobs to American workers.
BuzzFeed News reporter Ken Bensinger contributed to this story.
CORRECTION
Companies owned by Trump or bearing his name have won permission from the Department of Labor to hire at least 149 H-2 guest workers since June 2015. Because of a data analysis error, a previous version of this story incorrectly over-counted that number by 37.