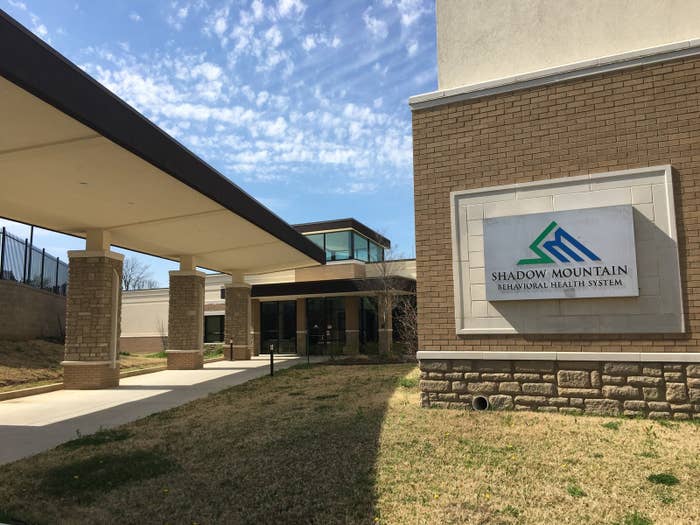 The state of Oklahoma is taking action against a Tulsa hospital owned by America's largest psychiatric care companies, Universal Health Services, no longer sending children and adolescents in its custody to the facility and warning that it will cut off its Medicaid funding. The hospital, Shadow Mountain Behavioral Health, was the subject of a recent BuzzFeed News investigation that revealed that frequent violence endangers patients and staff, that children as young as 5 are separated from their parents and held in dangerous situations, and that wards were repeatedly understaffed.

Shadow Mountain is one of approximately 200 mental and behavioral health facilities owned by UHS, which BuzzFeed News has been investigating for nearly two years. Current and former employees from at least 10 of the company's hospitals in nine states said they were under pressure to fill beds by almost any method and to hold patients until their insurance payments ran out. Multiple federal agencies have joined a widening probe into UHS and are investigating allegations that its hospitals held patients who did not need treatment in order to maximize insurance payments.
Despite a shortage of beds to treat children and adolescents in crisis, Oklahoma's Department of Human Services, which oversees the state's child welfare services, sent out an email that said: "Please be advised that children/youth in DHS custody are not allowed admittance to Shadow Mountain Behavioral Health facilities."
Admissions have stopped "until further notice," the email said, because of contractual issues between the Oklahoma Health Care Authority, which monitors the state's Medicaid contracts, and the hospital.
Last week, the health care authority notified Shadow Mountain that it intended to terminate several of its Medicaid contracts on July 31. "OHCA's decision to terminate Shadow Mountain's contracts without cause with a sixty-day written notice is not appealable," said the letter.
The letter did not specify a reason for the intent to terminate the hospital's contracts. A spokesperson for the health care authority declined to elaborate on the decision beyond the letter that was released in response to a public records request.
The state terminated one of Shadow Mountain's contracts last November for failing to maintain appropriate staffing levels after repeated warnings. It awarded the hospital a new contract the following month.
Surveillance videos published by BuzzFeed News in April showed the director of the facility, Mike Kistler, putting young children in holds that experts said were dangerous. Kistler is also under investigation by Oklahoma's department of human services for possible abuse and neglect. Kistler previously told BuzzFeed News the videos were "highly misleading" and that his response in the situations was "appropriate, reasonable and proportional."
Neither UHS nor Kistler responded to requests for comment, but the company has previously said "it was proud of the care that it provides patients at Shadow Mountain Behavioral Health " and that "at all times the safety of our patients and staff is our highest priority." The company has also said it "absolutely rejects" BuzzFeed News' reporting and that it does not manipulate the length of a patient's stay for financial gain.
The hold on admissions applies to several of Shadow Mountain's programs, including its residential treatment center programs for children and adolescents and an acute unit that treats more severe adolescents.
"Youth should not be taken to any of the affected facilities for anything related to new admissions. If a youth is in need of assessment the youth should be transported to the next closest facility of emergency room, whichever is appropriate," said the June 2 email.
A follow-up email sent to DHS staff on Monday afternoon clarified that children in state custody may still be admitted to Shadow Mountain as a last resort if they are in crisis and all other options have been exhausted, including mobile response teams and the agency's special placements unit.
The problems at Shadow Mountain put Oklahoma's child services agency in a bind. The state is already experiencing a shortage of acute psychiatric beds, said Sheree Powell, a DHS spokeswoman and "without the options at Shadow Mountain, it puts even further pressure upon us to be able find and locate services for kids when they're needed."
"The need for these kids to have a place to go does not go away," added Tom Bates, the special advisor to Gov. Mary Fallin on child welfare. "As we are dealing with providers in our state and making sure they're providing the best possible care for our kids, we do have to deal with the realities of making sure our kids have a place to go."
Children and adolescents who are already being treated at Shadow Mountain will remain at the facility. The policy will apply only to new admissions.
Any child in state custody treated at Shadow Mountain will be under additional scrutiny, said Powell. "If a child is placed at Shadow Mountain — because of our concerns and the concerns of others — there will be a heightened monitoring process for those children while they are placed there," she said.
The state's hold on admissions to Shadow Mountain comes as the hospital's accreditation is also in jeopardy. Last month, inspectors found that the hospital posed an "an immediate threat to life," following inquiries from Senator Charles Grassley, and issued a preliminary denial of Shadow Mountain's accreditation.