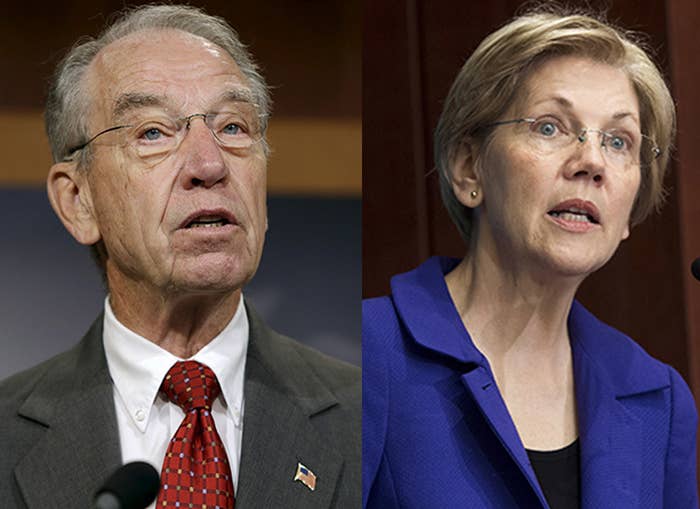 In the wake of a BuzzFeed News investigation, three prominent lawmakers have called for an investigation into America's largest psychiatric chain, Universal Health Services, or denounced its alleged practices.
Current and former employees of at least 10 UHS hospitals told BuzzFeed News that their facilities locked in people who were not a danger to themselves or others and held them until their insurance ran out.
UHS did not respond to requests for comment on Friday, but previously it vigorously denied that it held people solely for profit and defended its quality of care.

In a letter to the Department of Health and Human Services, Sen. Charles Grassley of Iowa said, "The pattern of conduct described by the report paints a picture of greed and raises serious questions about patient safety."
Grassley, the chair of the Senate judiciary committee, gave the department's inspector General until December 23 to inform him of "what steps your office is taking to investigate UHS for its apparent abuses."
In the BuzzFeed News investigation — which was based on nearly 300 interviews, including 175 current and former employees of the company, as well as a cache of internal documents — employees of 10 hospitals said they were under pressure to fill beds by methods that included exaggerating people's symptoms and distorting their words to make them sound suicidal. UHS said it provides excellent care that has earned accolades.
After its stock tumbled about 12% following publication of the investigation, the company issued a press release saying the story "misses the mark in several important ways leading to an inaccurate portrayal of UHS's behavioral health operations."
Sen. Elizabeth Warren of Massachusetts denounced UHS's alleged conduct. "People seeking mental health services deserve high-quality treatment — not abuse at the hands of companies that are locking patients up to turn a profit and defraud taxpayers," she told BuzzFeed News. "The Department of Justice must put an end to these shameful practices for the safety of patients both here in Massachusetts and across the country."
UHS's 211 psychiatric hospitals in the United States earned $7.5 billion in revenues last year. More than a third of the company's overall revenue comes from taxpayers through Medicare and Medicaid. A federal inquiry into Medicare fraud has targeted about one in ten UHS hospitals — including all five in Massachusetts. UHS has denied wrongdoing and said it is cooperating with the investigation. The company has not been charged.
Rep. Joe Kennedy III, of Massachusetts said, "The continued allegations of abuse, neglect, fraud and worse at UHS hospitals suggest a pattern of misconduct and harm to patients. Stories from their patients and staff alike allude to an emphasis of profits over treatment and care."
Rep. Kennedy and fellow representative Danny Davis had previously raised concerns about UHS, writing a letter last June to the federal Centers for Medicare & Medicaid Services, citing "alarming incidents of mismanagement and negligence" at UHS hospitals.