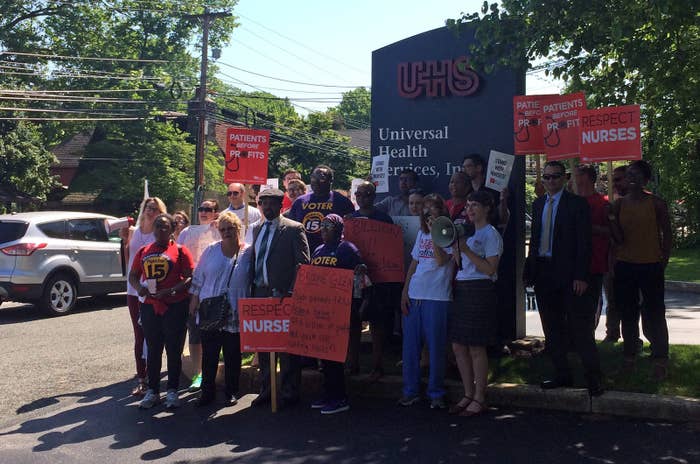 America's largest chain of psychiatric hospitals is the target of a multi-agency federal investigation into whether it systematically holds patients longer than necessary to maximize revenues — an allegation two nurses at one of its facilities raised following a protest at its headquarters in Pennsylvania last week.
According to three sources with direct knowledge of the investigation, officials are examining whether Universal Health Services directs its hospitals to hold patients for as many days as their insurer agrees to pay for, regardless of actual medical need. The probe has been ongoing since at least 2013, when the Department of Health and Human Services issued subpoenas to 10 UHS psychiatric hospitals.
But BuzzFeed News has exclusively learned that the investigation has since broadened to include the FBI and the Department of Defense, which is scrutinizing UHS's billings to Tricare, the insurance plan for active military and their families. UHS, a $12 billion company, made nearly one-third of its revenues last year from government insurance providers such as Medicare and Medicaid.
Officials working on the current investigation continue to seek witnesses to any alleged fraudulent activity. "Putting together a successful prosecution will require the testimony of patients, intake coordinators, nurses, social workers, providers, and executives," said one agent on the case.
The allegations against the company were raised during its shareholders meeting last week — both by the nurses who protested outside the event and by an investor in the room. The New York City Comptroller's office, representing pension funds that own more than $25 million in UHS stock, cited ongoing investigations into the company when calling for it to abandon its shareholders voting system. An investment group for the union coalition Change to Win also voiced similar governance concerns in a 12-page letter to shareholders before the meeting.
The multiple-class voting system gives Alan Miller, CEO and chairperson, more than 80% of voting power, despite owning less than 15% of its total shares, the comptroller's office complained.
"Insiders have total control of Universal Health Services, despite owning just a small fraction of the company," NYC Comptroller Scott M. Stringer told BuzzFeed News in a statement. "That puts every investor — including the New York City Pension Funds — at risk. From federal criminal investigations to damning exposés, it's clear why shareowners are calling for change."
The proposal was rejected by more than 90% of votes cast.
As the shareholders meeting proceeded, nurses from a nearby UHS-owned facility in Pennsylvania staged a protest outside, complaining of issues including understaffing and unsafe working conditions. A recent OSHA citation that found its workers are exposed to "serious physical injuries such as from bites, bruises or strains, sprains," which underscored the employees' concerns. (UHS is contesting the findings.)
Two nurses from the facility, Brooke Glen Behavioral Hospital, said they had direct experience with the company holding patients longer than necessary to collect higher insurance payments. They recalled telling doctors that patients were safe to be discharged, but that the doctors would ask when their "last covered day" was — the last day Medicare, Medicaid, or their private insurance would pay for — and discharge them then, regardless of their condition.
"They have lives and jobs," said Brandi George, a nurse who has worked at the hospital for three years, after beginning as a mental health technician. "And there's no good medical reason for keeping them." Because the nurses take extensive notes on patients' conditions, doctors would sometimes have to come up with new notes to explain the extended times, they said, such as a change in medication.
"If they're on Medicare or Medicaid, they'll milk it," said Valerie Riling, who has worked at Brooke Glen for nearly two years. "We're not doing right by our patients."
"They'll admit people just to fill a bed," said George.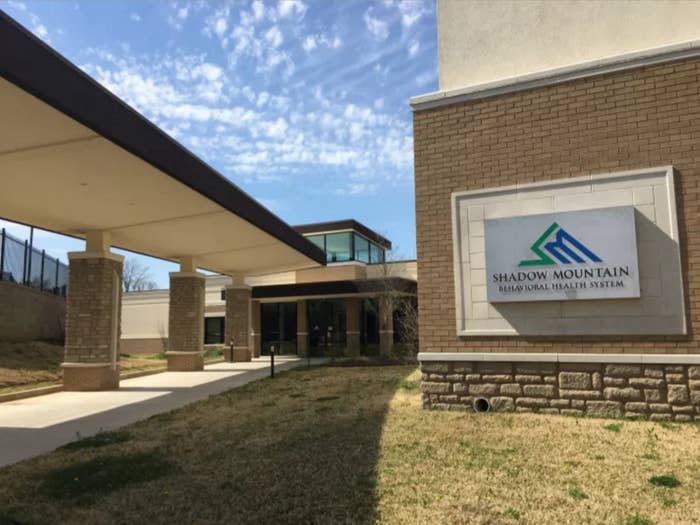 In December, a BuzzFeed News investigation into UHS reported that staff in at least 14 of its hospitals said they were directed not to release patients until they had run through all available insurance funds. Often, the instruction came in the form of the coded phrase, "Don't leave days on the table," said employees.
Last month, physicians at a UHS facility in Oklahoma — a 15th facility — also told BuzzFeed News they were pushed not to release patients until their insurance days were up, especially when the hospital was operating below capacity. That hospital has also been plagued by riots and safety issues, the investigation reported.
Because psychiatric hospitals are reimbursed for each day that a patient stays, extending patients' stays can drive up a hospital's revenue. But billing for treatment that is not medically necessary can constitute fraud. And for patients themselves, who are needlessly held in locked facilities, the experience can be devastating.
UHS has said it "absolutely rejects" BuzzFeed News's reporting and that it does not manipulate a patient's stay for financial gain. The company said its record of quality care "speaks for itself," and that it has consistently received high-satisfaction marks from patients.
An FBI spokesperson declined to confirm or deny the investigation into UHS but said that, in general, the bureau actively pursues allegations that hospitals admit or hold patients who do not need treatment in order to maximize profits.
In such instances, a hospital will "ignore the recommendations of its own clinicians to discharge patients, pressure the clinicians to keep patients in a hospital as long a patient's insurance policy will pay for treatment, or employ clinicians who are complicit in the scheme," said John Althen, an FBI spokesperson.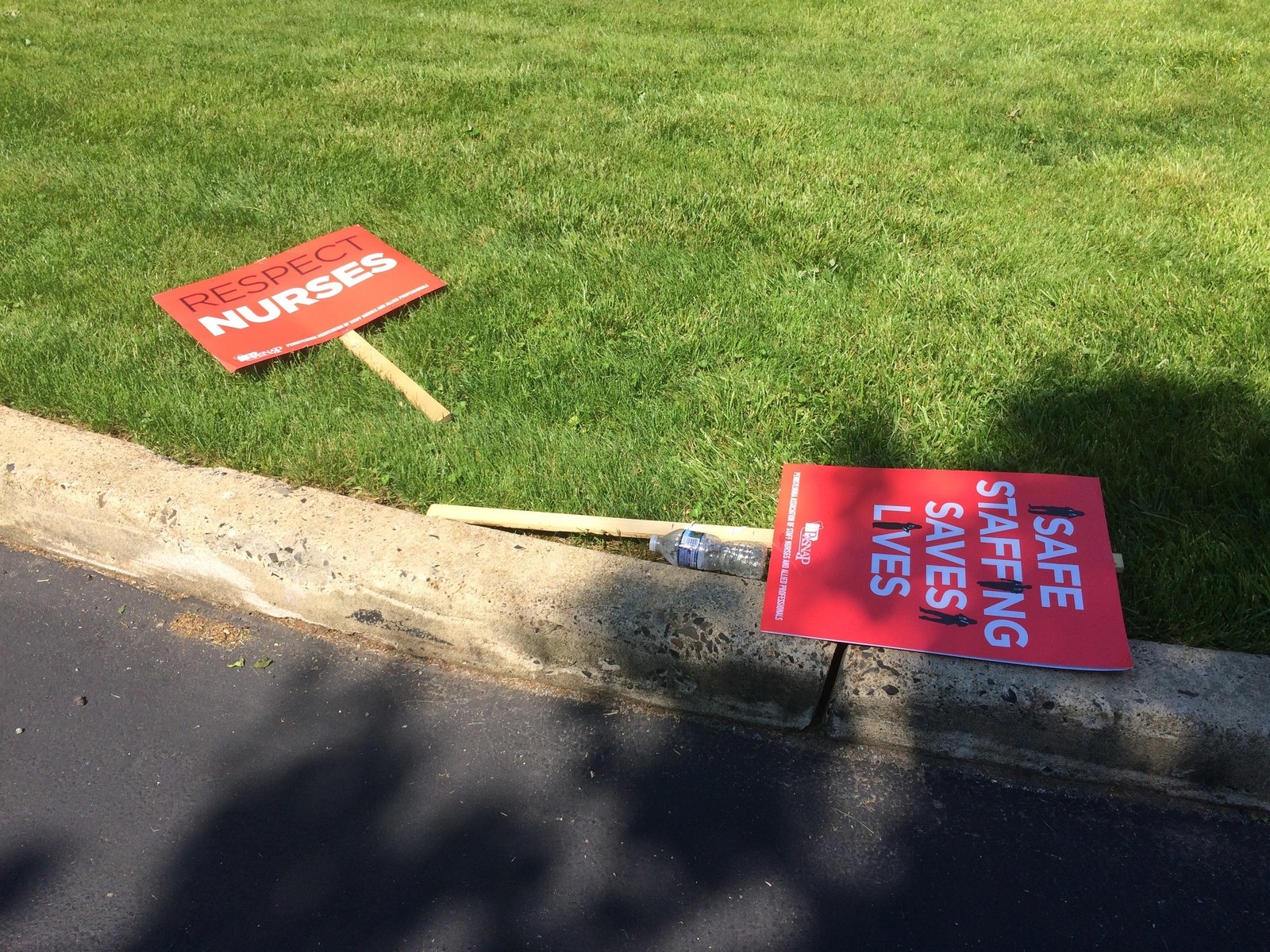 Some of UHS's psychiatric hospitals also have dedicated military units, which treat post-traumatic stress disorder and other combat-related issues. A spokesperson for the Department of Defense said it does not acknowledge or discuss ongoing investigations, but two former employees at Salt Lake Behavioral Health told BuzzFeed News they have been interviewed by a Department of Defense investigator about operations within that hospital's military unit.
At least one in ten of the company's psychiatric facilities nationwide is now under government scrutiny. Part of the investigation has been referred to the criminal frauds section of the Department of Justice, and in 2015, the probe was expanded to UHS as a corporate entity.
UHS has described the civil investigation in filings to investors as a "False Claims Act investigation focused on billings submitted to government payers in relation to services provided at those facilities." It has not provided any details about the criminal investigation nor has it disclosed that the Department of Defense is among the agencies investigating the company.
UHS did not respond to requests for comment but in a statement to BuzzFeed News last year about the investigation, UHS said that it "takes these matters very seriously and is cooperating with all agencies involved." It added, "Investigations such as these are an unfortunate but common reality facing the healthcare industry."
UHS has previously faced government litigation for similar issues. In 2012, UHS settled a lawsuit that the government filed against one of the company's youth facilities in Virginia. A federal complaint alleged that the hospital was delaying the release of patients who no longer needed care in order to increase Medicaid payments, deliberately provoking patients so that their reactions would warrant longer stays, and even altering therapists' records to justify longer stays.
UHS did not admit to any of the allegations. It closed the facility and later paid just under $7 million dollars to resolve the case.

CORRECTION
UHS closed a youth facility in Virginia before settling a government lawsuit over the hospital's practices. An earlier version of this article said that the closure was part of the settlement.
UPDATE
Five months after this story was published, UHS said that after an internal investigation involving "in-depth interviews," Ms. Riling and Ms. George withdrew their comments quoted in this story. The company requested a correction, but BuzzFeed News stands behind its reporting. (A story about the company's internal investigation can be read here.)