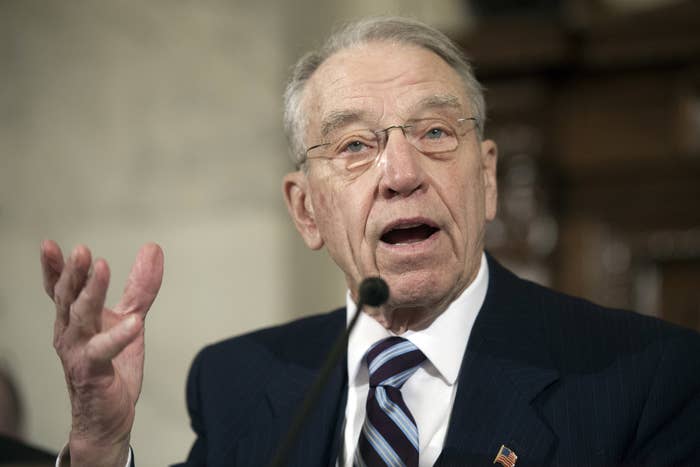 An Oklahoma psychiatric facility that was the subject of a recent BuzzFeed News investigation poses an "immediate threat to life," according to a national hospital accreditating organization that inspected the facility this month.
The revelation came in communications between Charles Grassley, the chairman of the Senate Judiciary Committee, and The Joint Commission, which certifies and accredits hospitals.
After BuzzFeed News's investigation into Shadow Mountain Behavioral Health — which revealed continued staffing level violations, riots that ended in pepper spray, and young patients being placed in restraints that experts describe as dangerous — the Republican senator from Iowa wrote to The Joint Commission saying "it is unclear how Shadow Mountain maintains its accreditation."
Four weeks later, on May 11, The Joint Commission sent in inspectors, who issued the Tulsa facility a "preliminary denial of accreditation."
The Joint Commission told Grassley that inspectors found "evidence of non-compliance of standards" in at least eight areas, including provision of care, treatment and services.
In the past, the facility has maintained its accreditation with The Joint Commission, even when inspectors found problems. In April 2016, surveyors noted 27 areas where the hospital had "performance issues." The accrediting agency is not required to release detailed results of its inspections.

In a follow-up letter sent this week, Grassley told The Joint Commission it had still "failed to answer several questions." He called for more transparency about what the surveyors had found, including releasing the hospital's full accreditation reports to the public. The letter also asked the accreditation organization to detail what steps it is taking to address the problems at the facility and set a June 8 deadline for a response.
Shadow Mountain is owned by Universal Health Services, the country's largest chain of psychiatric facilities. In a statement to BuzzFeed News, Mike Kistler, the hospital's chief executive, said, "While we dispute some of the findings by The Joint Commission, we have already addressed the issues identified. We are working collaboratively and with the aligned goal of ensuring that patients at Shadow Mountain are receiving the best possible care and treatment in the safest possible environment."
The FBI and the Department of Defense are investigating UHS for holding patients at their psychiatric facilities until their insurance runs out, even when they do not need treatment, BuzzFeed News revealed earlier this week.