This is part of a BuzzFeed News Investigation. Other main stories in the series include:
Locked On The Psych Ward
A Six-Year-Old Gets Locked Up
The Dark Side Of Shadow Mountain and related video
A Prescription For Violence and related video

In the spring of 2016, the country's largest chain of psychiatric hospitals faced a public relations problem. It had learned that we were interviewing hospital executives for an upcoming article. Some of those executives, along with patients and employees, said that patients who didn't need treatment were being held in order to boost profits. The company — Universal Health Services, or UHS — reached out to Edelman, a global PR firm that offers specialized crisis management services.

In a July 2016 memo we obtained, Edelman recommended action.
"Because BuzzFeed is a site that primarily focuses on humor and reaching millennials, Corporate America's predisposition to dismiss the site's reporting capability is understandable. However, this would be a considerable mistake," said the memo.
In order to counter possible impacts, UHS should create a digital platform that "serves as an information hub to set the record straight and to share your company's direct response to an issue," the memo advised. It also suggested creating a "social media response protocol" to determine when the company should respond to online comments and developing "visual content" that can share easily on social platforms. The proposed fee for that and other services: $70,000 to $100,000.
UHS took the advice, launching uhsthefacts.com, with language strikingly similar to that in the memo. Google ads pushed the site to the top of some search results.
It was just one of many measures the hospital giant took to counter our two-year investigation, which revealed internal surveillance videos of UHS employees choking and dragging patients and which led the state of Oklahoma to investigate a UHS hospital executive for abuse and neglect, and to cut off state funding.
To deal with our series, UHS didn't just implement a crisis PR plan. It also fired an employee that the company believed to have spoken to a reporter; it sued a former employee it alleges leaked damaging internal surveillance videos; it threatened to sue other employees; at least one facility held a series of town hall meetings to warn employees from speaking with us; it conducted "in-depth interviews" with nearly two dozen staff, then distributed a public apology that two of them signed; it enlisted one of the most powerful law firms in the United States; it built multiple, high-production-value websites specifically designed to overcome the reputational damage that our reporting might cause.
"Because BuzzFeed is a site that primarily focuses on humor and reaching millennials, Corporate America's predisposition to dismiss the site's reporting capability is understandable. However, this would be a considerable mistake."
In a statement, UHS disputed our coverage, as it has in the past, calling it sensationalized and based on anecdotes that aren't representative of the quality care it provides overall.
As for its work with Edelman, it added that "UHS sought the advice of a reputable strategic communications firm to ensure, in the interest of accuracy and fairness, that our side of the story was told. The websites were developed to educate the public and provide additional information regarding facility operations. We will continue to put forth the facts to the public about our facilities in the face of such accounts."
A spokesperson for Edelman said it does not comment on its work for former clients.
The strategy reveals how far UHS — which owns more than 200 psychiatric facilities across the country that made more than $8 billion in revenue last year — was willing to go to stop whistleblowers from talking to the press and to protect itself from what they might say.
Beyond that, it is an example of the power large corporations are able to leverage to control the public narrative about their operations.
UHS's first move to limit the scope of the investigation came in April 2016, a few months after our reporting began. Following an offer of assistance from UHS's public affairs department, a legal letter arrived from Eugene Scalia, a partner at a powerful Washington, DC, law firm and son of the late Supreme Court justice Antonin Scalia. He informed us that our possession of a confidential company document was a violation of Colorado trade secrets law. Scalia requested that we return that and any other confidential documents we had obtained. (We declined.) Later that month, the company also registered the domain for uhsthefacts.com.
The first installment of our investigation, which ran last December, found that employees across 10 hospitals in nine states were under pressure to fill beds by almost any means, including twisting the words of people who came for help in order to make them seem suicidal. Our reporting included interviews with nearly 300 patients, employees, and executives, including scores of employees who said UHS facilities tried to keep beds filled even at the expense of the safety of their staff or the rights of the patients they were locking up.

The company's stock lost $2.4 billion in a week.
UHS launched uhsthefacts.com, which said it was "setting the record straight" about the company's operations. "The assertions made by BuzzFeed in its recent article contain numerous factual inaccuracies and non-contextualized mischaracterizations of isolated events at a small minority of our 200+ facilities," it stated.
Last December, we published a second article about UHS, focusing on a 6-year-old boy whom one of the company's Florida hospitals tried to hold against his family's wishes.
In April, a third story — about Shadow Mountain Behavioral Health, one of the corporation's psychiatric hospitals in Oklahoma — used medical records, internal incident reports, surveillance video, and scores of interviews to report on riots, understaffing, and allegations of billing fraud. Just before the story was published, UHS registered shadowmountainthefacts.com. "Separating fact from fiction," the site dismissed the stories about Shadow Mountain by the "digital entertainment site BuzzFeed" as the "latest unfortunate examples of its ongoing abdication of subjective, fact-based journalism."
The website continued, "The reporter continues to assume the role of an activist, presenting a highly sensationalized, inaccurate, and largely anonymously sourced portrayal without any appropriate context or understanding of the realities of the mental health treatment system."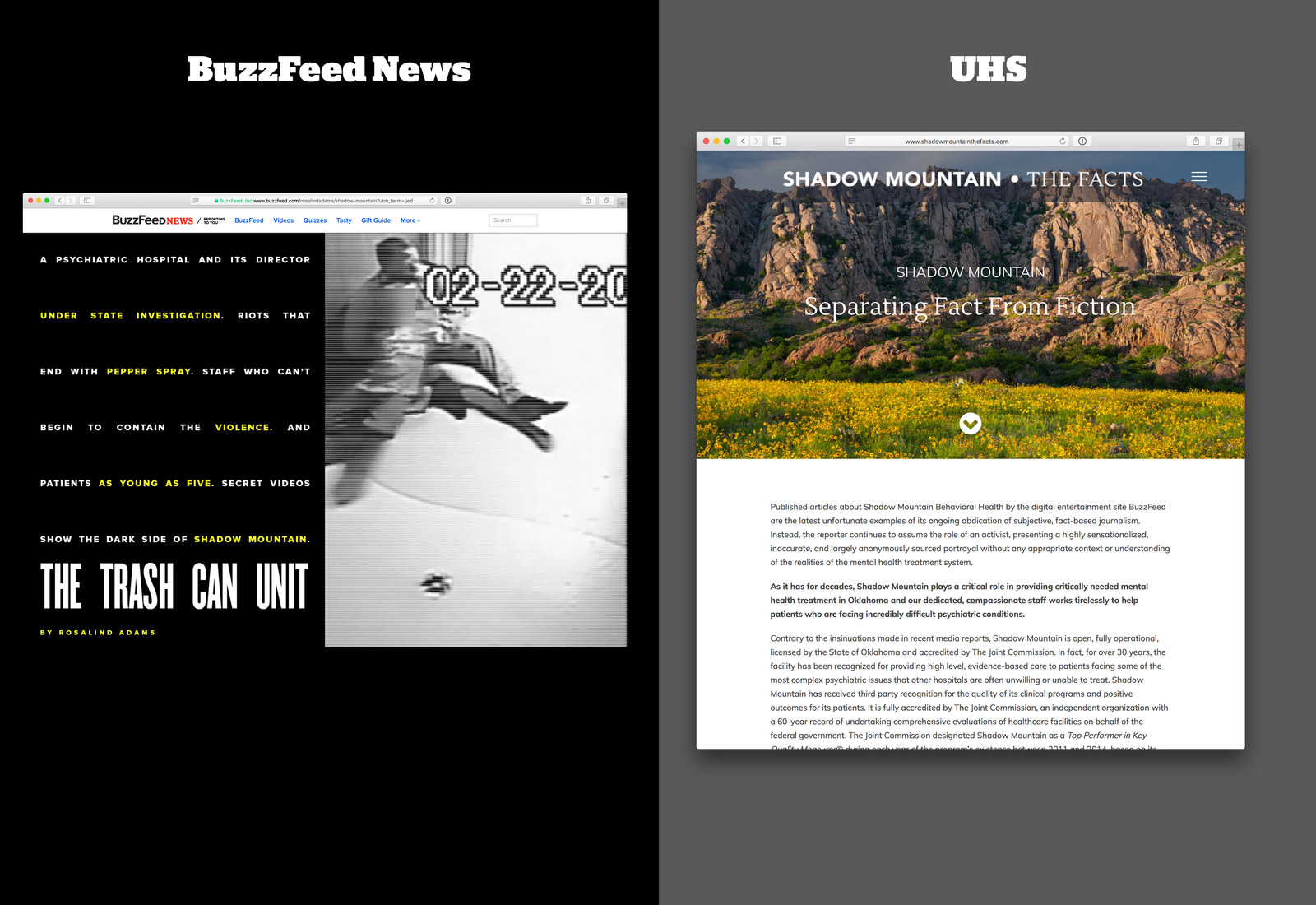 But our article registered an immediate impact. Both of Oklahoma's senators and the governor called for an investigation into conditions at Shadow Mountain, and the state stopped sending children in its custody to the facility. Local news media began reporting about Shadow Mountain as well, echoing our report that the facility was unsafe and that young patients were being physically restrained in ways that were dangerous and unwarranted.

When Oklahoma's Medicaid agency sent Shadow Mountain a notice that it was terminating its Medicaid contract in June, the hospital sued the state agency. It blamed the decision to terminate the hospital's contract on a "wildly inaccurate BuzzFeed article." The state health care authority responded by pointing to the facility's "repeated failures" to address its concerns. A judge denied the injunction to stop the Medicaid agency from terminating its contract.
Two days after our story ran about Shadow Mountain, the staffing development coordinator of the hospital was fired.
That coordinator, Karri Kalfas, recently sued the hospital for wrongful termination, alleging she was fired for "whistleblowing and providing information regarding Shadow Mountain's violations of state regulations, Shadow Mountain's dangerous staff practices, Shadow Mountain's illegal billing practices, and Shadow Mountain's abuse and neglect of its patients" to the authorities, according to the complaint.
The case is currently in litigation in federal court. Lawyers for Kalfas did not respond to requests for comment.
Both of Oklahoma's senators and the governor called for an investigation into a UHS facility.
And last month, the hospital sued a former employee whom they believe to have been a source for surveillance videos we used in the article.
The lawsuit filed by Shadow Mountain alleges that the staffer, DeeAnn Paisley, "acted with malicious intent to 'get even' with her former employer," and that she was "aware that BuzzFeed was engaged in a malicious campaign to disparage UHS and its facilities." (We do not comment on the identity of confidential sources.)
A lawyer for Paisley did not respond to requests for comment.
We published another article in May, revealing that multiple federal agencies were examining whether UHS directs its hospitals to hold patients for as many days as their insurer agrees to pay for, regardless of actual medical need. Our article quoted two nurses currently employed by UHS hospitals who said the hospital milked insurance payments from patients and admitted others just to fill a bed.
Five months later, UHS's vice president of public relations, Roselle Charlier, informed us that the company had commissioned "in-depth interviews with nearly two dozen employees," after which two nurses had retracted what they had said in our story. UHS presented a letter, signed by the two nurses, announcing their wish to "formally recant, retract and apologize" for their statements. UHS requested that a correction to the article be issued.
We declined, and stand by our original reporting.
UHS did not respond to questions about how the interviews were conducted, how long they lasted, whether the nurses had any legal or union representation while they were questioned, or whether they had been facing disciplinary or legal action.
As other media outlets report on its facilities around the country, the hospital corporation continues to buy new domain names.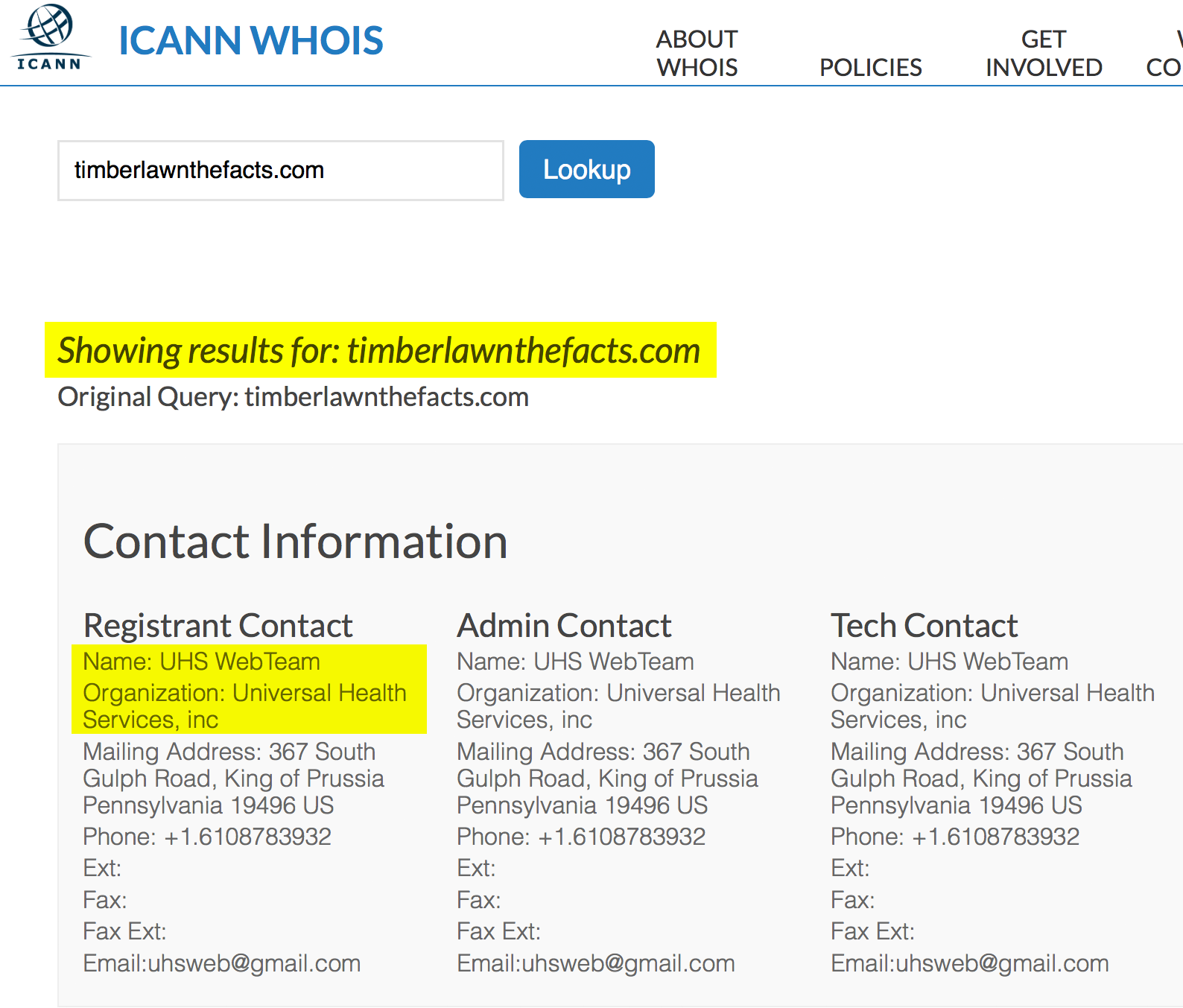 UHS purchased arbourthefacts.com two days after the Boston Globe published an article about failures in care that led to multiple deaths within the Arbour system of hospitals in Massachusetts. The website currently redirects visitors to the hospital's homepage. UHS also recently purchased the domain timberlawnthefacts.com after the Dallas Morning News wrote about a 13-year-old girl who alleged she was raped at the facility. That website has no content at present.
UHS followed a similar script to respond to our recent article about Hill Crest Behavioral Health, a psychiatric hospital in Alabama. Internal surveillance videos, along with extensive interviews with patients and staff, revealed a culture of violence within the facility. Videos showed staff members choking, dragging, and otherwise endangering adolescent patients.
Before publication, we requested an interview with the executive of the hospital, Steve McCabe. McCabe declined and held a series of town hall–style meetings to reach all hospital employees, according to three sources. The executive instructed them not to speak to us and said that if they brought cell phones into the building it would be assumed they were leaking material, sources said.
Lawyers on behalf of Hill Crest also wrote to a former employee of the facility alleging it had acquired evidence that the employee had "stolen, misappropriated and disseminated Protected Health Information" from Hill Crest. The letter demanded that the former employee return any confidential patient information. It added that compliance "will not absolve you of liability" and the hospital "reserves its rights to seek redress for your actions in an appropriate court of law."
Shortly after publication, Google reviews of Hill Crest were scrubbed from search results for the facility. Currently, only one review — written this month — appears.
A spokesperson for Google declined to comment directly but said that reviews may be removed from listings if they violate Google review policies.
UHS also planned for another website. The company registered the domain hillcrestthefacts.com in July while a reporter was in Alabama interviewing employees and families.
That website went live in November, shortly after we published the story. ●