A Teenage Protester Has Been Shot By A Live Police Round In Hong Kong
A video circulating online by pro-democracy supporters appears to show a protester being shot at point-blank range, as huge rallies take place on China's 70th anniversary.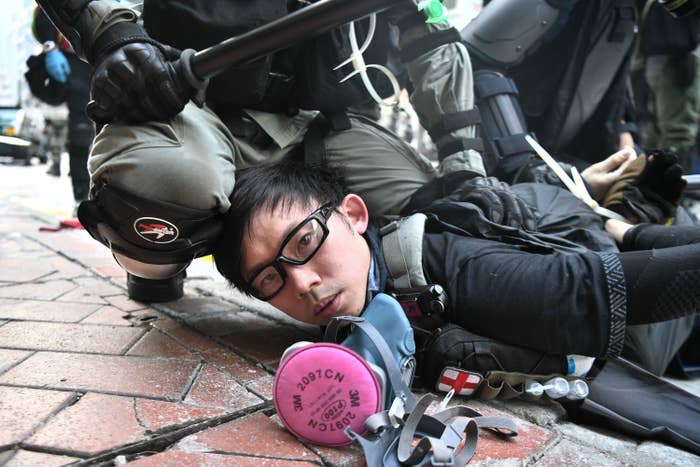 HONG KONG — A teenage protester has been shot with a live police round in Hong Kong, the first such incident since mass demonstrations began in the city in June.

According to the South China Morning Post, the protester was shot in Tsuen Wan in Hong Kong's New Territories region. A video circulated online by pro-democracy lawmakers and groups appears to show a demonstrator being shot at point-blank range during violent clashes with riot police.
According to multiple media outlets in Hong Kong, the injured protester is in the fifth year of secondary education, which is normally completed by 16-year-olds.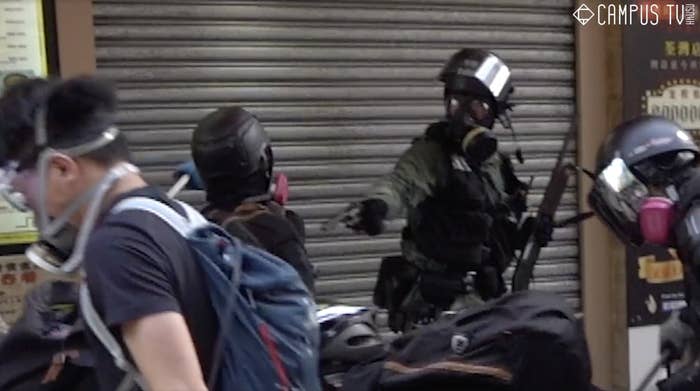 In a video posted on Facebook, Hong Kong's police department confirmed what it called an "open fire incident" had taken place in Tsuen Wan at around 4 p.m. local time.
"A large group of rioters were attacking police officers," the police spokesperson said, according to English subtitles provided on the video. "Despite warnings from the police, the assailants still continued the violent attacks. The police officers' lives were under serious threat. He fired a live shot at the assailant."

The spokesperson said the protester who was shot was 18 years old, that his "left shoulder area" was injured, and that he was sent to hospital in a conscious state.

"Here we must warn again: All rioters must stop all illegal acts. Police will continue to enforce the law seriously," the spokesperson said in the video.
The citywide protests, which began months ago over a hated extradition bill but have since morphed into a wider pro-democracy movement, are the most direct challenge to the Chinese Communist Party yet — Tuesday marks the 70th anniversary of the founding of the People's Republic of China. President Xi Jinping presided over a huge military parade on Tuesday, showing off a new ballistic missile that can reportedly reach the United States in 30 minutes.