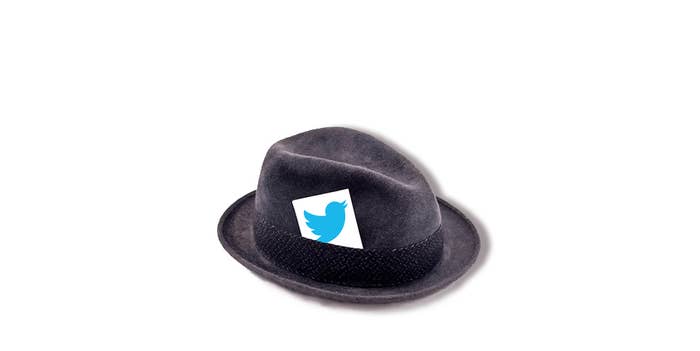 By April 19, the manhunt for two brothers suspected of bombing the Boston Marathon had been ongoing for four days, and the Twitterati were growing weary.
Brian Ries, of The Daily Beast, confessed he was "so tired." Huffington Post's Craig Kanalley saw that and raised: "so, so, so tired," he wrote. Earlier that day, "for those just joining us" at 11 a.m., Kanalley had cited Reuters' Anthony De Rosa and BuzzFeed's Andrew Kaczynski as sympathetic to "what last 12 hours have been like," prompting Conz Preti, a social media strategist, to offer up cookies and coffee.
It had indeed been a grueling week for the so-called social media editors — a newfangled presence now thought to be indispensable inside newsrooms, something between frontman and hype-man for the social web — but to some, the chatter seemed more empty than informative, the updates as often wrong as right.
Over at The Awl, editor Choire Sicha rounded up the worst of his contemporaries' tweets — the sob stories and incessant blathering, the reporting and misreporting, the pointed fingers and gazed-at navels — and, in no uncertain terms, concluded: "most of this sucks for your news brand."
"Is it not stressful enough that your whole office is trying to verify and break news," Sicha continued, "to then have these people babbling on?"
Indeed, it's been a bad few months for the babblers.
Weeks before the Boston tragedy, Matthew Keys, a 26-year-old social media editor at Reuters, was indicted for helping to hack the L.A. Times' website. While on suspension, he tweeted out misinformation and publicized sensitive information from a police scanner, prompting his swift removal. In the process, Keys took down Jared Keller, Bloomberg's social media editor, by exposing direct messages between the two. On the heels of "The Great Social Media Implosion of 2013," as Chartgirl's Hilary Sargent put it, De Rosa — one of the first prominent social media editors, and later Keys' boss — announced yesterday that he would be leaving Reuters for a job with a news start-up.
The fracas has left veterans of the social web feeling both vindicated and a little bemused. On the one hand, social media has become so central to a newsroom's mission that dedicated functionaries may be obsolete. On the other, doesn't every outlet need a boy or girl wonder to lend a human touch to the Twitter handle? Whether it's a day of reckoning or a sign of maturity for the social media editor, the role has never before been more embattled.
As one senior editor at a leading news outlet told me, "I both agree that the social media editor is dead and I just hired a social media editor."
***
I was a social media editor.
In the spring of 2010, I was working on the blog team at The Huffington Post, engaged (and occasionally disengaged) in the daily grind of posting hundreds of (yes, unpaid) submissions to the internet newspaper. In April, our social news editor — charged mostly with making sense of comments, so far as I could tell — quit. It was with some trepidation that I volunteered to fill his shoes, for what did I know about social media that the next guy didn't?
As it turned out, not much.
What made HuffPost such a force to be reckoned with was that its editors — twentysomething natives of the web, more properly tasked with something like audience development than editing of any sort — intuitively grasped web traffic, and had the technical tools to corral it. In those days, the lion's share still came from Google. But with Facebook and Twitter in the ascendant, these same "aggregators" created and fostered formidable presences — not because they had to, but because that's where the traffic was.
My role in all this? Aside from implementing standards around jargon and short links, reprimanding the occasional Twitter outburst, and policing our accounts, I had little to offer in the way of editorial guidance or institutional knowledge. Our editors spoke for themselves. Fearing redundancy — or worse, obstruction — I aligned myself with the technical team, and focused on product development and partnerships startups that had taken an interest in the news industry.
But enough about me, because my peers adopted just the opposite stance: more followers, more about them, more about their "personal brand." Instead of finding a niche within the newsroom, these hires carved one out for themselves, largely outside of existing structures. They became self-appointed spokespeople, faces and names. It might take years, even decades of in-the-trenches reporting to land a piece on A1, but seemingly any college grad working odd hours with a bad case of logorrhea could become internet famous.
When De Rosa was promoted to Reuters' social media editorship, he summed up the job description: "You need someone to be the human face, almost like an anchor on television," he said at the time.
Think Up Close & Personal, where instead of mentoring Michelle Pfeiffer, Robert Redford puts her in charge of the network's messaging. Before long, every news organization worth its salt had lent its imprimatur to some aspiring chatterer. Newspapers were the fastest-shrinking industry in America — decreasing 28% in the five years before 2012 — but jobs in social media proliferated (it's the first category on MediaBistro, with 121 openings). And what sensible cub reporter would choose an arduous and failing career path over a quick shot at 50,000 followers?
Of course, many outlets hesitated to elevate untested scribblers to Cronkite-level tweeters. At the Times, Jennifer Preston, a longtime journalist, author, and professor, took on the role. The Wall Street Journal hired Zach Seward, from the Nieman Lab, to manage so-called "outreach." Andy Carvin has been thinking about community and social at NPR since 2006.
But as often as not, social media hires came to resemble Cameron Hughes, The Onion's fictional social media maven, whose fake TED Talk wowed audiences last year with "Using Social Media to Cover for Lack of Original Thought."
(Though let it be said that social media editors aren't in on the joke: The Washington Post, BuzzFeed, Digg, and elsewhere last month used their much-followed accounts to tweet jokes about eating lunch.)
***
At a panel discussion in 2011, one of the Times' social media editors made a provocative prediction: that her job would not exist in five years. In the foreseeable future, said Liz Heron, now with the Journal, "it'll be less necessary to have one person in charge."
In a way, the future had already come to pass. A year earlier, Preston, Heron's predecessor, had seen her position eliminated. "Social media can't belong to one person," Preston said at the time. "It needs to be part of everyone's job. It has to be integrated into the existing editorial process and production process."
In speaking with higher-ups at outlets old and new, I heard from all of them that social was no longer peripheral, but core to their strategy. Concentrating authority in a single personage no longer made sense; Jennifer Preston and Liz Heron needed to get Twitter, but so too did reporters like Brian Stelter and David Carr. And they did.
"I feel like every employee at HuffPost thinks about social as we do our reporting and sharing the news, and that's a great thing for us," Kanalley said.
Drake Martinet, the social editor at NowThis News, said that many outlets no longer see social media as something novel.
"There's been a shift from awareness to operationalizing it," Martinet said. "Early on the platforms were growing and changing so rapidly that there was just a rush to be on them. Now that the space is a little more mature, we're starting to see organizations build up processes around social — using the platforms in a more strategic and surgical way."
At many news organizations, "social media" has become something of a catch-all, a not especially descriptive term for highly differentiated functions. Editors think about social sharing as they're assigning stories; writers use social channels to find sources and confirm leads; designers incorporate social media buttons and widgets into site redesigns; tech teams optimize pages for social discovery; and salespeople increasingly sell brands on their sizable social audiences. Each of these might require its own hire or department.
Once the province of a single point man, social media responsibilities are now frequently dispersed across the newsroom.
"BuzzFeed doesn't need social media editors because everyone there is basically a digital native," De Rosa said. "It's already in their DNA to do what I did at Reuters." But at larger, more traditional organizations, "the gap hasn't been bridged yet," he said, "and the time when there's no need for social media editors unfortunately has not yet come for many of them."
At newer media outlets, the trend is indeed accelerated.
"The idea that one person at a digital news operation is its 'social media editor' is laughable," said Danny Shea, a longtime editor at HuffPost. "It would be like CNN having a single person designated as 'video editor.'"
Social media jobs, once much-vaunted, are now frequently regarded with skepticism, and even contempt. The stereotype of social media editors, Shea said, is to dole out advice consisting mostly of "obvious things you'd find at a Social Media 101 class," while simultaneously "shamelessly attempting to build their own personal brands."
It was once thought that stodgy news brands could stay relevant by propping up rising, if untested stars. Not long after a much-cited Times article in 2010 annointed De Rosa "the undisputed king of Tumblr," Reuters promoted him. HuffPost brought on Kanalley because of his success launching Breaking Tweets, a blog he started to round up newsworthy tweets.
Nowadays the calculation is reversed. In many newsrooms, social media editors are suspected of trading on their employers' followings to boost their own. Cut loose from Reuters, Matthew Keys — whose downfall "caught me by surprise," said De Rosa — continued to blast out updates on Twitter, later boasting that he picked up 10,000 new followers in the process. The downside of concentrating an audience in people instead of properties is that the former can change horses. After taking a buyout from the Times, Jim Roberts brought his nearly 100,000 followers to Reuters, flipping his handle from @nytjim to @nycjim.
Roberts, like Stelter, Carr, and the thousands of other reporters on Twitter, use social media as an extension of their professional duties, a source and an outlet for the hard work of editing and reporting. In an email, Sicha cited reporters like Ellen Barry and Rachel Donadio (both based internationally for the Times) as espousing a "personal brand" beneficial to both reporter and employer.
"These are people who are just 'crushing it,' as the start-up kids apparently still say, on their beats, putting amazing (and, hello, highly shareable!) things in the paper," Sicha said. "They're bringing freshness and importance and gravity and hilarity to the newspaper, and they're doing it by leaving their bedrooms."
Many of the original crop of social media editors have grown up or out of the profession. Preston is back to reporting. Seward is a senior editor at Quartz. Niketa Patel, once the social media editor at CNNMoney, has, like De Rosa, left to work at RebelMouse, a start-up. Which is not to say that the remaining social media editors are twiddling their thumbs. When I asked Ries, the Daily Beast editor, to comment, he apologized.
"Have a busy day :-/," he said.