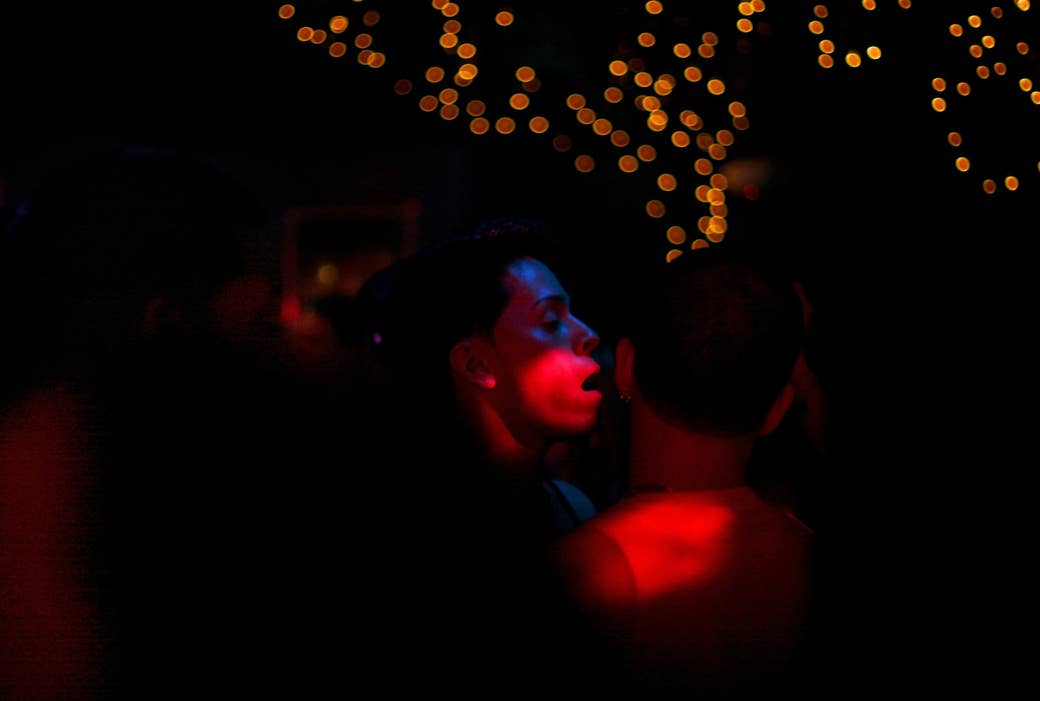 I have to reach back two decades to remember my twenties, when I sought out the gay Latino clubs in L.A., San Francisco, Phoenix, Albuquerque, and New York. None of these cities were home. I was still wandering from one place to another, still reeling from the fact that my entire family had moved back to Mexico without me. I stayed behind because, as much as I loved my family and my homeland, I couldn't imagine at the time that they would accept the gay man in me. And yet, without them I felt incomplete.
As much as I enjoyed the freedoms of youth, of being unanchored and flitting about like the mariposa that I was, kissing one flower after another, I yearned for the reminders of home. Immigrants are always looking, even in the next place of residence, for the echoes of what we abandoned or what abandoned us.
I found solace in my friendships with other gay Latinos, men like me who loved their families but who were estranged from them, men who still craved the flavors and music of home — a nostalgia for comforts that managed, if only for a few minutes, to assuage the pain of separation, of distance. But most importantly, perhaps our strongest bond to our homelands was our language. What a relief to communicate in Spanish, perhaps a chance encounter with the slang or lilt or speech of our towns. For many of us, our first tongue. For many of us, the words through which we first expressed love and fear and sadness and joy. And to have those words while inhabiting our queer bodies felt just right.
The club. Let me be clear about something I've learned as a gay Latino: No place is entirely safe, no building is a sanctuary. I have encountered violence and prejudice, or at the very least exclusion, in every social space. Like home, like school, the gay club was another complicated network of human interactions. It was not always pretty, it was far from perfect, but it felt necessary because my queerness was necessary, because my body hungered for attention, for the pleasures of movement on the dance floor where I was in close proximity to the other bodies I desired.
Let me be clear about something I've learned as a gay Latino: No place is entirely safe, no building is a sanctuary.
Latino gay clubs or Latin nights at any other gay club appealed to my sexuality and to my ethnicity. On Friday evenings I'd pull out the tightest black shirt in the closet. Soon afterward I'd be sipping a Long Island iced tea at the bar, trying to feel confident and sexy as I waited for my friends to arrive. And then they walked in the door and someone let out a screech and someone else took a sip of my drink, and suddenly no one else mattered outside of our immediate circle. How did we manage to communicate in those noisy and sometimes smoky places? Through our bodies. This was as public as affection was going to get between men: a kiss on the cheek, a hand against the torso, and always an embrace. We hugged between dances and pressed our bodies together on the crowded floor, sweat clashing into sweat. This intimacy, where had we learned it? No, not at the clubs, but at home.
For the gay Latino who grew up in a traditional household, the first parties were at home, in the living rooms and backyards of our relatives and neighbors. My first dance partners were my mother, my grandmother, and an assortment of aunts and cousins — tía Norma, tía Luz, Marina, Verónica. The party was a birthday celebration, a reception, an anniversary, a holiday, or a visit from a distant relative or a family friend. Or maybe it was simply payday. But what remained the same was the music. For my Mexican family that meant cumbias and, for the more advanced crowd, salsas. No wallflowers allowed. That was not the González way. ¿No sabes bailar? ¡Aprende! Here, let me show you, let me lead you, let me teach you to love what your body can do.
The best part of the gay Latino club was that the DJ was one of us — he knew how to tap into the memory banks of our childhoods by surprising us with a cumbia, a merengue, a bachata and our bodies sprang into action because not only was our muscle memory very familiar with the steps, it longed for them. We had learned to dance with women and here we were, dancing with men. Our lesbian friends dancing with other women. It felt just right.
Our families taught us to move through the hard times and so, to cope with our loneliness, our homesickness, our everyday encounters with microaggression, sometimes in the exchanges with our very own allies, we danced. And we danced to cope with our breakups, our disappointing hookups, our unfaithful boyfriends, and our secret crushes. Exercise on the dance floor, lights dimmed, sound system cranked, was the best kind of emotional release.
Oh, yes, how I cherish the time I have spent in clubs like Pulse in cities like Orlando, where gay Latinos — the immigrants, the undocumented, and the first-generation Americans alike — gravitate because we love men and we love our homelands, and that's one of the places our worlds converge.
And we know, we have always known, that no place is safe — we are queer people of color, no place is ever safe for us, not even the gay club — but it's one of the few spaces where, at least for the duration of a song, we can imagine a complete surrender to the music that transports us into the sheer enjoyment of a moment.
We didn't give a damn. And we didn't have to explain a single thing.
Rigoberto González is the author four books of poetry, most recently Unpeopled Eden, which won the Lambda Literary Award and the Lenore Marshall Prize from the Academy of American Poets. His ten books of prose include two bilingual children's books, the three young adult novels in the Mariposa Club series, the novel Crossing Vines, the story collection Men Without Bliss, and three books of nonfiction, includingButterfly Boy: Memories of a Chicano Mariposa, which received the American Book Award from the Before Columbus Foundation. He also edited Camino del Sol: Fifteen Years of Latina and Latino Writing and Alurista's new and selected volumeXicano Duende: A Select Anthology. The recipient of Guggenheim, NEA and USA Rolón fellowships, a NYFA grant in poetry, the Shelley Memorial Award from the Poetry Society of America, The Poetry Center Book Award, and the Barnes & Noble Writer for Writers Award, he is contributing editor for Poets & Writers Magazine and is professor of English at Rutgers-Newark, the State University of New Jersey. In 2015, he received The Bill Whitehead Award for Lifetime Achievement from the Publishing Triangle. As of 2016, he serves as critic-at-large with the L.A. Times.