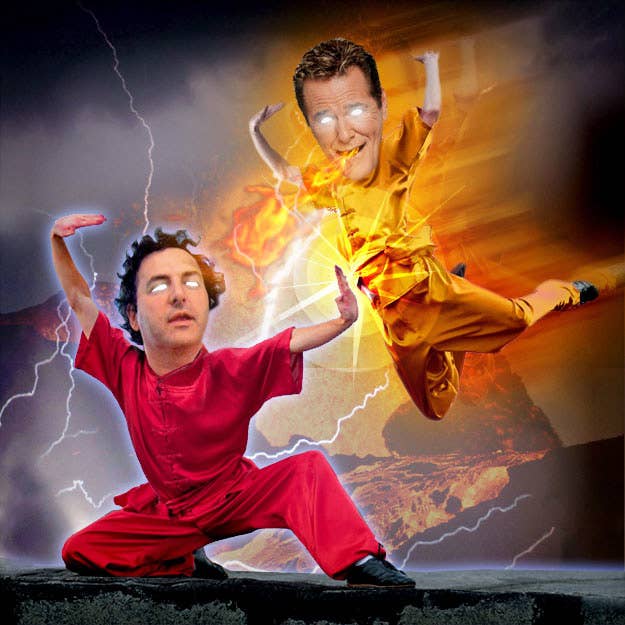 Beginning in early September, two men from extremely different media universes collided on Twitter. Around the time of the Democratic National Convention, radio personality and music video director (and BuzzFeed contributor) Tom Scharpling discovered former game show host Chuck Woolery's Twitter account. It seems that the squarejaw behind "The Love Connection" was now an avowed "conservative libertarian" with a website ("SaveUsChuckWoolery") dedicated to exploring those views — and the willingness to take on, in a very public forum, all comers. Even a cursory read of Woolery's feed reveals a lack of understanding of any nuances of the platform: It's a pretty impressive amount of tweeting for a guy in his 70s, but it's all one-note politics, pounded in with the delicacy of a sledgehammer wrapped in bloody barbed wire.
Like many, I've been watching this feud develop for the better part of a month: It's been very amusing. And confusing. The idea that a cultural artifact like Chuck Woolery could show up on Twitter and start spouting off libertarian opinions makes my brain hurt: Isn't he supposed to be frozen in amber, with all the other TV personalities from the last half of the 20th century? I didn't have any particularly positive or negative associations with Woolery, just a strong familiarity from seeing his face on TV for most of my childhood. One of the strangest parts of Twitter has been the revelation that celebrities have strong and surprising personalities: they are slyly witty like Mia Farrow, cracking jokes about her ex-husband or they are crazypants like Jose Canseco. Who knew Chuck Woolery wanted to talk politics? Before Twitter, maybe no one.
Even the way Scharpling and Woolery are famous is confusing. Scharpling is beloved for his WFMU radio show and a frequent guest on Marc Maron's WTF podcast — that's 21st century media cred. Woolery is a dinosaur, albeit one that's vastly more recognizable to a mainstream audience than Scharpling. Yet, on Twitter, it's Scharpling who has the upper hand.
It started, Scharpling said, when a political tweet from Woolery caught his eye, causing him to check out the Woolery stream. A series of comments about Sandra Fluke's appearance pissed off Scharpling, who began alerting his 76,000 or so followers to Woolery's new career path. "He reduced her to her looks, but then, being disingenuous about her looks," Scharpling said. "I started goofing around with him. I would sort of bait him and he took the bait."
But while Scharpling said that, to his credit, Woolery was "a good sport" about the ribbing of his hair and his four marriages, a cultural rift opened up. For starters, Woolery is 72 years old and relatively new to Twitter. He often ends up tweeting to himself.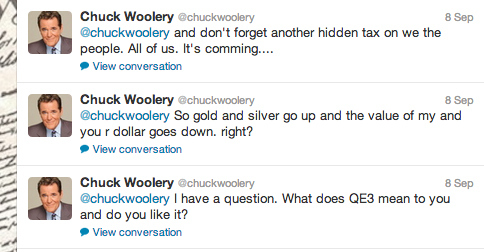 Off and on, Scharpling traded barbs with Woolery. It was Woolery's confidence in his rank as a media personality combined with his eagerness to dish out often-defamatory opinions that fueled Scharpling's taunts. "I'm only giving him what he's giving other people," he said. And with each go-around, Woolery's follower count grew, a constant source of amusement for Scharpling.
The situation is also confusing to Scharpling. "It could not be more bizarre," he says. "In a weird way, what he's doing is performance art, but he doesn't know he's doing it. It's some kind of outsider art, by the dude who hosted The Love Connection." It's true that Woolery's complete lack of self-consciousness on the public forum is a bit outsider-y. (Woolery did not respond to interview requests.) But Scharpling also speaks about Woolery's feed with what seems like actual anger, not just ironic detachment ("this guy, as best I can tell, has a brain the size of a pea.") Last night, another, more pointed exchange broke out.
For now, this particular Twitter fights/performance art pieces has reached a detente. Scharpling has a zinger in the can for Woolery should Obama win the election, so let's hope that these two begin talking again before November 3rd. If you're looking for more Scharpling shenanigans, be sure to check out his beef with Garry Shandling. It's a hoot.
Update: In an earlier version, the headline stated that Woolery was formerly the host of The Dating Game. It should have read The Love Connection.