Weird Little Dioramas The Internet Couldn't Help But Love
How do you get the internet to go nuts over old school arts and crafts? Just add a little ultraviolence.
There are dioramas. And then there are die-o-ramas.
When Steve Jackson, known on Reddit as CapJax, posted 13 images to the site under the headline "My Wife Makes Dioramas" a few weeks ago, the response was overwhelming: thousands of pageviews and hundreds of comments within the first day. And the deluge continues, as the pictures have been viewed almost 5 million times.
The feedback could be sorted into two groups, said Abby Goldman, the wife in question. "At first it was, 'dude you're wife's messed up.' Then, 'I'm in love with your wife,'" she said. "We have a very happy marriage."
What makes her dioramas, typically boring, miniature recreations of historical events better left to museums, so fascinating? Goldman's sense of humor is fairly twisted. After finding some sites dedicated to model train scenes, Goldman decided to pervert these wholesome scenes of a family at a carnival or tourists taking pictures by making her own miniatures. She began ordering sets of figurines from mostly German companies and frequenting Home Depot to buy an increasingly elaborate set of tools —a giant saw to cut foam, goggles with magnification —to construct tiny blood-drenched murder scenes.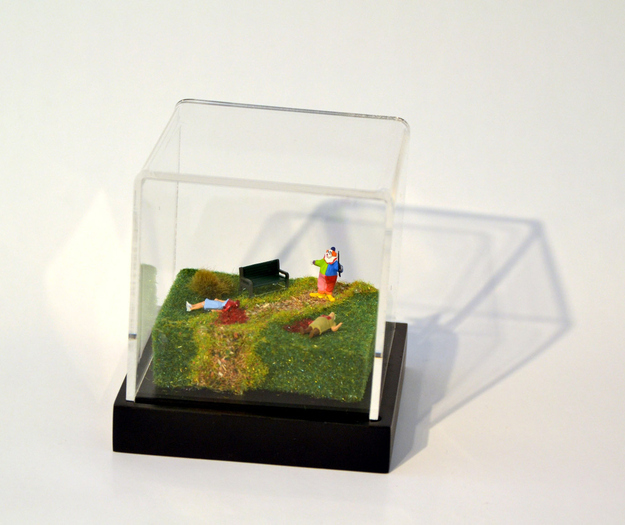 For Goldman, the difficult part wasn't sourcing the figures — even wholesome train sets can contain oddities, like the woman flashing her tits, a figure that came from an "At the Rock Concert" set. "It was really hard making miniature scenery," she said, "That requires weird tools and products that I had no knowledge of."
Until this spring, she was only making her 4-inch tall boxes for friends, who encouraged her to bring them to a gallery. Goldman, who lives in Las Vegas and works for the federal public defender's office, didn't think too much of the selling power of her work until her husband put the images on Reddit. Within a day, all 13 sold out: the only one that took a while to sell was a robbery scene that didn't feature a tiny figure shooting or knifing another tiny figure. "I had to add a dead body," she said.
Fans of Goldman's work will be pleased to know that in July, she will have a new batch of "flashes of horror" up for sale. Spoiler alert: there's a gun-wielding Pope and another lumberjack sawing a woman in half, one of Goldman's most popular works. Is there anything too macabre for even Goldman, a former crime reporter whose interest in dark subjects harkens to childhood? "One of the companies makes little Barack and Michelle figurines," she said, "I'm not touching that."