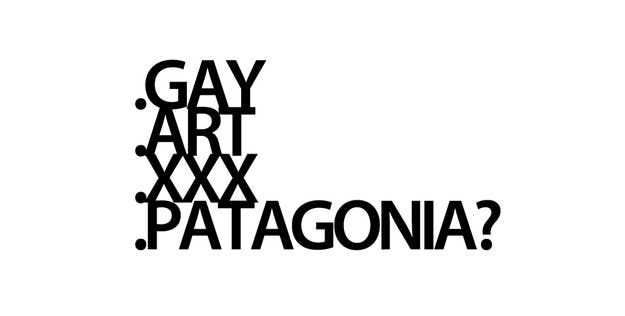 This past spring, ICANN, the international group that oversees all domain names, announced applicants for a whole raft of new .coms. Unlike previous top-level domains, like .com and .org, these would be privately owned and controlled — which proved to be a huge incentive for big brands to pay the $300,000 application fee to lock up their desired domains. However, it's more than just ".kleenex" that is up for grabs; as MIT's Technology Review put it, the whole thing reeks of "boondoggle." With things like .sex, .art., .music, .porn and more on the table, the community comment period has yielded over 6,300 responses.
With so much feedback to wade through, ICANN has extended the comment period for an extra 45 days, through September. They are taking the comments seriously: Internal evaluators are reading them and the number and strength of the comments will go into the applicant's score. (Laid out in the online guidebook.) It's particularly important for high-value domain names like .Art, which have become the center of vicious fights — like over whether DeviantArt is the best shepherd for the portal to the art world. Other debates have more to do with whether a domain should even exist, especially in the case of porn-y names like .porn, .adult and .sex. The proposed .gay appears to have a campaign going against its existence, also. Others support the domain but have concerns about one company owning rights to online property exclusively: lawyers for Fidelity, for instance, commented on Countrywide administering .insurance.
.Patagonia: "It's a large region of South America"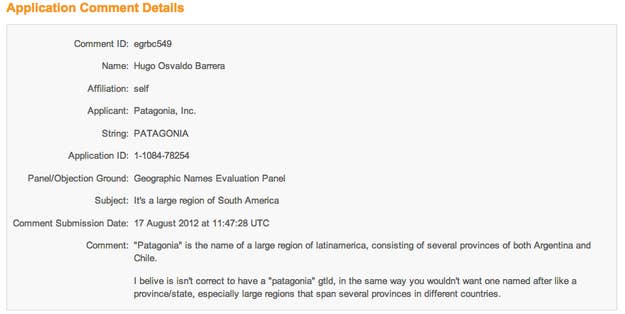 This one is pretty clear-cut: fleece-producing outdoor apparel company Patagonia has requested its own domain name. Unfortunately, it's also a place.
.Stroke: People have strokes everywhere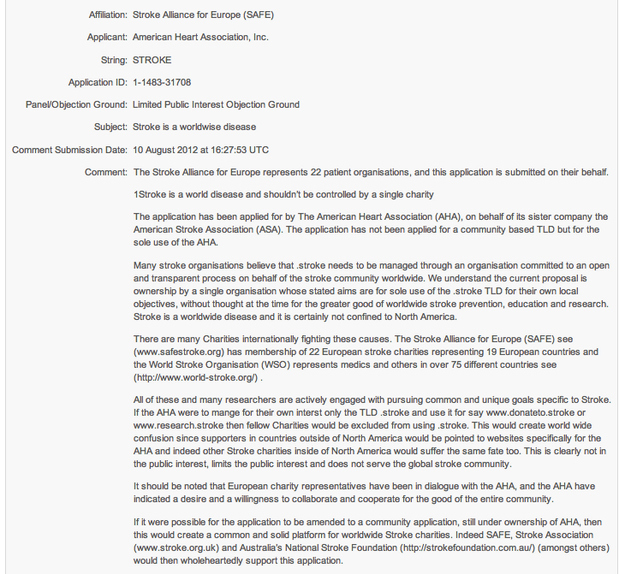 Numerous people have weighed in that .stroke should not be owned by the American Heart Association as strokes are not just America's issue.
.WTF=WTF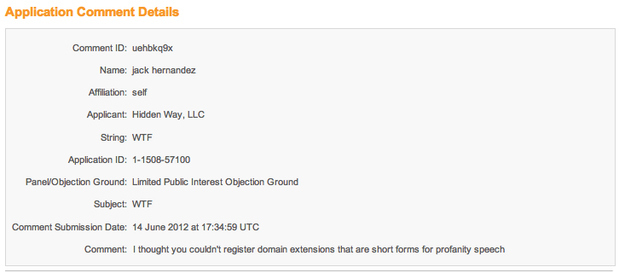 Seemed pretty irresistible to avoid calling "WTF" on .WTF.
.Sex: Too sexxy for a top-level domain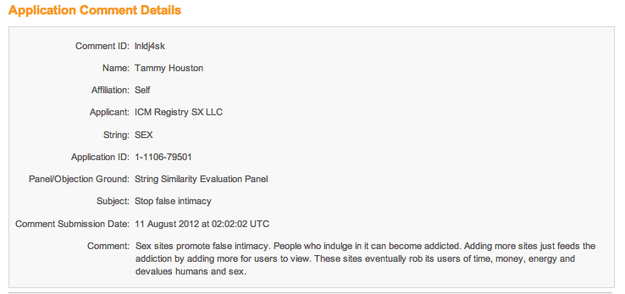 Like .porn and .adult, .sex was the focus of a concerted protest effort. Also, people wrote in their own, more personal objections.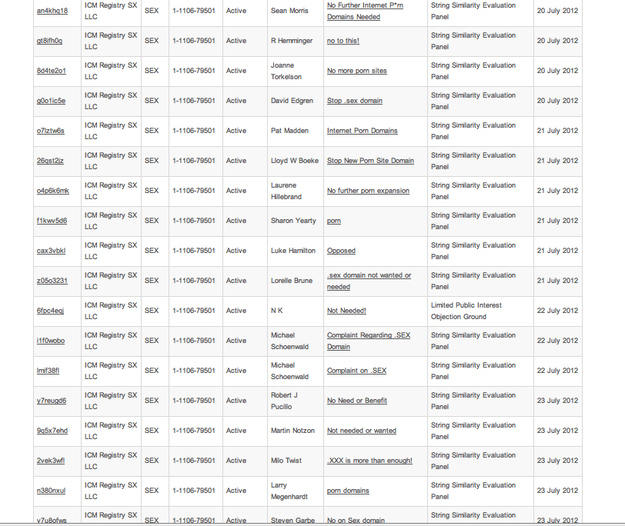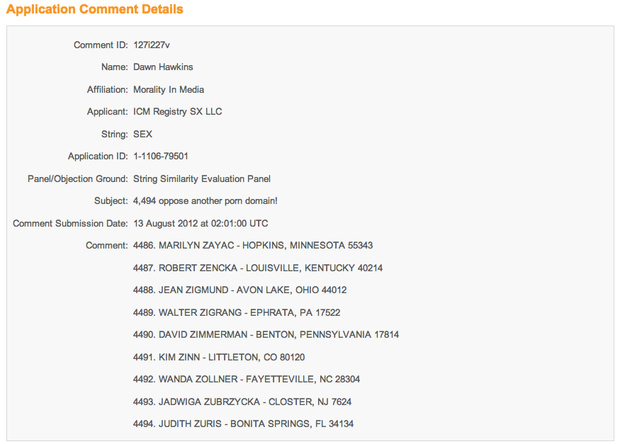 .Adult: Another target of anti-porn campaign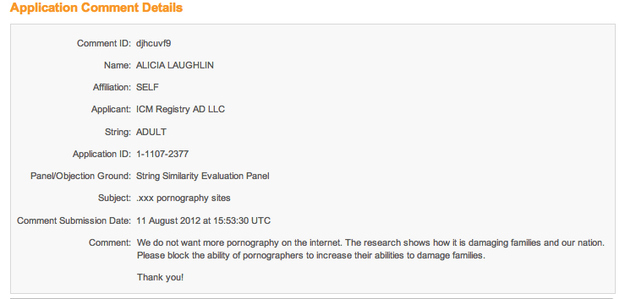 .Art: Prospective domain owner is DeviantArt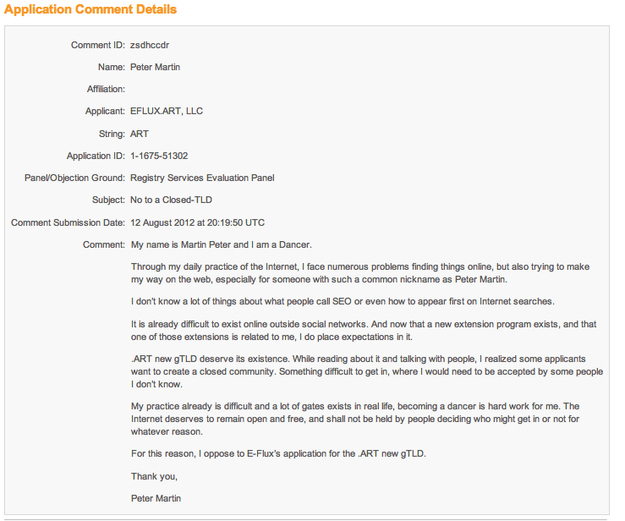 The fight around .Art is being fought on three fronts — those who don't want any private control of art, those who don't want DeviantArt in private control of art and those who can't wait for DeviantArt to be in control of .art.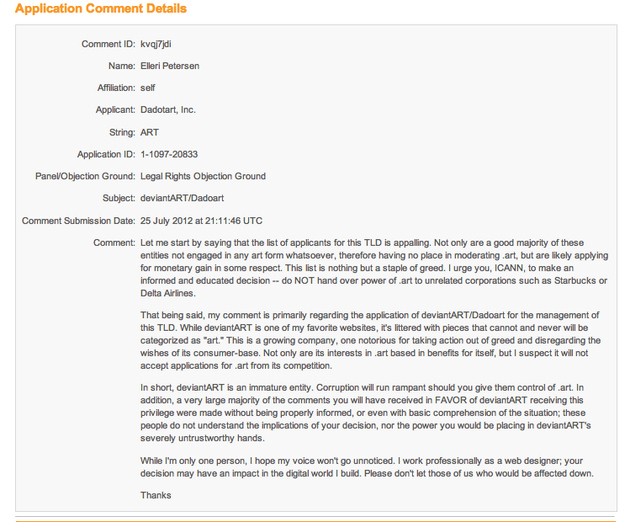 .Baby: Fears about child porn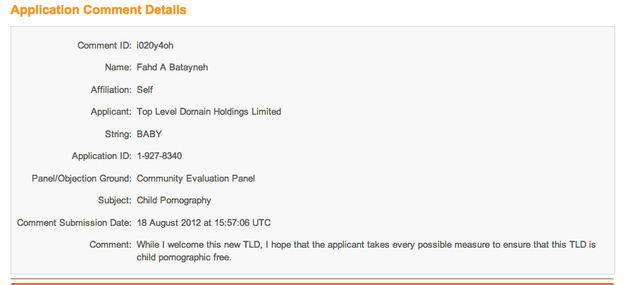 This person basically wrote this comment on every child-related domain name.
.Sucks: Libel?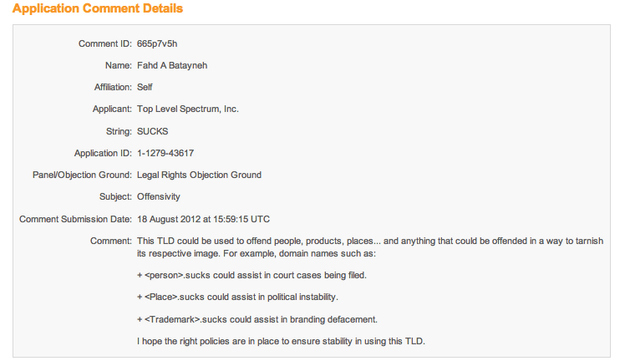 In addition to many who howled about the porn possibilities of .sucks, this person pointed out the legal ramifications of such a domain. Like, libel.
.Islam: Who can speak for one of the world's biggest religions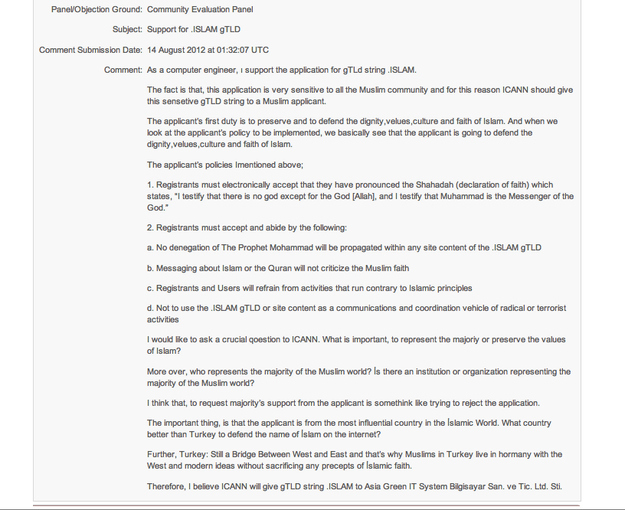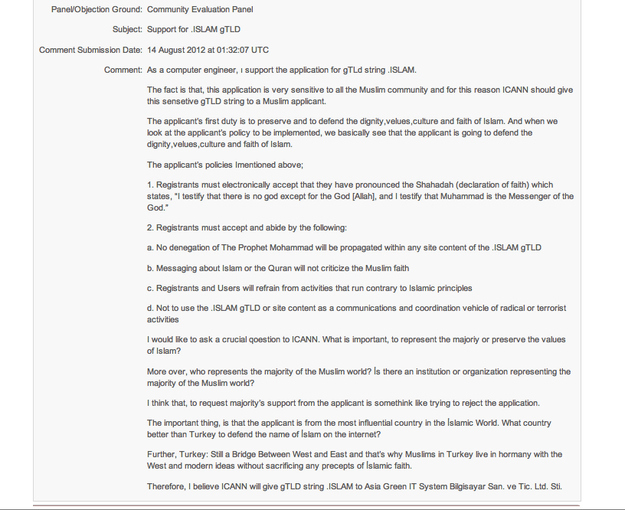 Not surprisingly, there was much discussion, some in Arabic, about this domain. Many came out against it, saying that such a domain would need full support from the billion-person Muslim community. Others said they were satisfied with the policies listed by the applicant.
.Gay: "Not acceptable in our community"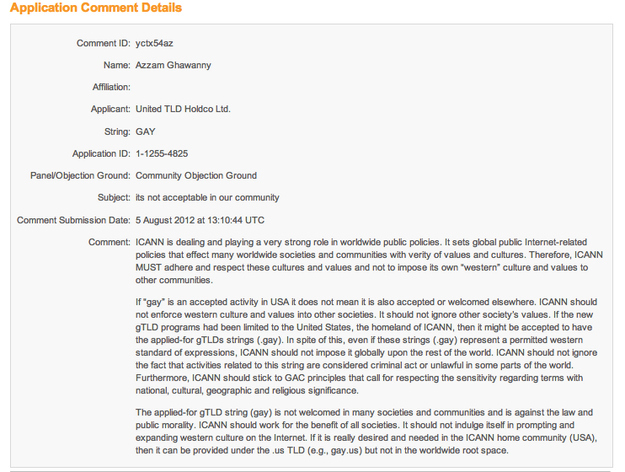 As with the porn, a plethora of comments with the same subject line ("not acceptable in our community"), reflecting an organized campaign. In this case, it seemed to come from a Muslim rather than Christian group. But a strong defense was also mounted.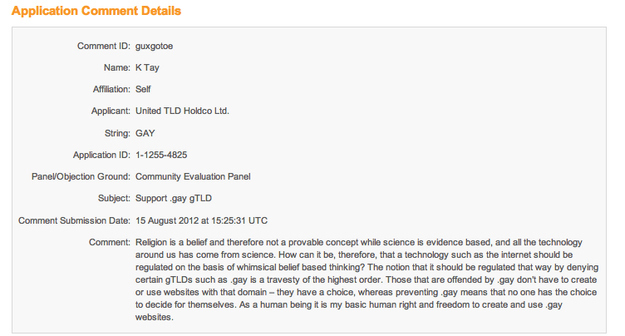 .Indians: Native Americans but also, people who live in India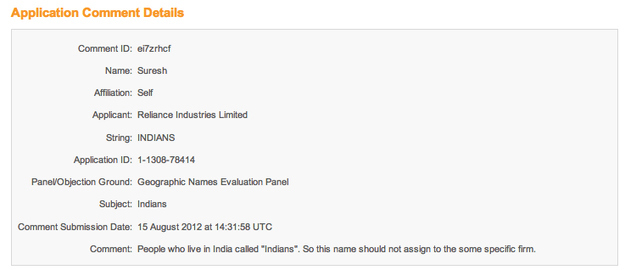 Seems pretty straightforward.