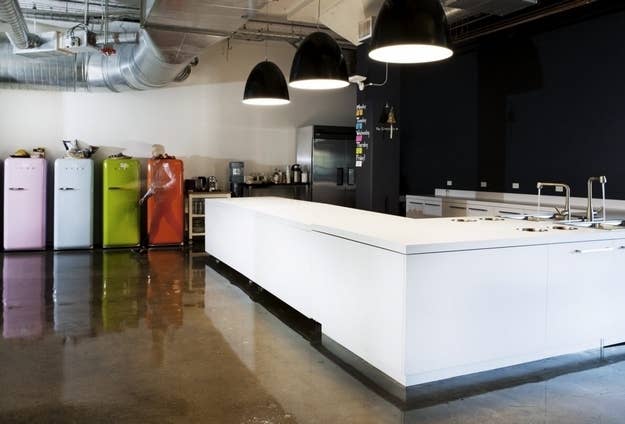 With his back to the open kitchen in Airbnb's sun-dappled office in San Francisco, Airbnb chef Sam Lippman had barely gotten past explaining the salad component of that day's lunch offerings (sesame zucchini noodles) to me when he was interrupted by an employee. "Sam, what's tempeh?" a woman asked as I watched other employees take the soy-marinated chicken or opened one of five colorful vintage refrigerators, each containing sugar-free soft drinks, fresh juices, or a healthy beer, wine and champagne selection.
Lippman, clad in a black apron with the word "shit" written on a piece of masking tape, explained that the pickings were rather slim today because it was the end of August and a long weekend was around the corner. "For the last two days, I've been working the leftovers back into the menu," he said. "The luxury is that the menu changes every day and you're not tied to certain things." But: "Here, people expect it to be different."
In Silicon Valley, free food is a necessary perk for companies looking to attract and retain talent. But even more than that, it's a badge of honor, an emblem of company culture. Airbnb serves breakfast and lunch in a friendly, open kitchen that may lack Google's frills — there is no stove or oven, for instance — but nonetheless has a grill on the roof. At Facebook, longtime legendary chef Josef Desimone, stolen from Google in 2008, has kept up traditions like "Nacho Thursdays" and added fun features, like a Willy Wonka-all chocolate dinner and a Simpsons-inspired meal (pork chops.) Other places with free food include Zynga, Twitter and Dropbox. Apple, famously, does not have a free food program — according to journalist Adam Lashinsky, who has written extensively about the company, it is emblematic of Apple being a "grown-up place."
"You're not getting lunch from daddy, you buy your lunch," he told Business Insider.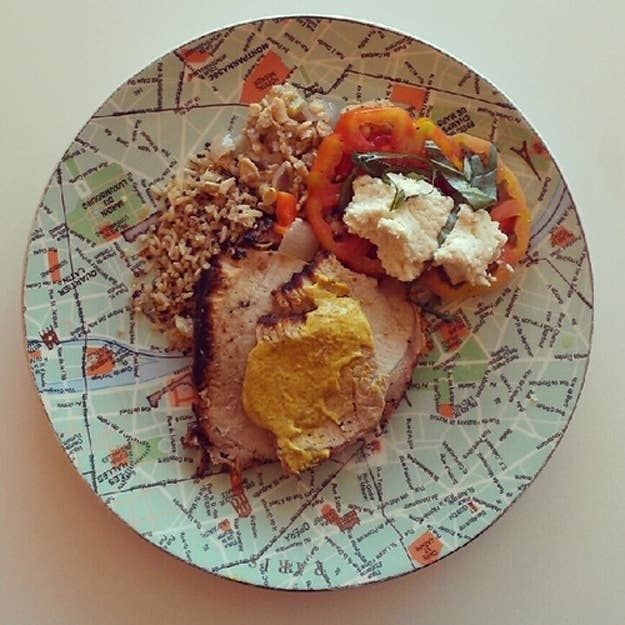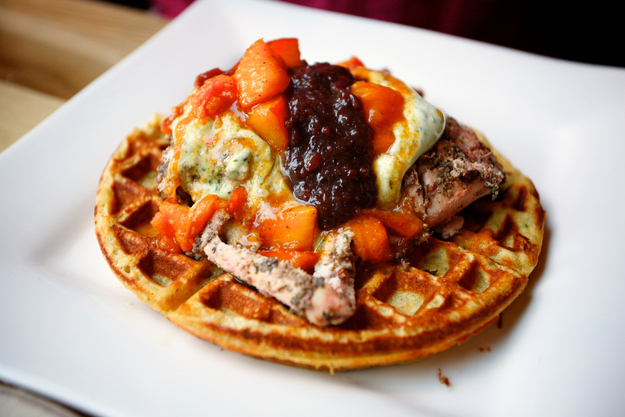 Like many chefs around the Bay Area, Lippman got his corporate cafe start at Google, an experience that he loved but was eager to improve upon. In contrast to the relaxed atmosphere at Airbnb, a recent lunch at Google evoked the mad rush of my freshman dining hall, albeit with a Ritual coffeehouse and a much-better salad bar. There were no opportunities for staff and employees to interact: the scale was just too large.
"That's a funny culture because they've had free food for so long. They absolutely expect it and expect it a certain way," Lippman said. "They had no budget, it was foie gras and Kobe steaks every day."
At Facebook, the food philosophy is "about keeping employees happy, healthy and productive, while fostering our work environment of openness and communication," according to Slater Tow, a spokesman. They are a bit more liberal with the cheese and meats than Lippman (a former raw foodie), who takes care not to have too much junk food around. In addition to two cafes that focus on organic food, Facebook also has a BBQ shack, a burrito bar, a pizza stand, and a hamburger shop onsite, and there's a juice/smoothie joint planned.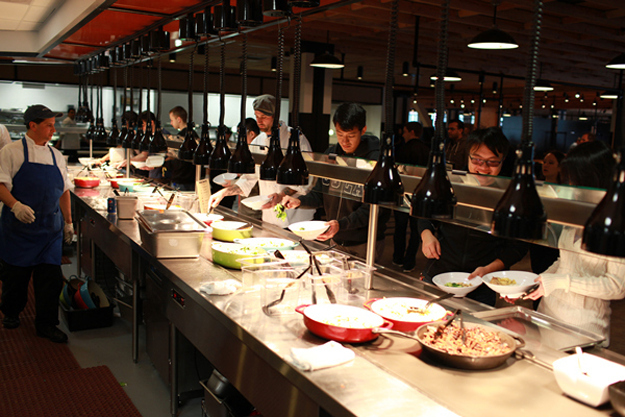 For the chefs themselves, corporate dining offers an opportunity to cook without the pressures of the marketplace — which can be a plus or a minus. One former Google chef described a strange inverted reward system, whereby making popular food meant that you'd be swarmed, with no extra help of resources.
It was significantly larger than any place I had worked before — that was why it piqued my interest. They told me it's possible you will serve 1,000 people a day, 800 in 45 minutes to an hour. When you hear those numbers, they wash off your back. Then of all a sudden, you're in it. There's no point of reference, no comparison.

It was really incredibly rewarding, in that sense. If you wrote a menu that was really popular, you were packed. But it's like, live by the sword, die by the sword. If you write a great menu, your labor force doesn't change, your budget doesn't change. You basically end up impaling yourself — putting out this knife and running into it by being good. If you make more food, you get more clients, you just make more work for yourself. It's such a weird system. And you know, does it make the company happier? We would run out of food, have longer lines. The cafe is always a madhouse. It was time away from their desks, which decreases productivity.

You could kill yourself by simply putting a corn dog on the menu.
When he needed a break, he'd make a menu that was purposefully less appealing to the masses — traditional Irish food, say. Lippman said he's used that trick too, although it's not necessary at his current gig.
Another big issue for chef-employee relations is entitlement. Now that free food is considered a no-brainer perk for many tech companies, kitchen staff can sometimes seem more like serfs than colleagues. "The entitlement is an issue," lamented the former tech chef. "In a regular restaurant, you have this exchange of money. Your client is expressing their gratitude by giving you money for your services. At the places with free food, because they don't have that transaction, the client devalues the experience."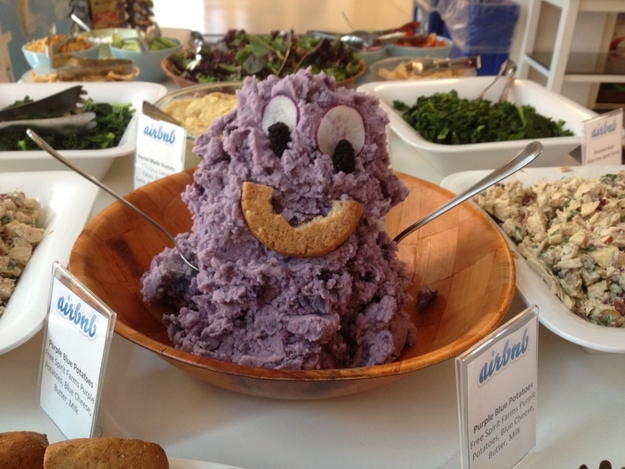 Entitlement hassles aside, tech company food service, like many aspects of working at a start-up, just seems fun. Right now, Lippman is working through details of the company's upcoming move to a much larger building a few blocks away where he will feed up to 1,000 employees. He wants to keep signature details of the current set-up, like the open kitchen and the fact that the cooking staff is in-house. "I didn't really feel included when I was working for a different company at Google," he said. "Here, we all feel like we work for the same company."