The Pirates And Trolls Of Porn Valley
Since 2010, a slew of lawyers have made their living off of pursuing (possible) porn pirates. It's a controversial living, but it's a living.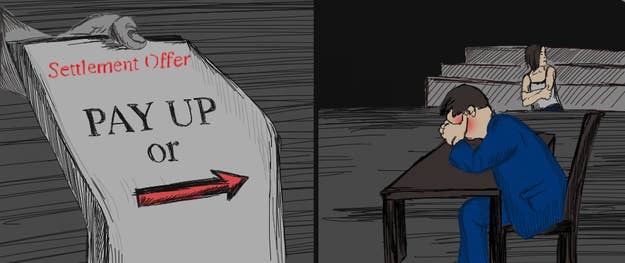 The most famous porn copyright lawyer in the country has a name that seems out of the kind of films that he helps protect — John Steele. The former Chicago-family-lawyer-turned-Florida "porn troll" has, almost singlehandedly, brought the art of suing adult film pirates to the masses: along with his firm, Prenda Law, a boutique agency devoted to anti-piracy lawsuits, he has put his name on 10,000 letters and robocalls strongly suggesting that their recipients pay around $3,000 or risk being sued for $150,000 or more for illegal file-sharing. Even those who believe in the right of copyright holders to protect their products pause when asked about Steele.
"Robocalls, that's a bit unsavory," said Marc Randazza, an intellectual property lawyer in Las Vegas who has both defended and sued individuals accused of unlawfully trading content. "They cut the cost of doing the case. It's not how you practice law."
At first blush, the multi-million dollar porn anti-piracy legal field itself reeks of graft. How could it not? The basic mechanism is thus: Identify a porno that has been uploaded to BitTorrent; make a list of IP addresses that uploaded the film; subpoena the names behind the IP addresses; send out form letters asking for a settlement to make (embarrassing) alleged wrong go away; threaten a lawsuit otherwise; rinse and repeat.
But those in the adult entertainment industry say it's not so simple to finger the porn studios and their lawyers as the bad guys — not every settlement letter is predatory, and something needs to be done about piracy when the multi-billion dollar industry's profits are down by as much as 50 percent since a peak in 2005, according to online trade magazine Xbiz.
"I think it's important for companies to bring these cases," said Randazza, "Otherwise, there's no disincentive to stealing."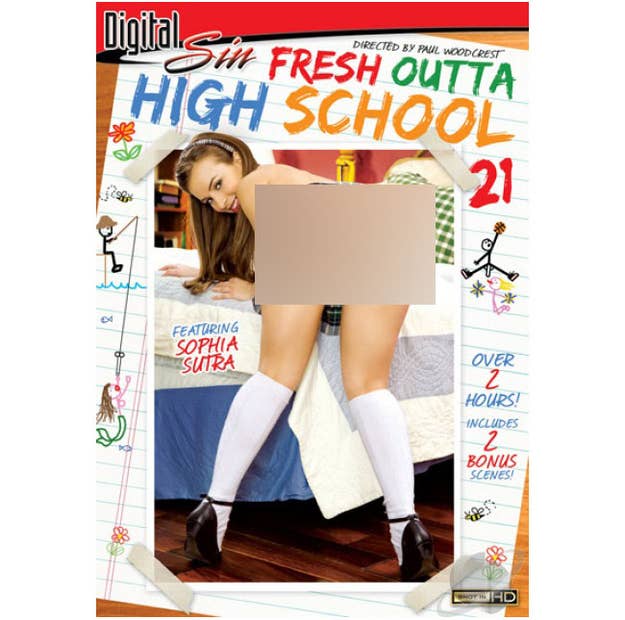 Over the past two years, the number of legal actions have grown rapidly, creating a whole subculture of porn pirates and porn trolls, with a small pool of determined lawyers (the Dallas Observer guessed "about five") attacking and defending those accused of piracy. Hundreds of porn studios have sought out those who upload films like Tooled up Twinks, Fresh Outta High School #21, and, of course, Paris Hilton's sex tape. The Chicago Tribune reported that 3,000 people were sent settlement letters in 2010 — since then, press accounts peg the total number of people accused of porn piracy as as an estimated 250,000. "We suspect it's huge," said Mitch Stoltz, a lawyer at the Electronic Frontier Foundation who has been working on this issue on behalf of file sharers, "three EFFs could not begin to address this problem."
Stoltz thinks the practice of sending out hundreds or thousands of threatening letters, pegged to identities lifted from records of IP addresses, is not an honest approach to resolving copyright theft.
"They are misstating the law, they are telling people that the person who is on the internet subscription is responsible, no matter who downloaded the video and that is not true," he said, "a lot of tactics being used just aren't consistent with the idea that a copyright owner trying to enforce their copyright."
But for an industry on the rocks, largely due to pirated content, suing for damages makes sense. "They are trying to find other sources of revenue," Don Parret, an editor at Xbiz, explained. "This is one of them."
The music industry pioneered user lawsuits in the 2000s, but the first porn-specific use of the technique may have been a 2008 British lawsuit in which a German tech company provided the necessary info about IP addresses and a judge complied with the request to identify the uploaders. It was immediately controversial: In a BBC article, "hundreds" of concerned citizens protested the settlement letters. In what would become a common occurrence, the reporter seized on an unlikely porn consumer, a 60-year old woman who said, "I didn't even know what a P2P network was before this." The mainstream movie industry dipped its toes in the end user waters in 2010, but it was in porn that the practice really took off.
One of the biggest issues with this tactic has to do with the nature of IP addresses, which are not precisely tantamount to identities. The IP corresponds to the network, not the specific device, one uses: it can't tell who hit "upload" on a BitTorrent, just the network (think cable modem) used for the activity. An IP address also isn't static; service providers frequently change them, so it's not like your computer keeps the same one over time, even if you are using the same network.
But it is a good starting point for investigations, say copyright lawyers. "The IP address is like a license plate on a car. If the trunk is full of stolen goods, and if it isn't the owner of the car who did it, who is it? Was the car stolen? Did the stolen car get used in the theft?" said Randazza. Cases should not be stopped, he said, just because IP addresses are not perfect identity markers.
Not so, said Stoltz, who ticked off a list of problems with associating pirate identities with IP addresses. "Their methods are opaque — the software that monitor BitTorrents have never been tested in court. They could be transposing digits, they could be getting the name wrong, the [Internet service providers] could have the wrong name associated with [an IP address]," he said.
But that hasn't stopped lawyers from pursuing P2P networks. In fact, the legal teams working these cases have been very adept at adapting to a whole host of obstacles — like the increasing distaste judges have for granting mass subpoenas and the push-back from TimeWarner and other cable companies on identifying the IP address-holders.
And no one exemplifies this more than Steele's Prenda Law.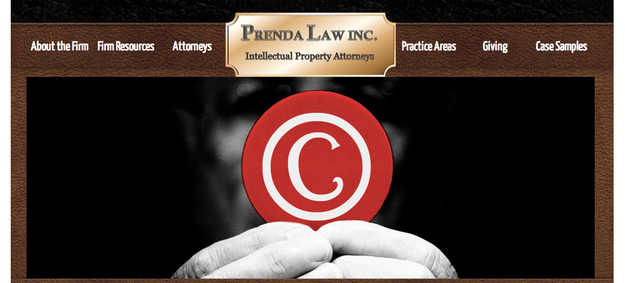 Steele became active in his copyright practice around 2010. His tactics have come under fire from sources like Techdirt and there's a great deal of mystery around his business in general. In 2010, he gave an interview to the Chicago Tribune in which he said that he sunk $250,000 into developing software to hunt down copyright violators. In describing a a case he worked on, Steele also defended the idea that he was using the outré nature of the content itself to pressure people to settle.
"He was more than willing to say, 'I don't want my name in a federal lawsuit for, in this case, downloading transsexual porn,'" Steele said. "We worked out a very reasonable, minor fine.

"If we resolve the matter prior to actually naming them … then no one knows who those people ever were. I don't like the idea of trying to pressure somebody into settling in exchange for keeping their name secret. I think that what we're doing is pressuring people into not being revealed for stealing.

"People always ask me that — are you trying to extort things? I guess there's something to be said about people being more embarrassed about this than [illegally downloading] a regular movie like 'Titanic.'

"But I think I'd be most embarrassed that they're committing a crime."
Steele, unfortunately, couldn't be reached for an interview. But a number of blogs have been tracking his movements carefully (and, it must be said, critically) over the years. By 2011, Steele formed Prenda Law, a "nation-wide firm" whose website signals the strong approach they take to protecting copyright. According to the EFF's Stoltz, "[Steele's] outfit has gone by several different names, some at the same time." Here is how they describe their tough stance on pursuing end users, from their website:
Our approach is not for every copyright holder. We do not send emails begging criminals to stop stealing. We are the solution for copyright holders who want to be proactive in fighting copyright infringement and hacking crimes.
Prenda has introduced some efficiencies that rub even fellow anti-piracy advocates the wrong way. For instance, the form letters that they mail to alleged infringers frequently have misleading and scary legalese terms like "informal discovery," a real legal term that describes an agreement between lawyers to share documents during a trial, that is misused to help speed along a settlement. Here is an example of such a letter, courtesy of Stoltz:
Scenes from a settlement letter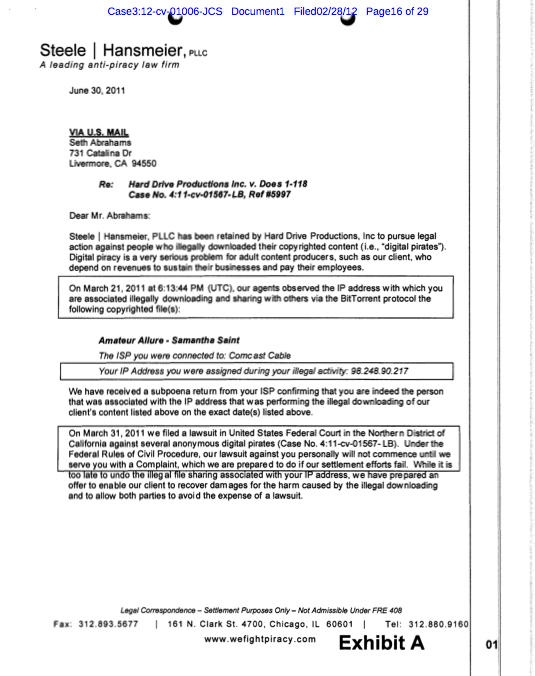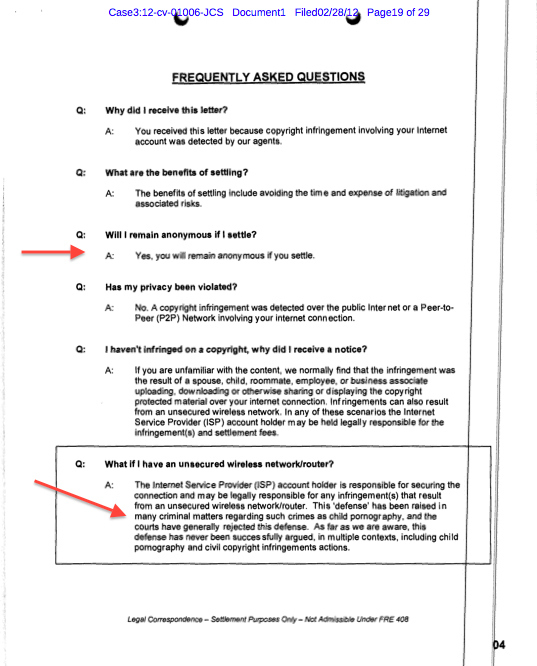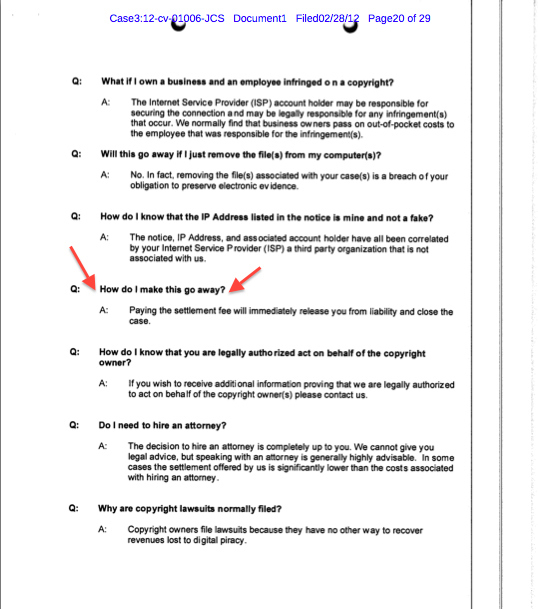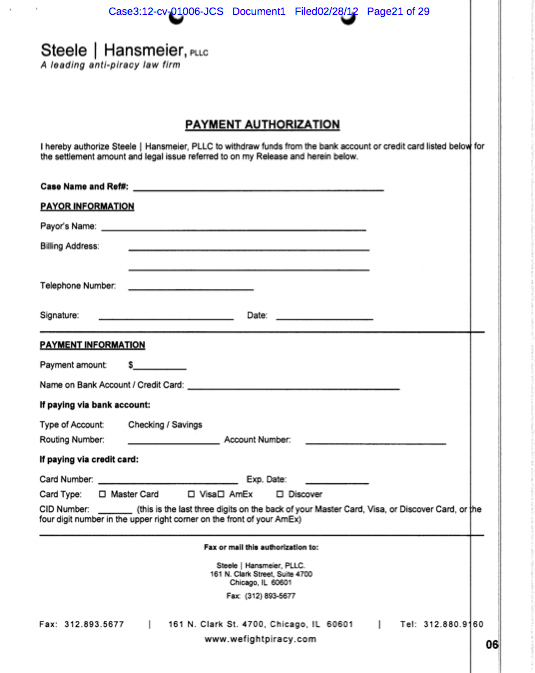 Another controversial practice are the robocalls employed (listen to one here) if someone fails to respond to the settlement letter. They have been criticized as being further proof that the lawyers aren't as interested in protecting copyright as scaring people into paying, as the threats of continued legal action contained in the calls have been largely bunk, according to Stoltz.
Randazza also pooh-poohed those calls ("if you're gonna sue someone, have the goddamn decency to do it to their face") as well as Prenda's tendency to ask for settlements around $3,000 — a figure only possible if you've brought legal costs down, thanks to scary letters and robocalls. When Randozza represents porn studios, he says, he asks that they be comfortable seeing the action through, into a possibly expensive courtroom battle. As a result, his settlements usually reach five figures.
Prenda (and Steele) also made headlines last year for suing a 70-year-old woman for downloading porn; she claimed that she didn't know whether or not her Wi-Fi was secure (but did have some young male neighbors.) At the time, Steele said he thought people who left their wireless unsecured were as culpable as "as a parent who leaves a loaded gun within reach of a 3-year old." (Steele was also caught copying-and-pasting chunks of text from another anti-porn piracy group onto his site, non-ironically.)
Steele and Prenda may have dubious methods but the anti-piracy defenders, in their zeal to protect torrent users, also use questionable arguments. This past year, Northern Calfornia lawyer Steven Yuen countersued a porn studio on behalf of a client, alleging that porn, because it depicted illegal acts, was not worthy of copyright protection. Randazza said he didn't think the argument would make it past an appellate court, but has since seen it cited three times — moving him to write an amicus brief on behalf ofthe First Amendment Lawyers association recently.
"I don't think it has much chance of getting traction," he said, "But it's really problematic, from a free speech prospective."
Plus, as Randazza noted, some of the features that make the mass IP address investigations seem fraudulent are actually normal features of the law. The push to settle, he said, is a part of every civil suit: otherwise, the courtrooms would be jammed for years and the already-hurting porn studios would not survive to see their rewards. Even Parret, who called the porn copyright world "a crapshoot, with big money involved," emphasized that not every lawyer representing studios should be dismissed as a troll.
"If you infringe on someone's copyright, they have the right to go after you," he said.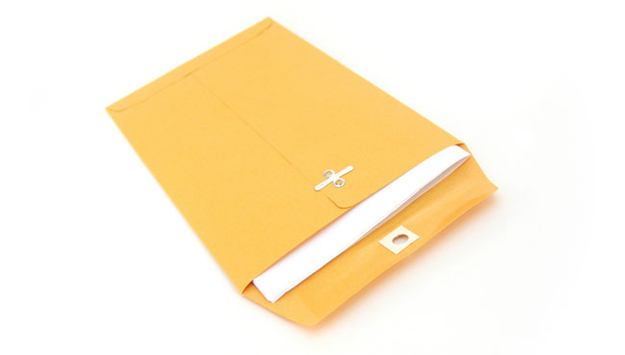 For now, as long as there are judges who will grant mass subpoenas, there will be lawyers sending out settlement letters. One Texas lawyer, for instance, claimed that porn-letter recipients settle as much as 40 percent of the time, no questions asked. It's undoubtably a dirty business, these mass settlements, albeit a more challenging conundrum than "trolls are evil." None of the litigious porn studios who we approached for the story wanted to talk: even they seem to feel embarrassed about the legal actions.
But even if porn studios are owed their copyright protection, is it worth ensnaring innocent people in this process? Defendants have reported feeling confused, hurt and yes, embarrassed, upon receipt of such letters. In early August, Slashdot published a blog comment by a man who claimed to get a letter from Prenda Law that made him suicidal. Buzzfeed has not been able to independently verify his claim, but it's a striking testimony. As someone living on a fixed income thanks to mental illness, he had no way of paying for a settlement for something he said he did not do.
"Since this has began I have been unable to sleep, I've stopped taking my medication and I really want to check myself into the Hospital for help," he wrote, "I have no idea what to do, everyone says to ignore it, it's a scam and so on. I realize this but it still torments me. I am a paranoid person to begin with. Prenda Law is making my life hell."