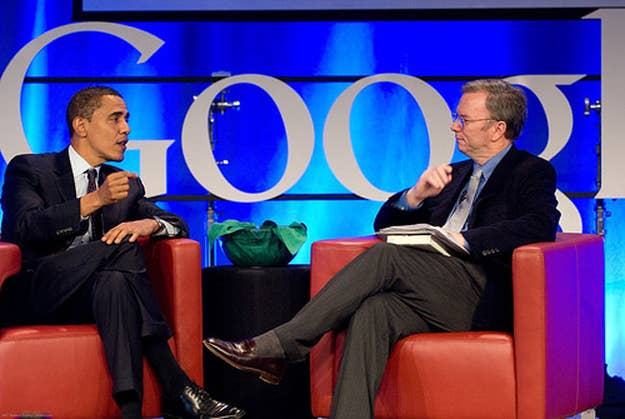 SAN FRANCISCO, Calif. — Computing and technology leaders have not historically been the most political captains of industry — but new figures from leaked campaign finance documents show growing involvement from an industry that has become a Democratic power base to rival Hollywood.
This week, the New York Times got hold of a list of Obama's top bundlers, and a BuzzFeed analysis shows that a substantial number of fundraisers hail from the tech, not the finance or entertainment community.
From a total of $180 million raised by the 325 "bundlers" listed on these documents in 2011 and 2012, some $27 million came from 43 tech people — around 15%. Since 2007, tech has raised $43.1 million out of a total of $279 million. And these fundraisers aren't just faceless moneybags, either: Yahoo's Marissa Mayer, Salesforce's Marc Benioff, serial entrepreneur Brian Lee (seen this past week on stage at TechCrunch Disrupt with Jessica Alba), and other big players have been bundling. (For a look at our methodology, scroll to bottom).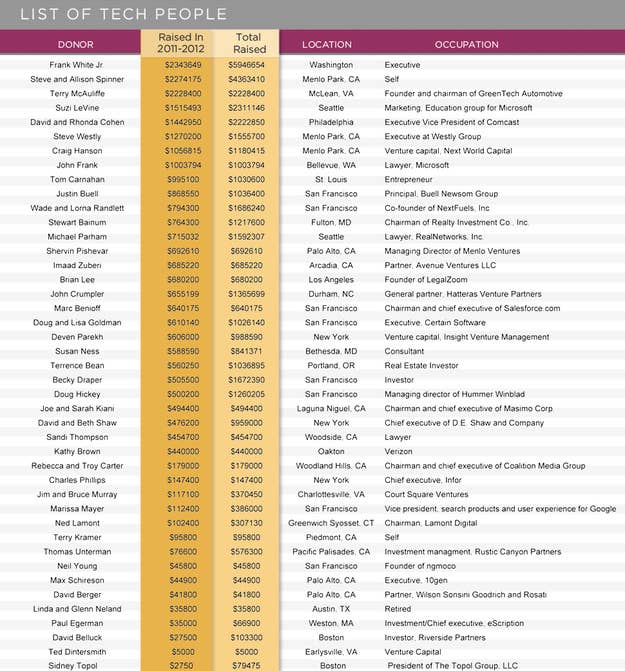 As new media begins to gain political clout along with financial power, one potential loser is the entertainment world, long a fundraising hub for Democrats. And the two California power bases have dramatically different interests, a narrative that has has been developing with increasing clarity in recent years. Last winter's Capitol Hill showdown over two anti-piracy bills, known as SOPA and PIPA, showed the growing strength of the online platform (ie, Silicon Valley) vis-a-vis the content (Hollywood). Suddenly, as Wikipedia blacked itself out and protests sprang up off-line on both coasts, it seemed that Northern California was asserting itself politically in a new way.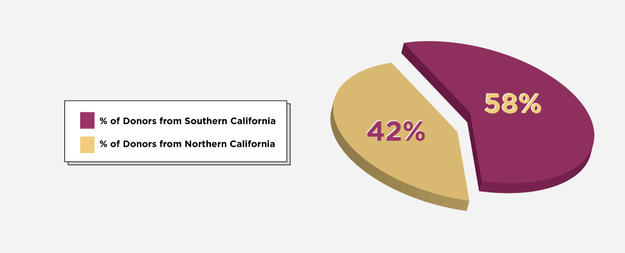 Geographically, on Obama's list, the split was pretty even amongst California Obama donors — about the same number from each end of the state. In the overall financial numbers, though, Silicon Valley-area is still not giving nearly as much as Los Angeles: $19.8 million to $25.9 million since 2011.
When the numbers are further broken out, though, it seems that tech donations are higher than entertainment by quite a bit. We tabulated $9.5 million coming from that sector since 2011, and $16.4 since 2007.
A look inside the political donations across all parties in California also shows an ascendant Silicon Valley. Of the top ten CA state political donors, half the list was tech-related — Hollywood only claimed two spots (the top two, to be fair.)
What to make of all of this? First of all, tech, broadly defined, is a powerful fundraising force. When we looked at how much money tech had raised since 2011 as opposed to how much it had raised since 2007, it was growing at a faster rate than the non-tech donations, although not by a statistically meaningful number— 38% of the total Obama tech bundling took place in the last year, as opposed to 35% of the non-tech.
Obviously, this is an unscientific look at one data set and it would be foolish to extrapolate too much, especially without a similar peek inside Romney's high-rolling bundlers. But a data app from the Center for Investigative Reporting that looks at political spending over the last decade from within California state politics further lends credence to the idea that tech leaders are looking to have a place at the table with politicians and the politicians are only too happy to oblige.
The question of influence-peddling was at the heart of Center for Investigative Reporting's Rainmaker app, which tabulated a win/loss percentage for the donors and their pet causes. By and large, the tech sector did well with this. The state's third spendiest rainmaker, Stanford physicist (and Republican) Charles Munger Jr., the son of a billionaire financier, has a 99% success rate, having given $13,574,243 to winning pet causes (like redistricting) and $186,650 to losers. Venture capitalist L. John Doerr III (#4) isn't nearly as prescient, with a win/loss percentage of 52 percent. (Reed Hastings, CEO of Netflix, hasn't been nearly that lucky: he has only won 25% of the causes he's backed. But as he continues to rattle the traditional entertainment industry, his company has also formed a Super PAC to lobby in Washington.) Googlers Wendy Schdmit (wife of Eric Schmidt) and Sergey Brin came in at #35 and #43, respectively, with win/loss percentages of 37 and 21 (combined they spent $1.5 million dollars in 2006 for California's Proposition 87 in support of alternative energy.)
In the story accompanying the leaked documents, the Times listed some of the perks that come with being a top bundler: getting your picture taken at the podium at the convention or special convention hotel rooms.
But political contributions have also always been about interests. Several people behind failed solar energy company Solyndra, George Kaiser and Allison and Steve Spinner, also rank high as bundlers. And on the level of city and state politics, the influence can be seen more directly: the relationship between San Francisco mayor Ed Lee, the self-proclaimed "innovation mayor" and angel investor bigwig Ron Conway has been dissected quite a few times. At every slice, it seems that both parties have much to gain from the access to the other's rolodex: tech companies get tax breaks to move or stay headquartered in San Francisco and Lee gets the benefit of the newly-rich tech class's largesse in public-private partnerships like SFciti, an effort to innovate in the civic sphere. It's going to be interesting to watch, in the coming months and years, what buying a seat at the table gets the tech world.
Methodology: With the initial list of Obama bundlers published by the New York Times, we broke down the list according to tech donors, non-tech donors and in a separate list, people who hail from the entertainment world.The decision of who counted as "tech" or "non-tech" is fairly subjective: telecommunications, for instance, was put in the tech category and many investors who did not specialize in technology (but could have helped fund individual tech companies) were not. For the data coming from the Center for Investigative Reporting, we simply scraped the tech people based on the descriptions they provided.