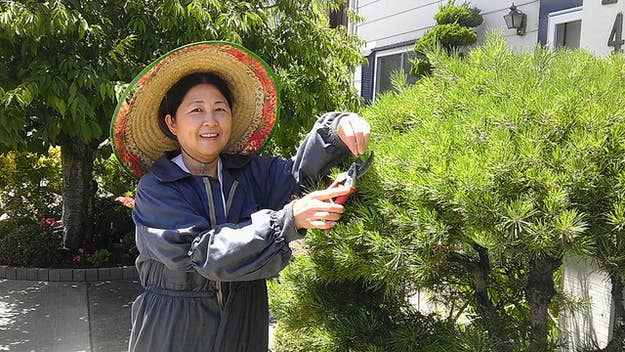 When Sophia Ko, 24, woke up on Saturday morning in Orange County and plugged in her phone, she knew something was wrong: Her inbox was filled with urgent messages from close family members. Her mother, Susie Ko, had been murdered.
The first thing Ko wanted to do after she heard the shocking news was get in the car. "I wanted to go back home to my dad," she said.
But even as the family mobilized around their grief — Susie Ko, 55, was a retired schoolteacher, beloved member of the local community and mother of four — their thoughts turned to how to solve the crime. She was last seen alive around 7 p.m. Her husband called the neighbors to check on her when she failed to pick him up at the Oakland airport around 11 p.m. When neighbors found her, she had been stabbed to death. The only real clue was that her blue Subaru, last seen parked in the driveway, was missing.
The 21st century solution? Make a website and a Facebook page and flood the internet with information about Ko's death and the car. "My brother is a concept artist. He has a lot of talent with Photoshop and the web," said Sophia Ko, "and I work with a lot of social media. We put our talents together to make this happen." Their sister also works at Google. In other words, the Ko family is well-equipped to make the most of the social web to find their mother's killer.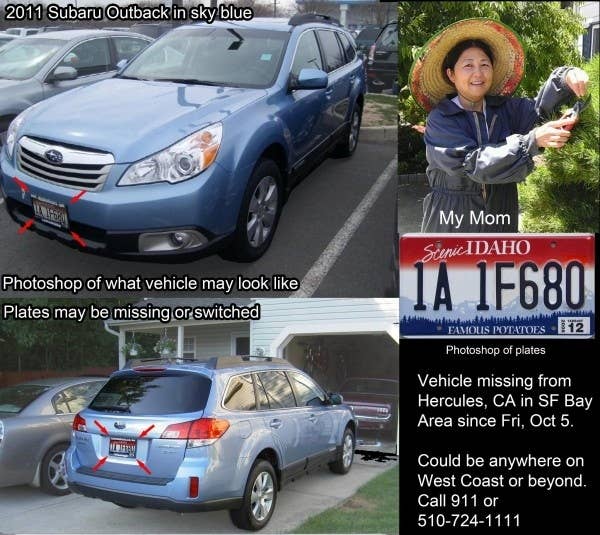 A Facebook event page went up almost immediately, on Saturday, as did a Wordpress website. A separate Facebook fan page went up on Sunday night. Already, Ko said, they've managed to get the word out far and wide: Auto blog Jalopnik ran an item, as did Nerdreactor, a video game website, noting that Simon Ko works at Neversoft Entertainment. A Flickr page for images, as well as Twitter hashtags, have been deployed, along with instructions to post links to the site on places like Reddit. (Already on Reddit, info has been posted on a number of boards: This thread had over 100 comments.) As of this writing, WeLoveSusieKo has gotten over 100,000 hits, and the Facebook page has almost 10,000 people listed as part of the "event."

The Kos are not the first people to try to use the web to help solve a case, of course, but their speed and the specificity of their message stand out. It's a strategy with risk, though. As the younger Ko explained, the decision to go public with their plea for help meant opening up their lives during an immensely difficult time. "We put our lives out there to make people realize we are real people," she said. At first, comments accused the site of being fake, one of a spate of recently unmasked attempts to obtain sympathy and money through deception. "The more we put our story out there, the more people believe that this is not a hoax or a scam. We did have those people who left stupid or rude comments, but I understand that. You see these kind of things a lot on the internet," she said.
As for the car, it remains at large. Ko said that if anyone spots a car that they think might be the blue Subaru, the best thing is to try to verify the license plates — or note that the car's plates have been removed. Then, call the numbers listed on the site and try to safely follow the car. As the comments on the Facebook page show in a kind of real-time crowdsourced investigation, a number of tips have come in, including a lead in Southern California. "In the past day," Ko said, "I've had more hope that this will work."
Updated, 10 p.m., 10/9