Apple's Green Gadget Certification Goes Dark
Until this week, the world's biggest tech company had 39 EPEAT-certified products. Then it went a step further: It deleted its entire history of green products.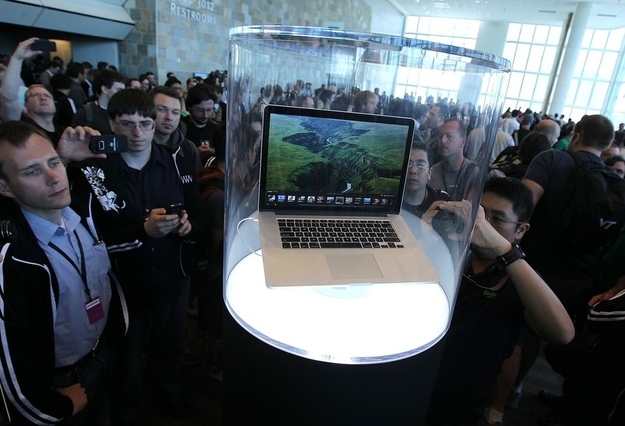 As first reported by CIO Journal, Apple, one of the most vocally "green" companies in consumer technology, surprised the industry's leading environmental registry by pulling out of their certification program. It previously had 39 products that met the green demands of the Electronic Product Environmental Assessment Tool (EPEAT).
And according to Sarah O'Brien, the non-profit's director of outreach and communications, the tech giant just didn't decide to cancel its membership when Apple contacted the group last week. It went a little further.
"We didn't get alot of advance notice. We heard from them about a week ago that they would not be renewing, " she said, "Then, that same day or later, they deleted all of their product records. It's very unusual — we've never had someone do that before."
"That's the curious part," she adds.
Like LEED, the standard used by architects and contractors, EPEAT aims to give consumers a way of determining the environmental goodness of a specific product. Apple has had a long history with the nonprofit, which was founded in 2003 with funding from the Environmental Protection Agency, among others, to provide across-the-board recommendations for electronic devices. Apple, said O'Brien, was part of the initial group that signed on and held a place on the advisory committee.
So why such an abrupt exit? We emailed Apple for clarification but haven't gotten a response. O'Brien said she had no idea, save an obtuse statement that Apple's "design direction" led them away from EPEAT. Certainly, more recent Apple products, like the MacBook Pro with retina display, whose battery is glued to the upper case, confound EPEAT's desire to have devices that break down easily for recycling purposes.
Others have speculated that Apple will announce their own green certification in the near future. It may simply feel that it doesn't need an outside firm to confirm how green its products are. That consumers don't care about a sticker (well, they don't) and that the environment section of its website makes all the case that Apple needs to make to consumers that they're buying greener electronics. And if a single design decision on a product would preclude it from getting an EPEAT Gold rating, why subject products to the process at all?
O'Brien said that the organization still harbored hope that Apple would be back —"we view it as an open door"—because as new products are developed, EPEAT values participation from the manufacturers.
"Our concern is that Apple is part of the standards development process," she said, "which exists precisely so the stakeholders who have inside understanding of the design field can bring that to the table and come up with solutions. If Apple sees a design direction that is environmentally superior, they should help EPEAT adjust."
Clearly, EPEAT's problems aren't Apple's problems. Not anymore.
Update: Apple gave an official response to The Loop:
Apple takes a comprehensive approach to measuring our environmental impact and all of our products meet the strictest energy efficiency standards backed by the US government, Energy Star 5.2. We also lead the industry by reporting each product's greenhouse gas emissions on our website, and Apple products are superior in other important environmental areas not measured by EPEAT, such as removal of toxic materials.
In other words, Apple just doesn't care about EPEAT certification anymore.