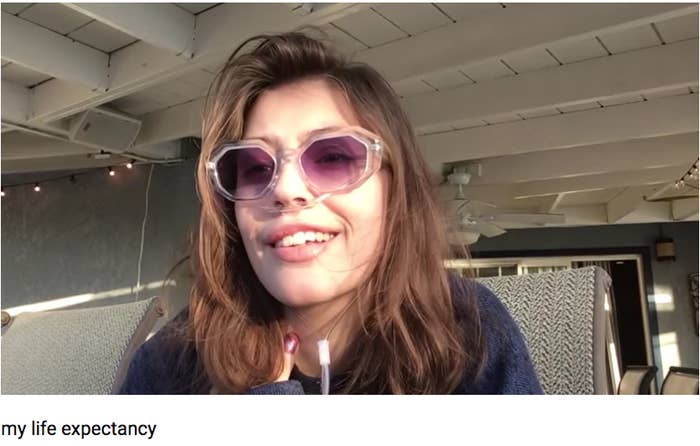 Claire Wineland, beloved for her frank documentation of her life and her experience of cystic fibrosis, has died. She was 21.
In YouTube videos like "my life expectancy," "new lungs new me (not really)," and "Dying 101," Wineland spoke with wit and intimacy about her disease.

"Sick people deserve to be seen as more than hollow shells just waiting for their lives to begin," she wrote on Instagram in March.

Following a successful double lung transplant on Aug. 26, Wineland suffered a stroke, according to a statement posted on her foundation's Facebook page.
"After a week of intensive care and various life-saving procedures, it became clear that it was Claire's time to go," Laura McHolm, chair of the board of Wineland's foundation, said.
In a statement to BuzzFeed News Tuesday, Claire's mom, Melissa Yeager, thanked those who memorialized her daughter.

"Thank you for the outpouring of love for Claire," Yeager said. "I hope you share her message of positivity and live a life you are proud of!"

"It was Claire's greatest wish that her foundation would continue on with or without her," the mom continued. "She was all about being of service to others and your donations will support her in that. A continuation of her legacy."
Wineland wrote about the double lung transplant on Instagram on Aug. 26. "I'm grateful for the doctors that'll be scooping out these lungs and giving me some more life to work with," she said.
"I'm grateful for the chance to keep being a person," she continued. "I'm grateful for my own head and for all the weird things in it."

People with cystic fibrosis live an average lifespan of roughly 30 years, according to the Centers for Disease Control and Prevention.
The Cystic Fibrosis Foundation said there is no cure for the genetic disease "that causes persistent lung infections and limits the ability to breathe over time."

After news of Wineland's death, YouTubers and fans memorialized her, sharing what they admired and will miss about the star. Casey Neisat called her "one of the greats."

Shane Dawson said that his "heart is gutted."

Even Sen. Bernie Sanders posted about her.
Fans of Wineland noted her strength, and how emotional the news was to them. This person said that her "head turned to mush."


Someone else said that she was "truly devastated." "I really loved her," she tweeted.
"She felt like my friend and the world is less bright without her," this person said of Wineland.

"She spoke about life and death with such grace and maturity that you couldn't help but listen," writer Savannah Brown said.
McHolm quoted Wineland in the statement about her death: "In the words of our precious founder Claire Wineland: 'Death is inevitable. Living a life we can be proud of is something we can control.'"

"You sure made the whole world proud of you Claire!" she said.