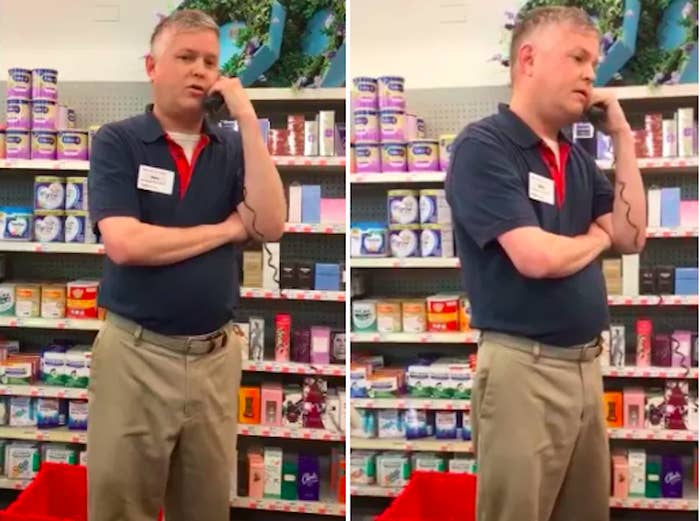 CVS has apologized to a black customer who is claiming a white manager called the police on her after she tried to use a coupon in the store in Chicago.
Camilla Hudson posted a video on Facebook of the CVS employee apparently calling the police, along with a photo of the coupon she said she attempted to use. The man in the footage identifies himself as Morry Matson while on an apparent phone call with authorities.
The police told BuzzFeed News on Sunday that there were two calls made from the store's address to report an "assault in progress" around 11:55 p.m. local time on Friday. The spokesperson for the Chicago Police Department said that at least two officers responded to the scene and that "nobody generated a report."
The police spokesperson told BuzzFeed News that she could not provide more information about the incident.
In the video, while seemingly speaking with the police, Matson says that Hudson is "African American."
"No, I'm not African American. I'm black," Hudson responds in the footage. "Black isn't a bad word."
Matson did not immediately returned BuzzFeed News' requests for comment.
The Chicago Sun-Times reported that Matson is running for 48th Ward alderman.
"Taxpayers will notice an increased police presence throughout Alderman Matson's 48th Ward," it says on his campaign website.
Hudson spoke with BuzzFeed News about the incident Monday morning. She said that the authorities were contacted after she tried to use a coupon Friday night around 11:40 p.m. local time.
She said that there was no option to use the coupon at self-checkout, and Matson, the store's manager, began to assist her. "It was not possible to use any coupon at the self-checkout without a manager," Hudson told BuzzFeed News.
Hudson said that her interaction with Matson began professionally.
After Hudson showed Matson the coupon, he asked for assistance from a second manager. She said the second manager was named Brandon (She wasn't sure of the spelling of his first name, or of his surname.) Hudson said that this second manager spoke to her with an "accusatory" and "unprofessional" tone.
The second manager told Hudson they couldn't accept the coupon. He said he didn't recognize and it looked fraudulent. "He said it looked like part of it was handwritten," she said.
"I had my phone in my hand at that point," Hudson told BuzzFeed News.
"I just want to document this. I said 'Can you tell me again specifically why you are refusing to take this coupon?'"
She said that the second manager was being "deliberately vague" and wouldn't provide her with a reason.
Hudson said that she doesn't take issue with the fact that the managers refused the coupon, but the way the way in which they did.
"From the very first words out of his mouth he was rude and nasty with me and that is what I take issue with," she said of the second manager. "There was nothing I said or did that warranted being treated in that manner and it was unacceptable to me."
Hudson said that's why she "persisted" in the conversation with him.
She said the second manager walked away from her "mid-conversation" and she followed him to continue it. He walked to an area where customers are not permitted and slammed the door to get to that area in Hudson's face, she said.
Hudson said there was an opening in the door, and that she pushed it open. She told the second manager, while on the other side of the door, that she was going to contact the corporate offices about his refusal to accept the coupon.
She said that's when Matson came to where she was located and told her he had called the police. Hudson said Matson did not tell her to leave as a command, but suggested that she should. Then he told her that he's was going to call the authorities again.
Hudson said that she did not record the initial part of that phone call, but did record the end of it and shared it on Facebook. Hudson said that Matson told police that she was harassing him and the other store manager.
The customer said that she was calm and did not use curse words in her interaction with the employees.
"I never ran. I walked," she said. "I comported myself as a customer would in a retail environment. I did not yell. I did not use profanity." She added that she did not make threats.
"There's nothing I did physically to be threatening. I didn't walk into his space. I didn't put my hands in his face."
In a statement provided to BuzzFeed News on Sunday, CVS apologized to Hudson. "We sincerely apologize to Ms. Hudson for her experience in one of our stores," the company said.
The statement said that the company is "actively investigating" the incident.
"The employees who were involved in the incident will not be working in the store pending the findings of our investigation," CVS said in the statement.
CVS also said that it has strict rules against discrimination.
"We have firm non-discrimination policies in place to help ensure that all customers are treated with respect and dignity," the company said. "Profiling or any other type of discriminatory behavior is strictly prohibited."
Hudson said that three police officers responded to the store. She said the authorities told her that she had to leave it and that if she didn't leave, she could be arrested for "criminal trespass."
Hudson said that she left the store shortly after and posted about the experience on Facebook. "It was my way of processing it," she said of the post which has since gone viral.
"As a human being, as a citizen on the planet it is appalling to me. As a Chicagoan, as a native Chicagoan, as a woman, as a black woman, as a mother, as a mother of a young black man, policing and training needs to be addressed and implemented that addresses the glaring discrepancies and inequity of what happens and how it happens when a law enforcement agency steps in to address a situation, such as what occured at the CVS pharmacy," Hudson said.
While she said that the police treated her with professionalism, she did not feel that they were there for her, but for Matson and CVS. "I certainly did not feel equally served and I certainly did not feel equally protected," she said.