On Thursday, Christine Blasey Ford began her testimony that, in the early 1980s while they were in high school, Supreme Court nominee Brett Kavanaugh sexually assaulted her. As she did so, she looked at a ton of men.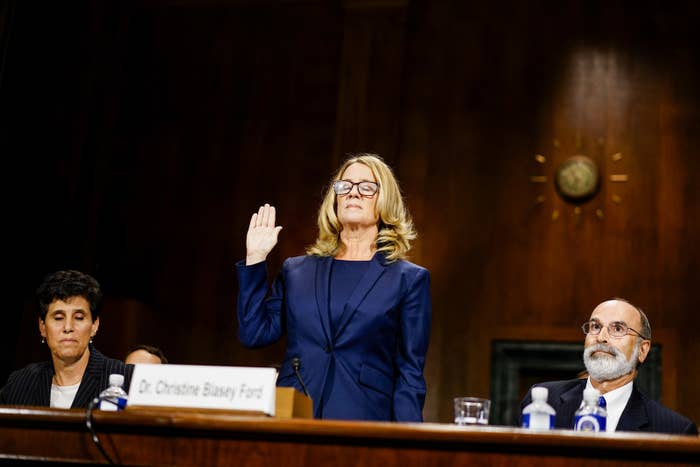 Ford, her voice shaky at times, outlined details of the alleged assault with gripping and devastating language.
She fielded questions from lawmakers and Rachel Mitchell, an Arizona prosecutor who is asking questions on behalf of the Republicans on the Senate Judiciary Committee.
She recounted, for instance, the "uproarious laughter" between Kavanaugh and his friend Mark Judge during the alleged assault.
"Indelible in the hippocampus is the laughter," Ford, a psychology professor, said. "The uproarious laughter between the two and having fun at my expense."
"And you were the object of the laughter?" Democratic Sen. Patrick Leahy asked.
"I was underneath one of them while the two laughed," said Ford. "Two friends having a really good time with one another."
Reporters at the hearing shared photos of what Ford is seeing as she shares details like these. "This is what Christine Blasey Ford is looking at as she describes her sexual assault," Osita Nwanevu, a staff writer at the New Yorker, said.
Another reporter shared a photo of Republicans listening intently to the testimony.
This reporter said the senators were "watching her every word."
Here's a fuller view of what Ford is looking at as she testifies:
People around the country are following the hearing. Brett Kavanaugh will testify after Ford.
Women are watching it, crying, huddled over their phones.