These Flight Attendants Say Their New Uniforms Are Making Them Sick
Negative reactions like burning skin, rashes, and hives have been reported.
In September American Airlines debuted sleek new uniforms for its employees.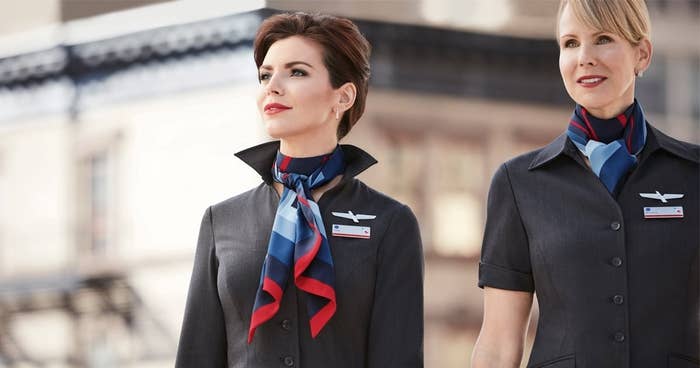 The airline described the outfits as "très chic" and said crew members would look "stylish and sophisticated."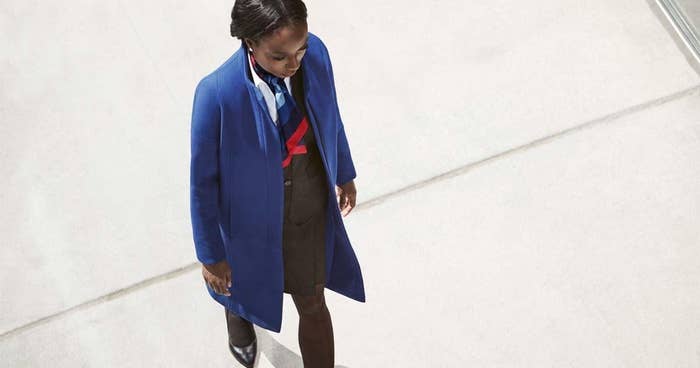 But now more than 1,600 flight attendants have reported adverse reactions to the uniforms, including headaches, rashes, hives, burning skin, and eye irritation, according to a statement from the Association for Professional Flight Attendants (APFA).
"Our members should not only look good in the uniform, but also feel good in the uniform," the APFA said. "Yet this feeling is not the case for a rapidly growing segment of our membership who has reported adverse reactions, including many flight attendants who are quite pleased with the look of the uniform."
The airline has set up a call center to handle complaints about the uniforms, which were manufactured by the brand Twin Hill.
The company has also "agreed to research vendors to supply temporary alternative pieces of the grey uniform until a permanent solution can be found," according to the APFA's statement.
Both American Airlines and the APFA are in the process of testing the uniforms for possibly toxicity.
But the APFA demanded Wednesday a full recall of the uniforms, before the "joint investigation" between the two groups has concluded.
"We feel a remedy that excludes a full recall of the uniform fails to adequately protect our members," the APFA said in its statement.
"All employees deserve to be able to come to work in a uniform and an environment free from toxins and potential health hazards," the statement concluded.
LaKesha Brown, a spokeswoman from American Airlines, told BuzzFeed News that the company's three tests have shown that the new uniforms are safe.
"American Airlines did wear tests and we tested the garments twice, before the release in September," she said. "It was deemed that there were no health risks."
Brown said a wool allergy might be part of the issue.
"We found that the new uniform is a wool-rich blend, and some of our colleagues are allergic to wool," she said.
Brown said there are other options for employees and that flight attendants can order alternative garments or wear their old uniforms.
In the next week or so, the APFA and American Airlines are going on a joint visit to the manufacturers to conduct more testing.
"We care about the safety and comfort of our flight attendants," Brown said.