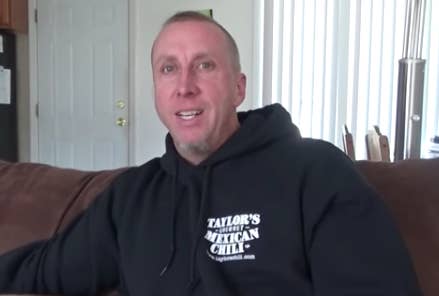 YouTube, citing potential "child endangerment," pulled down the Toy Freaks channel almost two weeks ago after a single dad posted questionable videos of his two young daughters. And while law enforcement authorities told BuzzFeed News that there is an ongoing investigation into the matter, no official will say which agency, exactly, is leading it.
The dad, Greg Chism, made wildly popular videos showing his youngest daughter terrified when he placed creatures like a frog and lobster near her and her sister as they were in the bathtub — they were both wearing swimsuits.
He also dressed them up like babies as they pretended to engage in infantile behavior. And in one video the younger daughter "pees" on her older sister.
The channel had over 8 million subscribers. Chism deleted his other channels himself, a spokesperson for the father told BuzzFeed News. "We take child safety extremely seriously and have clear policies against child endangerment," YouTube told BuzzFeed News at the time.
On Monday, YouTube said it deleted over 150,000 videos — capable of raking in thousands of dollars a month — of exploitative content depicting children as part of a concerted effort to scrub questionable content from the site.
A spokesperson for YouTube said the company is not aware of any law enforcement authorities that reached out to Google, its parent company, about the videos. YouTube did not answer follow-up questions sent on Wednesday.
The potential investigation has apparently bounced from agency to agency in two states, and authorities won't publicly say who is in charge.
Chism is affiliated with Freak Media, LLC, a company registered to an address in Granite City, Illinois. Freak Media, LLC submitted a trademark application for "Toy Freaks," according to the United States Patent and Trademark Office website. Public records show Chism moved in 2017 to Foristell, Missouri.
A representative from the Illinois Department of Children and Family Services told BuzzFeed News on Tuesday that the family no longer lives in Illinois "and we have contacted the Missouri Department of Children and Families hotline about the concerns raised in these inquiries."
Rebecca Woelfel, the communications director for the Missouri Department of Social Services, told BuzzFeed News three times that the agency could not comment due to confidentiality.
On Wednesday evening, the Times of London reported that child protection officials in both states had received reports of possible abuse in regards to the videos — but the report cited an unnamed man from Illinois who was, according to the paper, asked to give a statement to officials.
Aaron Perlut, Chism's spokesperson, told BuzzFeed News on Thursday that Chism was not interested in commenting further and said that "Greg is simply a single dad trying to care for two young girls and provide for them."
Chism's attorney, Joel Green, stopped responding to repeated requests for comment from BuzzFeed News.
Madison County State's Attorney's office, in Illinois, said local law enforcement initially got a tip from the National Center for Missing and Exploited Children, a nonprofit. YouTube says it flags possible child endangerment content and objectionable comments to NCMEC, which refers them to law enforcement.
The Granite City police initially "received information regarding a possible missing child that was believed to be in the videos in question," Detective Lieutenant Nick Novacich told BuzzFeed News.
Police and prosecutors found that the child, or children, wasn't missing — but in the process of investigating both offices "then discussed the potential for criminal charges to be filed regarding the activity in the videos," Novacich said.
Last week, Green, Chism's lawyer, told BuzzFeed News that they weren't aware of a GCPD investigation. "We have not been contacted by the police department and have no knowledge of any current or pending investigation, but will of course cooperate with law enforcement, should an investigation be initiated," Green said.
Ultimately, no charges were filed. Novacich said there was no "probable cause" for an arrest, and prosecutors said "the locations in the videos raising concerns do not appear to match the house in Granite City. The investigation also indicated the individuals did not live at the house in Granite City at the time the reviewed concerning videos were created."
The disturbing videos — which depict children in upsetting or vulnerable situations but don't always show literal physical endangerment — are new territory for law enforcement. As a result, it can be unclear which agencies are responsible for investigating this content. "Everyone is disturbed by this but finding the proper criminal aspect to being a bad parent at times is challenging," Granite City Police Chief Rich Miller told BuzzFeed News.
"I think it is fair to say that we were all alarmed by the bizarre content of the videos," said Tom Gibbons, Madison County state's attorney.
Novacich said that "due to the nature of the videos" the investigation was referred to NCMEC. "The video evidence indicated another jurisdiction was more likely to be involved, allowing [NCMEC] the option to direct their resources and information to the appropriate jurisdiction," prosecutors said.
But the vice president of NCMEC's Exploited Children Division, John Shehan, told BuzzFeed News that while the videos were "weird," they were still "kind of outside the scope of what NCMEC deals with specifically." NCMEC, citing policy, wouldn't comment further on Chism.
Novacich later said, seemingly contradicting his earlier statement, that "this is an on-going investigation and will not comment further at this time. We will advise you, through our State's Attorney's office, if charges are going to be filed."
Miller on Wednesday also said, "with the subject moving out of the area other jurisdictions are also looking into the facts to see if any activity arises to a level of criminal charges."
When asked what "other jurisdictions" are currently investigating, he responded: "The father lives somewhere in Missouri and we are not certain who there is [investigating] but have been told it is being looked into."
Chism currently resides in Saint Charles County, Missouri.
Both the Saint Charles County Police Department and the Saint Charles County prosecuting attorney's office told BuzzFeed News that they were not aware of an investigation.
A spokesperson for the FBI office in Missouri, citing policy, wouldn't confirm if an investigation was ongoing.
Ellie Hall contributed additional reporting to this story.