Target Has Pulled A "Baby Daddy" Card From Its Stores After People Called It Insulting
"I saw this card and was surprised and disappointed. It was the only card that featured a black couple."
Target has pulled a "Baby Daddy" card from its stores, following a few complaints on social media.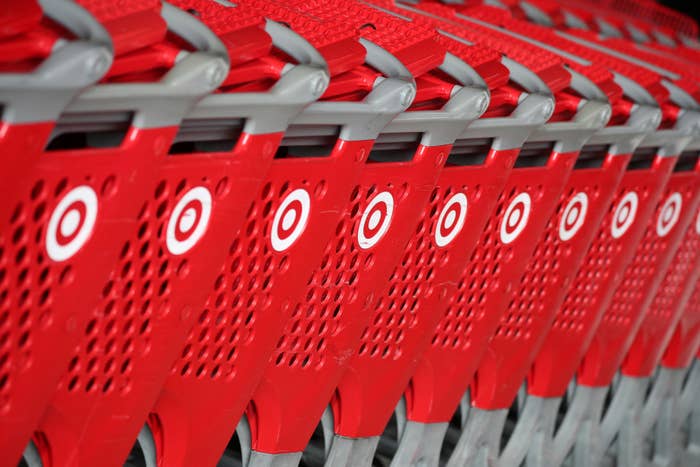 TaKeisha Saunders, 35, from Rockwall, Texas, posted about the card on Facebook two weeks ago. "You CANNOT be serious Target!!!! Really!!!?!!!!?" Saunders wrote.
"Initially i was looking for a card for my husband," Saunders told BuzzFeed News in a Facebook message on Wednesday.
"There were plenty of cards, but since I am black and my husband is black, I tend to gravitate to products that represent me and my situation," she said.
"I saw this card and was surprised and disappointed. It was the only card that featured a black couple," Saunders continued. "My husband is not my baby daddy. I think many people who use the term are not aware of its actual definition so they said I was being overly sensitive and to get over it."
"So I posted my comments to Target and to American Greetings so they can know how it missed the mark," she said.
"This particular card was created for, and addressed to, a loving husband—which the inside copy makes clear," a spokesperson for American Greetings told BuzzFeed News on Wednesday.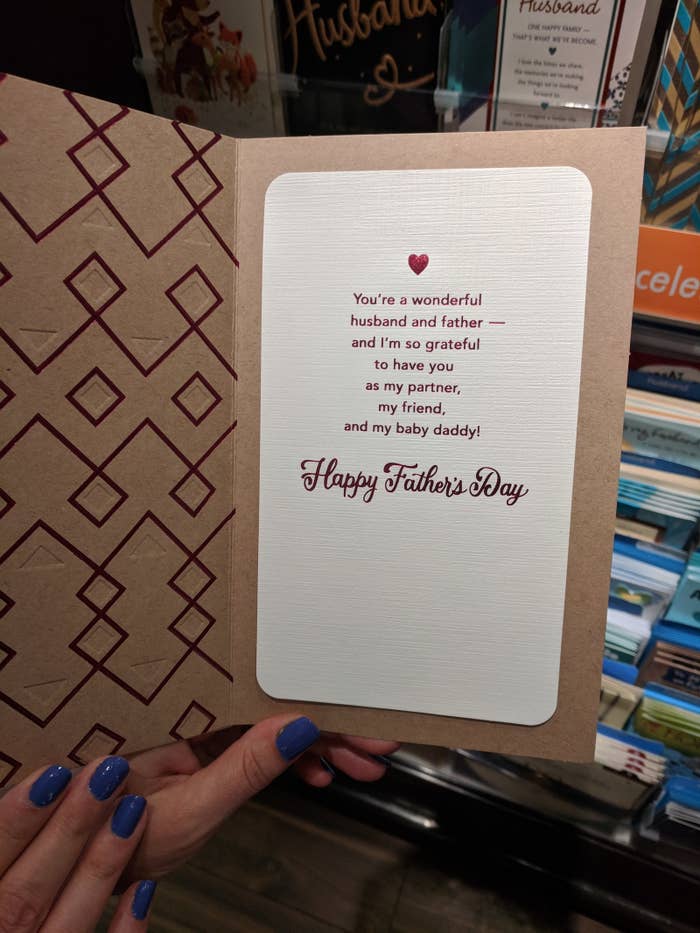 "However, we now see that the front page, taken out of context, can communicate an unintentional meaning that we are strongly against perpetuating and is not consistent with our company purpose and values," she said.
"We should do better in the future, and we will. We have notified our store merchandisers to remove the card from the shelves and apologize for any offense we've caused."
"We want all guests to feel welcomed and respected when they shop at Target," Joshua Thomas, spokesperson for Target, told BuzzFeed News on Wednesday.
"We were made aware of some concerns about this card last week and are working with our vendor to have it removed from Target stores," he said. "We appreciate the feedback and apologize. It's never our intent to offend any of our guests with the products we sell."
Since then, other people have posted screenshots of Saunders's post, and complained about the card, too.
Some people weren't upset about the card at all. In fact this person called it "funny as fuck."
Another person was hoping that the cards would still be in stock.
Saunders was "glad" that the company responded the way that it did.
"I am glad Target is showing they actually listen to their consumers and want to make it right," she said.
"You may not agree with me but at least be willing to learn from someone else's perspective and not cut them down."