This Trump Adviser Reportedly Threw Out Takeout After A Bartender Swore At Him And Flipped Him Off
That's a lot of sushi.
Stephen Miller threw out $80 of sushi after a bartender flipped him off and swore at him, the Washington Post reported.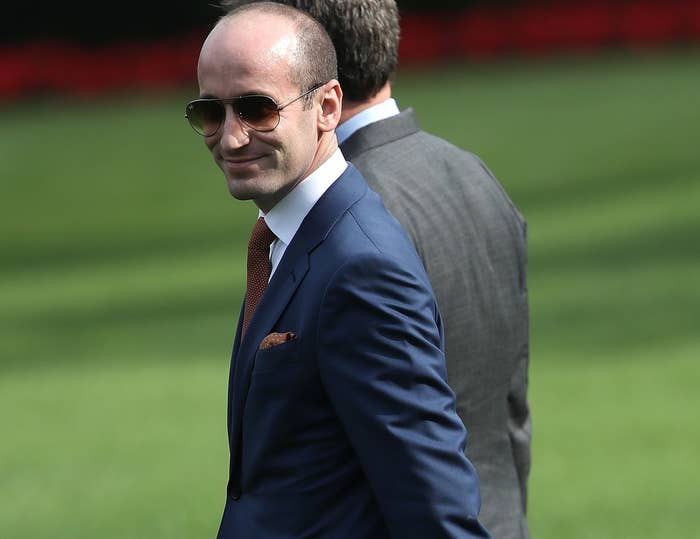 Miller threw the food away in anger after being confronted in the street with a bartender's double bird, the newspaper said:
One night, after Miller ordered $80 of takeout sushi from a restaurant near his apartment, a bartender followed him into the street and shouted, "Stephen!" When Miller turned around, the bartender raised both middle fingers and cursed at him, according to an account Miller has shared with White House colleagues.

Outraged, Miller threw the sushi away, he later told his colleagues.
BuzzFeed News contacted two sushi restaurants near Miller's apartment, to see if they knew anything about the alleged incident. Neither commented.
The story details other incidents in which Miller, a Trump policy adviser and architect of the administration's immigration policies, was met with backlash in Washington, DC.
According to the Post, someone shouted "Better be better!" at Miller as he was walking through Dupont Circle several months ago.
"Wanted" posters of his face also appeared on lampposts outside of his apartment.
Other current and former Trump advisers have been met with outrage in public.
According to the Post, at a DC grocery store, a man confronted Kellyanne Conway. "You ought to be ashamed of yourself!" he said to her. "Go look in the mirror!"
The Richmond Times-Dispatch reported that on Saturday, Steve Bannon was called a "piece of trash" in a Richmond bookstore.
In June, Sarah Huckabee Sanders was asked to leave the Red Hen in Lexington, Virginia.
The co-owner of the restaurant, Stephanie Wilkinson, told the Washington Post that she asked the press secretary to leave due to her role in an "inhumane and unethical" administration.
BuzzFeed News has reached out to the White House for comment.