Senator Kirsten Gillibrand Delivered An Emotional Speech On The Kavanaugh Accusations
"For anyone who has ever wondered why so many survivors of sexual assault don't come forward, obviously there's trauma, but there's also the fear of this very kind of retaliation and scorn."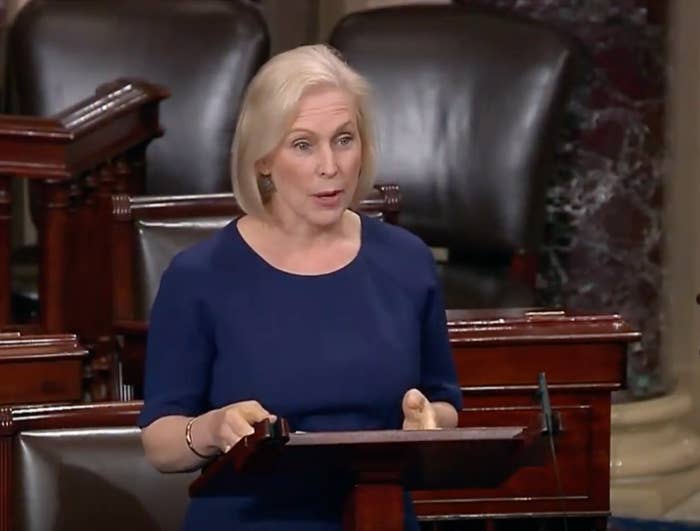 Sen. Kirsten Gillibrand delivered a powerful speech Wednesday, calling the Republicans' response to the sexual misconduct allegations against Supreme Court nominee Brett Kavanaugh dismissive and "so disappointing."

The Democrat's speech on the Senate floor was referring to allegations by Christine Blasey Ford and Deborah Ramirez against the judge. Ford, a professor at Palo Alto University, has said Kavanaugh sexually assaulted her at a high school party when he was 17 and she was 15. Ramirez says Kavanaugh exposed his penis to her at a college dorm party in the 1980s.
On Wednesday, a third woman, Julie Swetnick, accused the Kavanaugh of being present when she was gang-raped at a party in 1982.
President Trump has been critical of Ford and Ramirez, while attacking Swetnick's attorney on social media.
Trump has "belittled and demeaned Dr. Blasey Ford and Ms. Ramirez, reminding us once again that he has been credibly accused of committing sexual assault himself and denigrates not just women who accuse him, but survivors everywhere," the senator said.
Gillibrand said that the "retaliation and scorn" that has followed the accusations is why people do not go public with similar stories.
"For anyone who has ever wondered why so many survivors of sexual assault don't come forward, obviously there's trauma, but there's also the fear of this very kind of retaliation and scorn," she said.
Gillibrand also criticized the Republican-controlled Senate Judiciary Committee, where she said Ford has been "patronized and dismissed by some members."
"Do we value women in this country?" she asked. "Do we listen to women when they tell us about sexual trauma? Do we listen to their stories about how their lives have been forever scarred? Do we take their claims seriously or do we just disbelieve them as a matter of course?"
The senator said that the process was sending "the worst possible message" to children.

"It's telling American women that your voice doesn't matter," she added. "It's telling survivors everywhere that your experiences don't count, they're not important, and they are not to be believed. We are saying that women are worth less than a man's promotion."