While a snowstorm hits the South and causes a mess for humans, a bunch of blissfully unaware dogs are, meanwhile, just being dogs.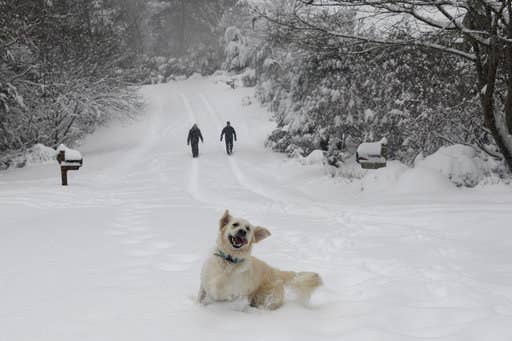 "Jesus take the wheel," someone tweeted Sunday, showing a long list of flight cancellations.
The National Weather Service said Saturday that the storm might dump more than 20 inches in parts of the country.

"A powerful storm system will track from the southern U.S. to off the Carolina coast by Monday," the NWS said on Twitter.

"Very heavy precipitation will be likely along the track of this storm. Heavy snow with amounts of 12–20+ inches will be possible over the Appalachians to the Carolinas."

Emily Overstreet, who lives in Garner, North Carolina, said that her two dogs "both love the snow." "Toby is the little brown one and Suzy is the black one," she told BuzzFeed News.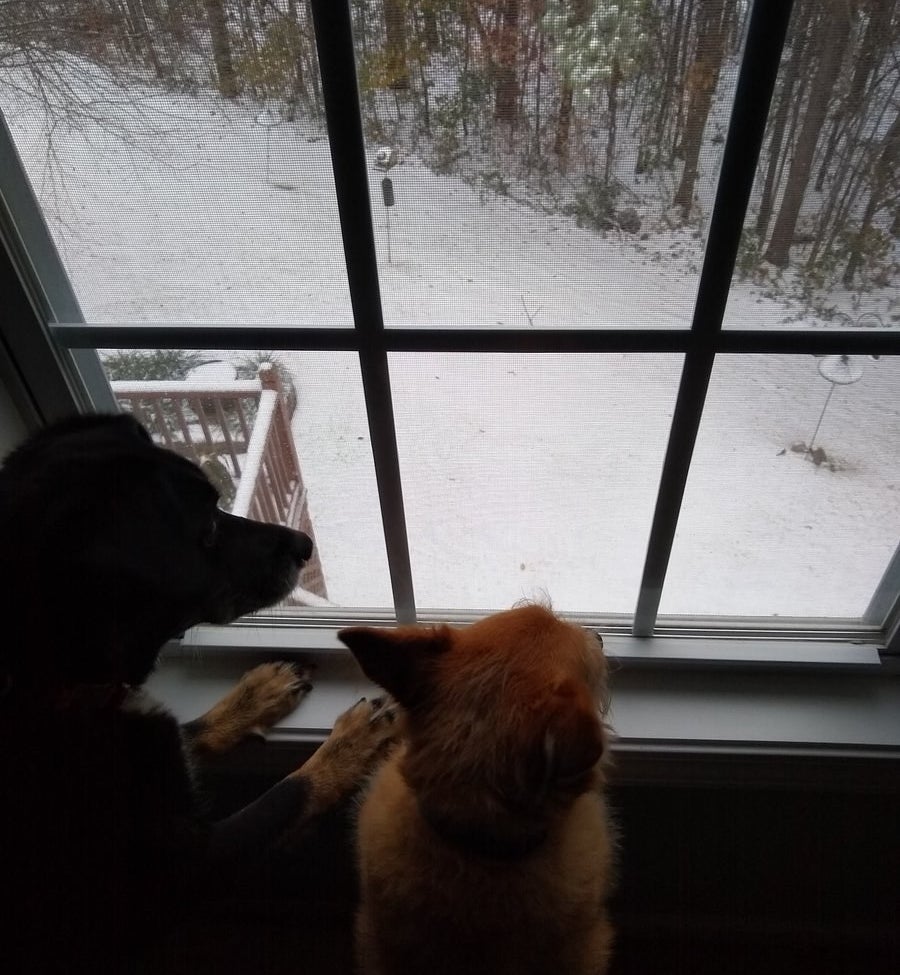 The photo above was captured after the pair had frolicked in the snow on Sunday. Their human tricked them into posing for the image by misleading them about a squirrel outside.

"Toby was looking outside and he had looked really cute, so I tried to get a photo," Overstreet explained.

"But then he moved right as I was about to take it, so I said, 'Squirrel!' And then they both jumped up."
"Sometimes they just like to look," Overstreet said of this photo, which shows the icy paw prints the two of them left on concrete.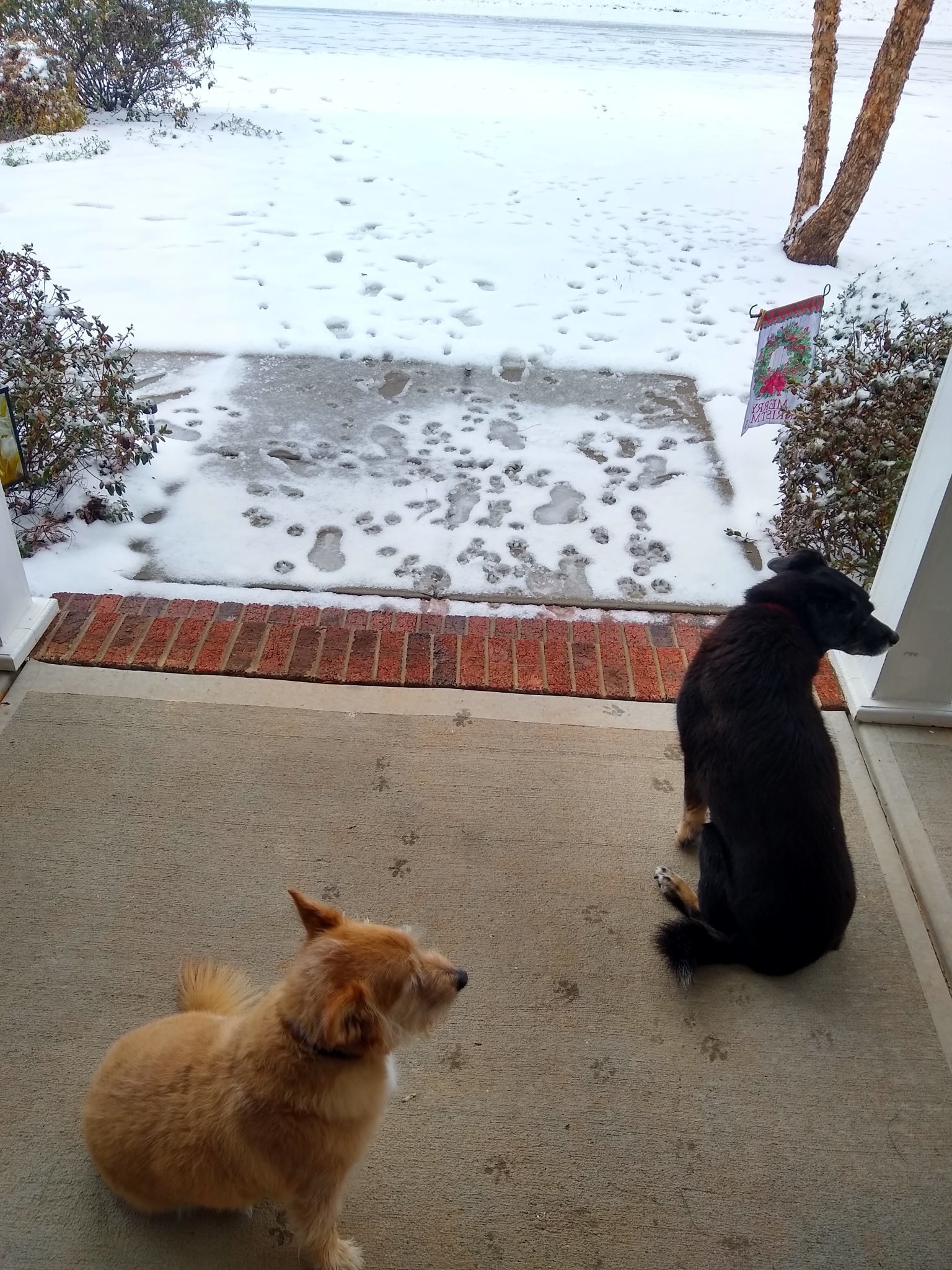 Toby and Suzy aren't the only two dogs who recently frolicked. Here's Jack:
Here's Bella (who's "not such a big fan"):
Simon (who seems like a big fan):
Kylo:
Penny and Piglet:
And Boomer and Bentley: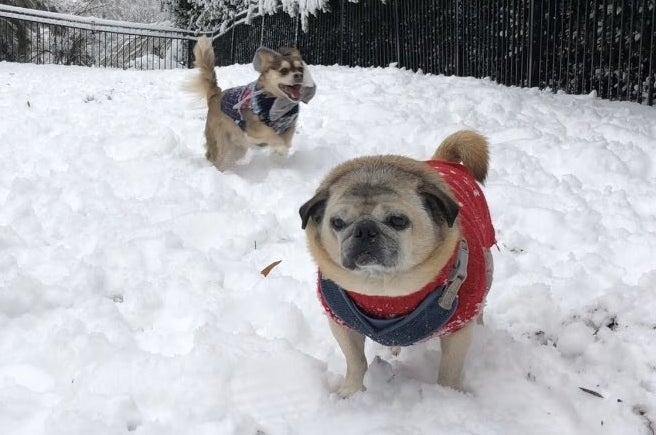 "The one loving life in the background is Boomer," Kyle Smelser, who lives with these two pups and his wife in Raleigh, North Carolina, told BuzzFeed News.

"The senior citizen pug, looking miserable [and] wanting to get back inside underneath the blankets, is Bentley," he said.
For some dogs, it was their first time experiencing snow.
"He's loving it!"
Just look at the glint in this dog's eyes.
While some dogs like the snow, others do not.
Just look at Pippi and Hugo:
One snowy sneeze convinced this dog that she is, in fact, not a snow dog.
Another pup got dropped: Plop.
Whether you are a Boomer "loving life"...

...or a Bentley "looking miserable"...
...stay safe, warm, and try to enjoy it if you can!