This is Emma Vowell, a 19-year-old sophomore at Purdue University in Indiana. Emma told BuzzFeed News that she had purchased ~surprise~ skydiving tickets for her then-boyfriend as a birthday present. She said that the two of them are "really into adventures."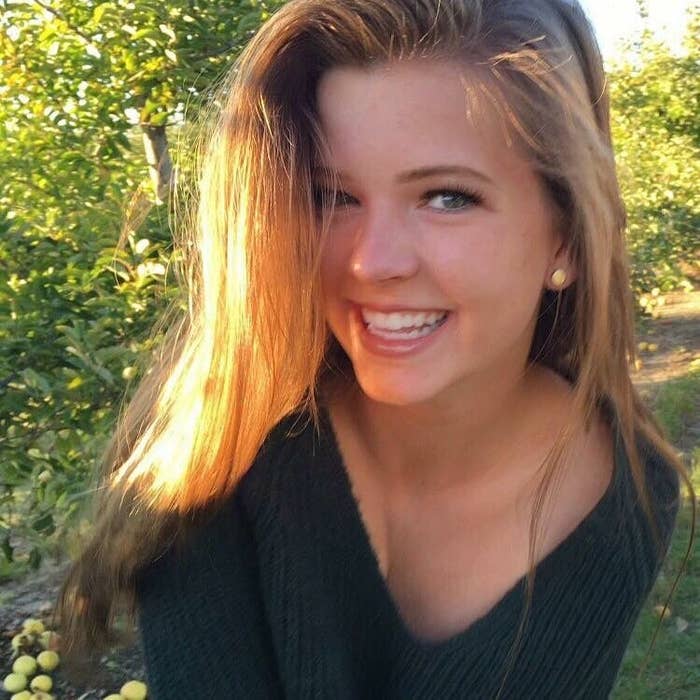 After he broke up with her, she didn't want them to go unused. "I was like I want to go skydiving anyway, so why let these go to waste," she said. She began to advertise the tickets on her Tinder bio.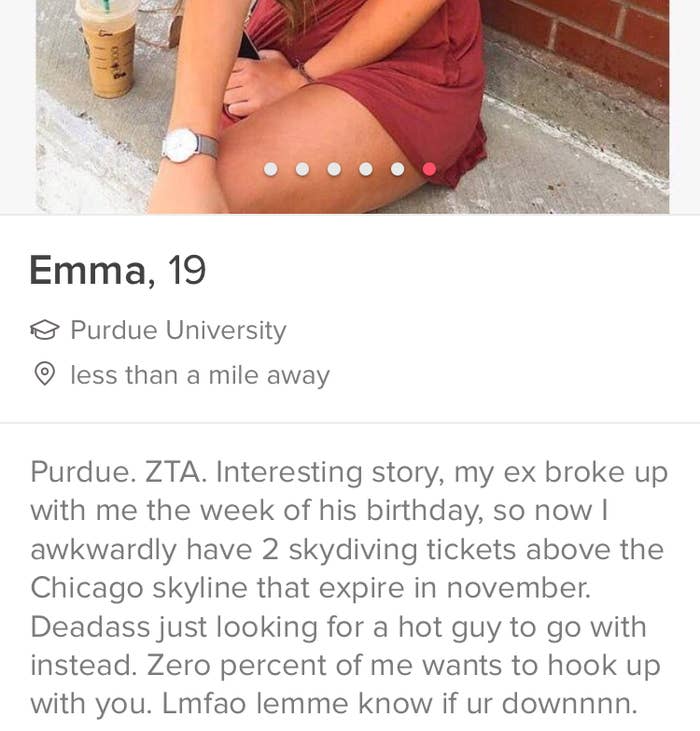 Then Austin, a guy she matched with, messaged her about the skydiving partner opening. He said he'd send over his resume, and Emma then asked for a cover letter as well.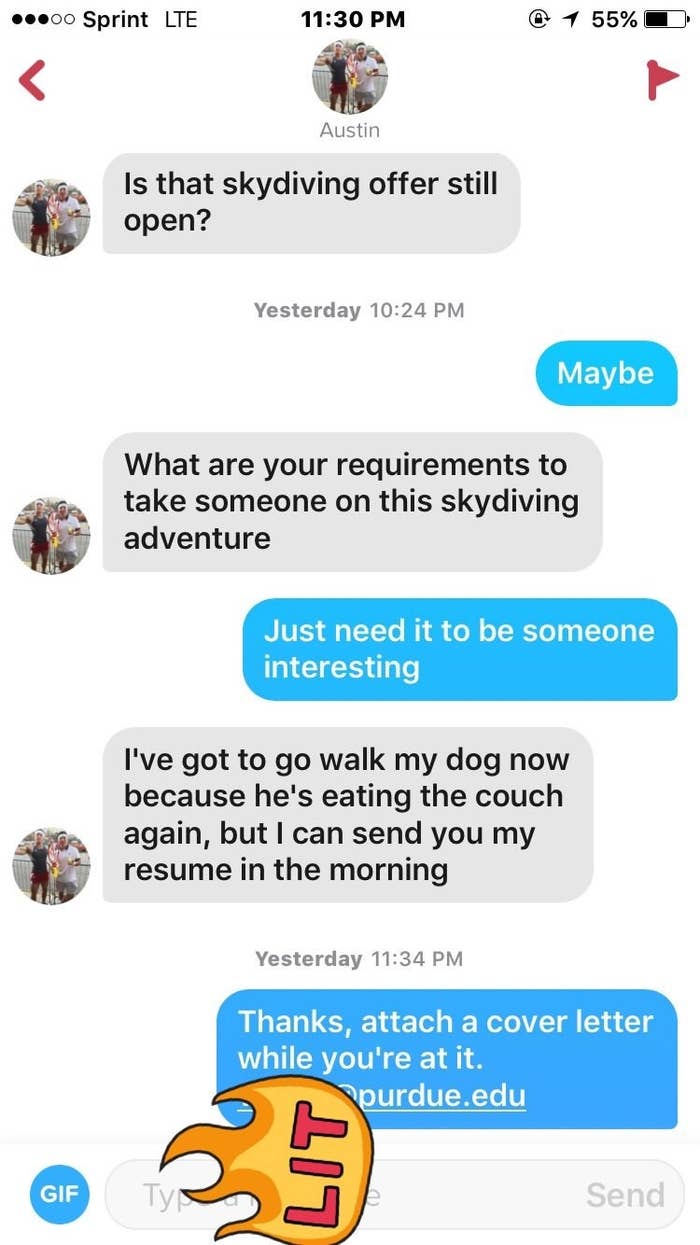 This is Austin, the 22-year-old who messaged her. He's also a student at Purdue. On Monday, he sent over that application to Emma's email. (Very professional.)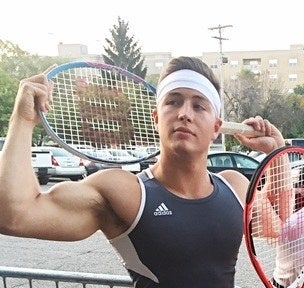 This is how he began his cover letter.
Dear Ms. Emma,

I recently saw your advertisement on the dating application Tinder, and am very interested in filling the position you had listed.
Austin said that he did it "as a joke." "It's an opportunity to maybe make her laugh," he said.
"It's definitely creative and more creative then anyone else is willing to do," he added.
Near the end of his cover letter, Austin mentions his doorless Jeep, the dog he lives with, and that he's a "certified personal trainer." "I would greatly appreciate an opportunity to meet with you, so please don't hesitate to contact me if you have any further questions or would like to arrange an interview," the cover letter ends. Austin said that preparing his application took over an hour.
I don't expect you to completely cover the cost of my ticket without reimbursement of some kind. Being a 5th year student has afforded me the opportunity to take a meager one class a day, and with all of my extra time I would be willing to drive you to class/exams/bars for a week of your choosing in my doorless Jeep. My jeep is one of the great loves of my life, and riding in it is probably the closest experience you can get to riding on a motorcycle, without the fear of impending death/road rash. I also live with a one year old German Shepherd/Husky mix, that I will let you pet, walk with, or send you pictures of any time your heart desires. I am also an American College of Sports Medicine certified personal trainer and would be willing to do 1-on-1 personal training sessions with you, if that is something you would be interested in. As far as financial compensation goes, I would also be willing to help cover food, lodging, gas, etc.

I would greatly appreciate an opportunity to meet with you, so please don't hesitate to contact me if you have any further questions or would like to arrange an interview.

Very Respectfully,
Austin even customized the "objective" on the resume he submitted.

When Emma shared Austin's application materials on Twitter and asked if she should take him, basically everyone agreed that he was very qualified applicant.



But this person took issue with the formatting of Austin's resume. Emma acknowledged that this was a concern in her phone call with BuzzFeed News.

Someone else was looking to endorse Austin on LinkedIn.

Emma congratulated Austin, telling him that he'd been selected to fill the position. She also apologized, alerting him to the fact that his efforts to become her skydiving partner were going viral on Twitter.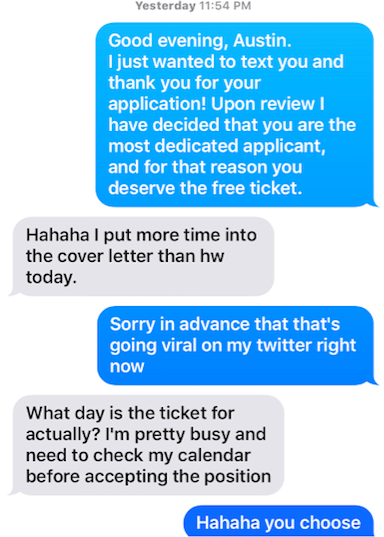 A lot of people want the two of them to ~get together~. "I think the most we're going to be is skydiving partners," Austin said. "This is going to be a very platonic relationship," Emma said.

Also Austin has some competition. More guys have been sending in applications. "I have gotten at least 50 resumes," Emma said. When asked about other people submitting their resumes, Austin was easygoing. "If she finds a more qualified applicant she can take him," he said. "It's her ticket." Luckily for Austin, Emma said that she's not considering taking anyone else.
The pair met for the first time on Wednesday. "Oh hey there, Tinder boy."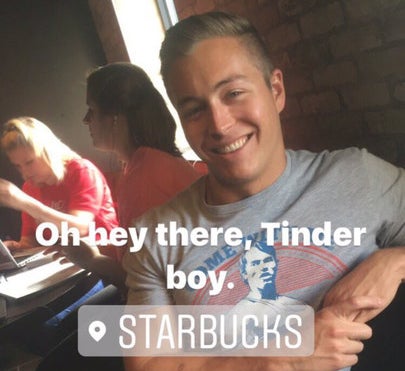 When asked how it went, Emma responded over Twitter message: "So well! Haha he'll be a great friend."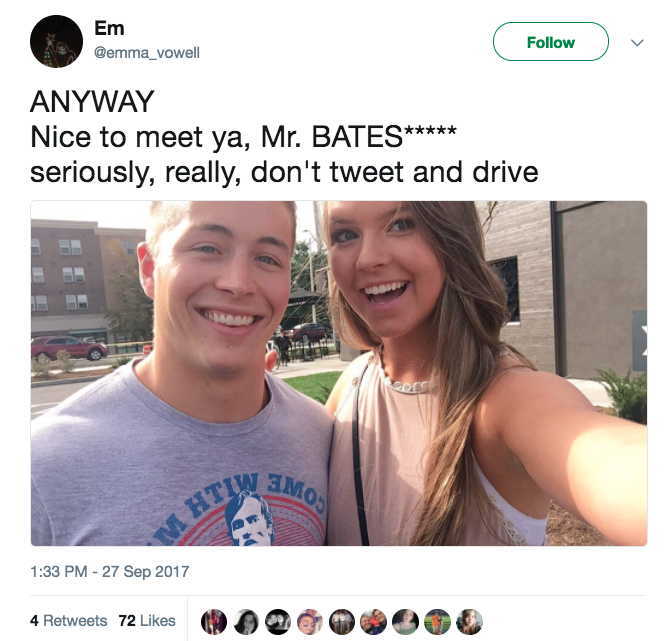 "It went pretty well I think," Austin said of the meeting. "We ended up talking for an hour and half or so." People on Twitter were pretty into the development.

Ok.

The pair plan to go skydiving on Oct. 28.