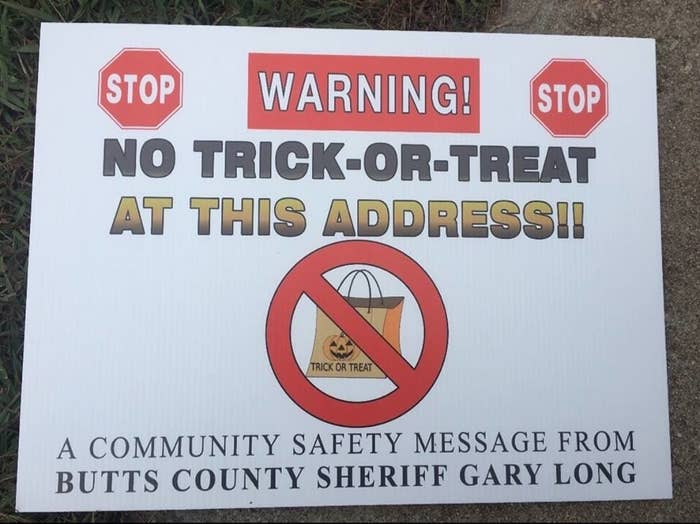 Signs discouraging kids from trick-or-treating have been placed in the yards of homes of registered sex offenders in one county in Georgia ahead of Halloween.
Sheriff Gary Long of Butts County, Georgia said in a Facebook post that the signs will "notify the public that it's a house to avoid." They read: "NO TRICK-OR-TREAT AT THIS ADDRESS!!"

"This Halloween, my office has placed signs in front of every registered sex offender's house to notify the public that it's a house to avoid," Long said.
In the post, the sheriff said that Georgia law states that registered sex offenders cannot participate in the holiday.
The Butts County Sheriff's Office did not immediately respond to a request for comment from BuzzFeed News about the signs. Long told CBS there are 54 registered sex offenders in the county and his aim isn't to humiliate them.
"Let's face reality: We have a greater chance of children getting run over by a car [on Halloween] than being a victim of sexual assault by a repeat offender," he said. "But at the end of the day if, in fact, we had a child that fell victim to a sexual assault, especially by a convicted sex offender, I don't think I could sleep at night."
He told CBS that some sex offenders have emailed him and called the signs embarrassing.

"At the end of the day, I don't care if they do like it or if they don't like it. My job is to ensure the safety of the children and the community and that's what I'm going to do," he told the news outlet.