Michael Bennett, a defensive end for the Seattle Seahawks, said in a statement issued Wednesday that police officers in Las Vegas pointed their guns at him last month following a Floyd Mayweather-Conor McGregor fight.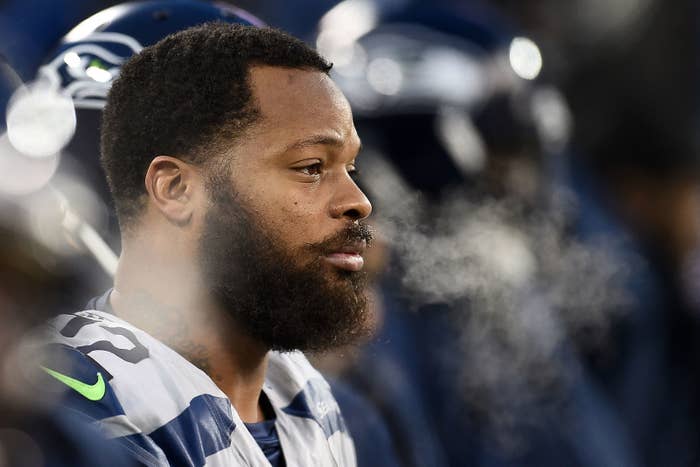 In a press conference on Wednesday, Las Vegas Metro Police Department Undersheriff Kevin McMahill said they had opened an internal investigation.
Bennett said that after apparent gun shots in the area, people like him sought safety. Soon after, he said, Las Vegas police officers pointed their guns at him for "being a black man in the wrong place at the wrong time."
On Saturday, August 26, 2017 I was in Las Vegas to attend the Mayweather-McGregor fight on my day off. After the fight while heading back to my hotel several hundred people heard what sounded like gun shots. Like many of the people in the area I ran away from the sound, looking for safety. Las Vegas police officers singled me out and pointed their guns at me for doing nothing more than simply being a black man in the wrong place at the wrong time.
He said that he followed an officer's order and got on the ground. As he was on the ground, he alleges that one officer put a gun near his head and threatened to "blow [his] fucking head off" if he moved. The handcuffs, he said, were "so tight that [his] fingers went numb.
A police officer ordered me to get on the ground. As I laid on the ground, complying with his commands to not move, he placed his gun near my head and warned me that if I moved he would "blow my fucking head off." Terrified and confused by what was taking place, a second officer came over and forcefully jammed his knee into my back making it difficult for me to breathe. They then cinched the handcuffs on my wrists so tight that my fingers went numb.
He said that he felt "helpless" and that he thought of his family.
The officers' excessive use of force was unbearable. I felt helpless as I lay there on the ground handcuffed facing the real-life threat of being killed. All I could think of was "I'm going to die for no other reason than I am black and my skin color is somehow a threat." My life flashed before my eyes as I thought of my girls. Would I ever play with them again? Or watch them have kids? Or be able to kiss my wife again and tell her I love her?
Bennett added that after police officers confirmed his identity, he was eventually released.
I kept asking the officers, "What did I do?" and reminding them that I had rights they were duty bound to respect. The officers ignored my pleas and instead told me to shut up and then took me to the back of a nearby police car where I sat for what felt like an eternity until they apparently realized I was not a thug, common criminal or ordinary black man, but Michael Bennett, a famous professional football player. After confirming my identity, I was ultimately released without any legitimate justification for the officers' abusive conduct.
TMZ claims to have footage of Bennett's arrest.
"The system failed me," Bennett said near the end of his statement. He wrote that John Burris, a civil rights attorney, is investigating the incident and that he may file a lawsuit.
I have always held a strong conviction that protesting or standing up for justice is just simply, the right thing to do. This fact is unequivocally, without question why before every game, I sit during the national anthem--because equality doesn't live in this country and no matter how much money you make, what job title you have, or how much you give, when you are seen as a "Nigger," you will be treated that way.

The system failed me. I can only imagine what Eric Garner, Michael Brown, Trayvon Martin, Tamir Rice, and Charleena Lyles felt.

I have retained Oakland Civil Rights Attorney John Burris to investigate and explore all my legal options including filing a civil rights lawsuit for the violation of my constitutional rights.
John Burris did not immediately respond to request for comment from BuzzFeed News, but he did say that Bennett "was unarmed, sober and not involved in any altercations or dispute at the time the police officers arrested and threatened to use deadly force against him."
Bennett's representative did not immediately respond to request for comment from BuzzFeed News.
McMahill said during the press conference that even though Bennett had said he was targeted because he is black, "I see no evidence that race played any role in this incident."
The undersheriff said cops involved helped people of all races evacuate and that the two officers involved in the incident are of Latino origin.
McMahill told reporters that the LVMPD still had over 126 videos related to the incident to review, but showed one video from a sergent's body camera.
The five-minute video shows cops running through Cromwell Casino after getting a call at 1:30 am of an active shooter, as large groups of people are streaming out while screaming and others are hiding on the ground.
McMahill said Bennett was seen crouching down on the ground as the officers approached, and that he then ran — this part is not visible in the footage — but a man identified by officers as Bennett is seen running outside onto Flamingo Boulevard before officers chase him down and handcuff him on the ground.
The undersheriff said Bennett was detained for 10 minutes before he was released.
McMahill said they later determined that there was no active shooter situation and that the call was "unfounded" — likely based on some loud noises.
He said they did not know about Bennett's accusation until they saw it on social media "like the rest of you."
McMahill said the other videos to be reviewed were from officers' cameras, as well as "outside footage." He added that it would take a "significant amount of time" to review all the videos.
"The arresting officer did not activate his personal body camera," McMahill said. "So that particular perspective can not be viewed."
After Bennett shared his letter on Twitter, a teammate responded in support.
Justin Britt, a center for the Seawhawks, wrote: "I stand with you Mike."
And Colin Kaepernick called the alleged incident "disgusting" and unjust. "I stand with Michael and I stand with the people," he said.