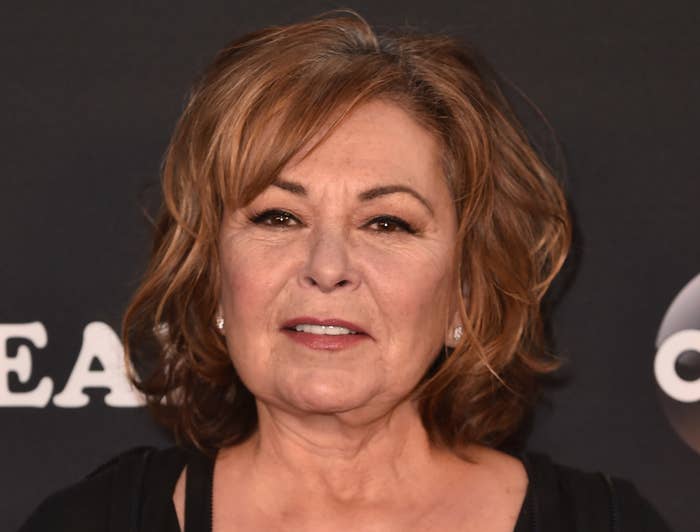 Roseanne Barr broke down in tears and said she has "lost everything" in an emotional interview published over the weekend.
Speaking on Rabbi Shmuley Boteach's podcast, recorded just days after her show was canceled, Barr discussed the racist tweet that she wrote last month in which she compared Valerie Jarrett — a black woman and a former White House aide to Barack Obama — to an ape.
"Muslim brotherhood & planet of the apes had a baby=vj," Barr wrote on Twitter, referring to Jarrett.
ABC pulled the plug on Roseanne after the tweet and announced a spinoff show last week called The Conners. Every character but Barr's will be on the show, and the star will not have a creative or financial role in the new series.
"I horribly regret it," Barr said of the racist remark on the podcast.
"I've lost everything. And I regretted it before I lost everything and I said to God, 'I am willing to accept whatever consequences this brings, because I know I've done wrong. I'm willing to accept what the consequences are.' And I do. And I have."
Barr also apologized for the tweet at the time, but only 11 hours after the apology, she was back on Twitter sharing conspiracy theories about Jarrett.
"I have black children in my family," said Barr, trying to defend herself against allegations of racism. "I can't...I can't let 'em say these things about that, after 30 years of my putting my family and my health and my livelihood at risk to stand up for people."
"I'm a lot of things. I'm a loudmouth and all that stuff, but I'm not stupid, for god's sake," Barr said as she cried. "And I never would have wittingly called any black person…say they are a monkey."
"I never would do that! And I didn't do that. And if people think that I did that it just kills me. I didn't do that, although they think I did."
"And if they do think that, I am so sorry that I— You know, it was so unclear and stupid. I'm very sorry but I don't think that...I never would do that. I have loved ones who are African American, and I just can't stand it. "
Barr said in the interview that she wasn't aware of Jarrett's race. "I don't agree with her politics and I thought she was white. I did not know she was a black woman," she said.
But she says that, even if it wasn't her intent, she's come to realize the tweet itself was racist. "When ABC called me and said, 'What is the reason for your egregious racism?', I said, 'Oh my god, it is a form of racism.'"
She once again brought up having taken Ambien in relation to writing the racist tweet about Jarrett. "It was 2 in the morning and I was ambien tweeting — it was memorial day too — I went 2 far & do not want it defended," she said in a tweet at the time.
"You know, sometimes you reread your tweets, especially on Memorial weekend at 2 a.m. on Ambien," Barr said on the podcast. "And that's no excuse, but that is what was real."
Barr said she doesn't "excuse" the tweet: "There's no excuse. I don't excuse it. But it's explanation. I was impaired, you know."
Barr said that she was asked by the network and her family to leave the platform when the show started: "When ABC hired me they asked me to get off Twitter, 'cause I'm always saying things, right?
"And I told them, 'I promise I will get off Twitter.' They said, ''cause you'll shoot yourself in the foot if you're on there.' And my kids took it away from me, and the whole thing, 'cause they said, 'Mom, you got to stop.'"
The racist tweet followed a pattern of similarly incendiary comments Barr made on Twitter. In March, she accused Parkland survivor David Hogg of giving a Nazi salute. The comedian also used the platform to participate in the conspiracy theory known as "QAnon," or "The Storm."