Pete Davidson Joked A Lot About His Relationship With Ariana Grande On "SNL"
"She's the number-one pop star in the world and I'm that guy from SNL that everyone thinks is in desperate need of more blood."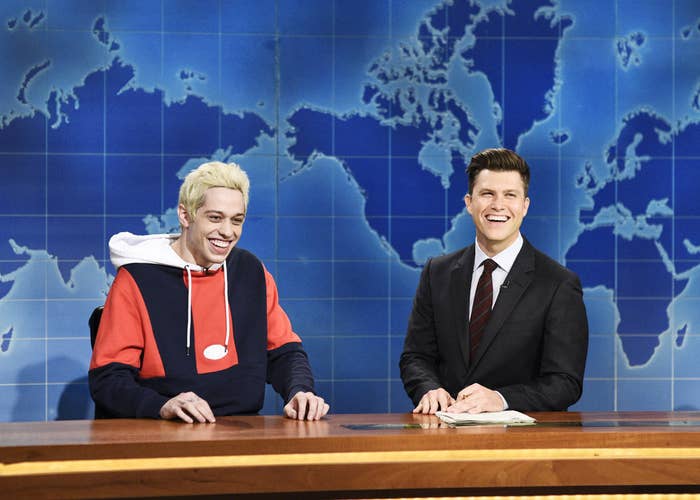 With Saturday Night Live returning to air this weekend, Pete Davidson had to address the elephant in the room: his whirlwind romance and engagement to Ariana Grande.
"I got engaged and no one could believe it, and I can't believe it, and yeah, I get it," he told Colin Jost on the Weekend Update segment. "She's the number-one pop star in the world and I'm that guy from SNL that everyone thinks is in desperate need of more blood."

Fans are dedicated to the rushed romance, tracking the couple's every development, from the pair's relationship tattoos to their acquiring a pet pig this month.

Davidson joked that he needs a prenup in case they split.

"Obviously I wanted one," Davidson told Jost. "So God forbid we split up and she takes half my sneakers."
He also said he's totally comfortable being in a relationship with a successful woman.

"I think it's dope. I live at her place," he said. "She pays like 60 grand for rent and all I have to do is like stock the fridge."
He also joked that he switched her birth control with tic tacs to ensure they stay together — a line that drew shock from some in the audience.
In an interview with Howard Stern last week, Davidson spoke about the death threat he received because of his relationship to Grande, which he also joked about on the segment, sarcastically associating himself with legendary activists.

"I got death threats," Davidson said. "It's Malcolm X, Martin Luther King, and Pete Davidson are all people who have gotten death threats."
The media microscope surrounding Davidson and Grande also became the subject of a skit on Saturday's episode in which cast member Kyle Mooney worried about his own irrelevancy.
In the skit, Mooney decides to mimic Davidson's look and lingo in order to gain attention.
"People are finally starting to take me seriously. Now, all I need is a hot celebrity girlfriend, and that's fine by me," he said.
Mooney then walks into the writer's room with his new girlfriend, Wendy Williams, and their adopted pig.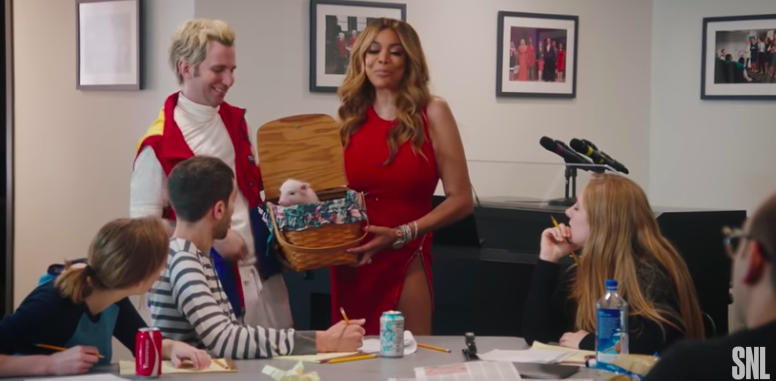 SNL's return this weekend also touched on Kavanaugh's testimony, with Matt Damon playing the Supreme Court nominee.
Adam Driver, of Star Wars and Girls, hosted and, well, Kanye West performed as a bottle of sparkling water.