Police have arrested a 16-year-old suspect after footage of a kitten being launched into the air, hitting the street, and then meowing in distress, went massively viral.
Footage of the incident was posted to Twitter on Friday. Click carefully, as the video is graphic.
@_donaldberry / Via Twitter: @_donaldberry
Police in Ontario, California, said on Saturday they received information "regarding the abuse of a kitten by a young man," and had identified a 16-year-old suspect, but would not be disclosing his name, due to his age.
The cat, which police described as a "small kitten" in a press release posted to Twitter, suffered a fractured leg.
"The kitten and its owner have been located," police said. "The kitten survived the incident but did suffer an injured leg. The Inland Valley Humane Society is assisting with the investigating and care of the injured animal."
In a statement Monday, the Ontario Police Department said that they had arrested the 16-year-old suspect, after he was spotted by officers.
"He ran from the officers but was quickly tackled and arrested," the police department said. The statement added that the injured kitten was at a veterinarian hospital and in "good condition."
The kitten is named Spots. Spots's owner did not watch the footage. "I just want him to know he hurt a victim that can't defend itself," the cat's owner, Perla, told NBC4. Spots was once a stray, before being found a few months ago, the station reported.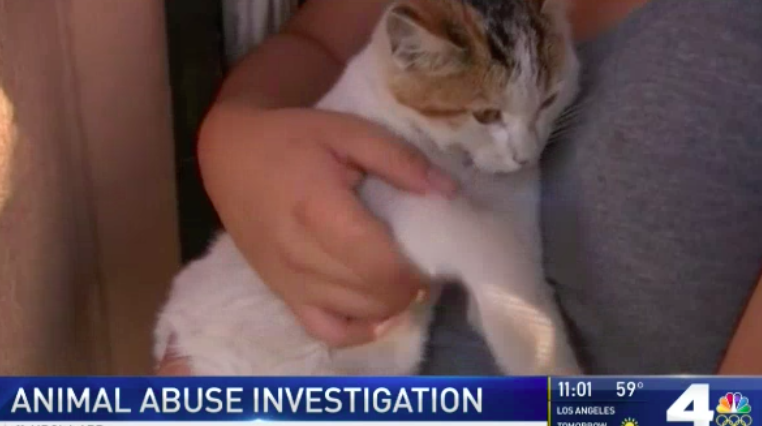 A spokesperson for the police department in Fontana, California, also thanked "social media users" for alerting authorities to the incident, which did not occur in its jurisdiction. A tweet with contact information for the Fontana Police Department was, like the above tweet, widely shared.
"I would like to thank all the social media users that contacted us for what looks like a horrible case of animal abuse," he told BuzzFeed News.