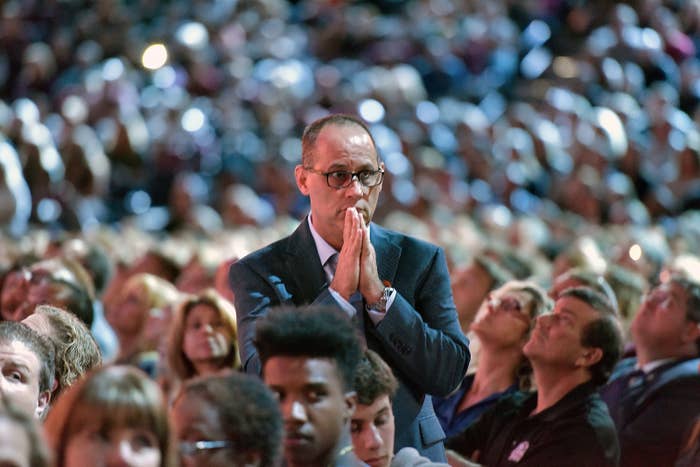 President Donald Trump last week invoked the massacre at Marjory Stoneman Douglas while speaking to the nation's most prominent gun rights gathering. "Our entire nation was filled with shock and grief by the monstrous attack on a high school in Parkland, Florida," Trump said. "We mourn for the victims and their families."
The mention came as a surprise to the families of students and staffers who died, who wondered why Trump would discuss the mass shooting at a political event — but not reach out to them personally. Two dads of Parkland victims took to Twitter hours after his speech to say as much.
"Trump said, 'Our hearts break for every American who has suffered the horrors of this school shooting,'" Philip Schentrup, whose 16-year-old daughter, Carmen, died in the shooting, tweeted hours after the speech on Friday.
"Surprising since I've never heard from him, Pence, or his staff since Carmen's murder," Schentrup wrote.

"I have not received any communication from the president or anyone in his administration," Schentrup told BuzzFeed News. "Having said that, other lawmakers from both Republican and Democrat parties have reached out to my family."
BuzzFeed News spoke to nine families of Parkland victims. Of them, eight have not heard from the president since the shooting nearly three months ago. One told BuzzFeed News they have heard from and met with Trump. The other eight families of victims declined to comment or didn't respond.

"Our president has been very successful in kind of making people like me just say, 'That's who he is and so, I guess it doesn't matter, because that's who he is,'" Fred Guttenberg, whose daughter Jaime died in the shooting, told BuzzFeed News.

"But yeah, it ticks me off for this reason— I'm at a point where it's like, you know what, if he doesn't want to reach out to me, nobody has the obligation to offer condolence. To me, in his position, it would have been the right thing to do, but no one's obligated.

"However," Guttenberg said, "don't use my daughter's life for a political moment, and that's what he did, and that pisses me off."

Guttenberg is one of the parents who called Trump out on Twitter on Friday. He responded to a remark by Vice President Mike Pence, who said, "after these tragedies, America has seen President Trump's leadership on full display."
"Leadership?" the dad responded on Twitter. "As a victim of that shooting having lost my daughter, definitely not."
He said he's met with or heard from Former Vice President Joe Biden, Florida Gov. Rick Scott, Sen. Bill Nelson, Sen. Marco Rubio, Rep. Ted Deutch, and Rep. Debbie Wasserman Schultz since the tragedy.
Manuel Oliver also hasn't heard from the White House since his 17-year-old son, Joaquin, was killed.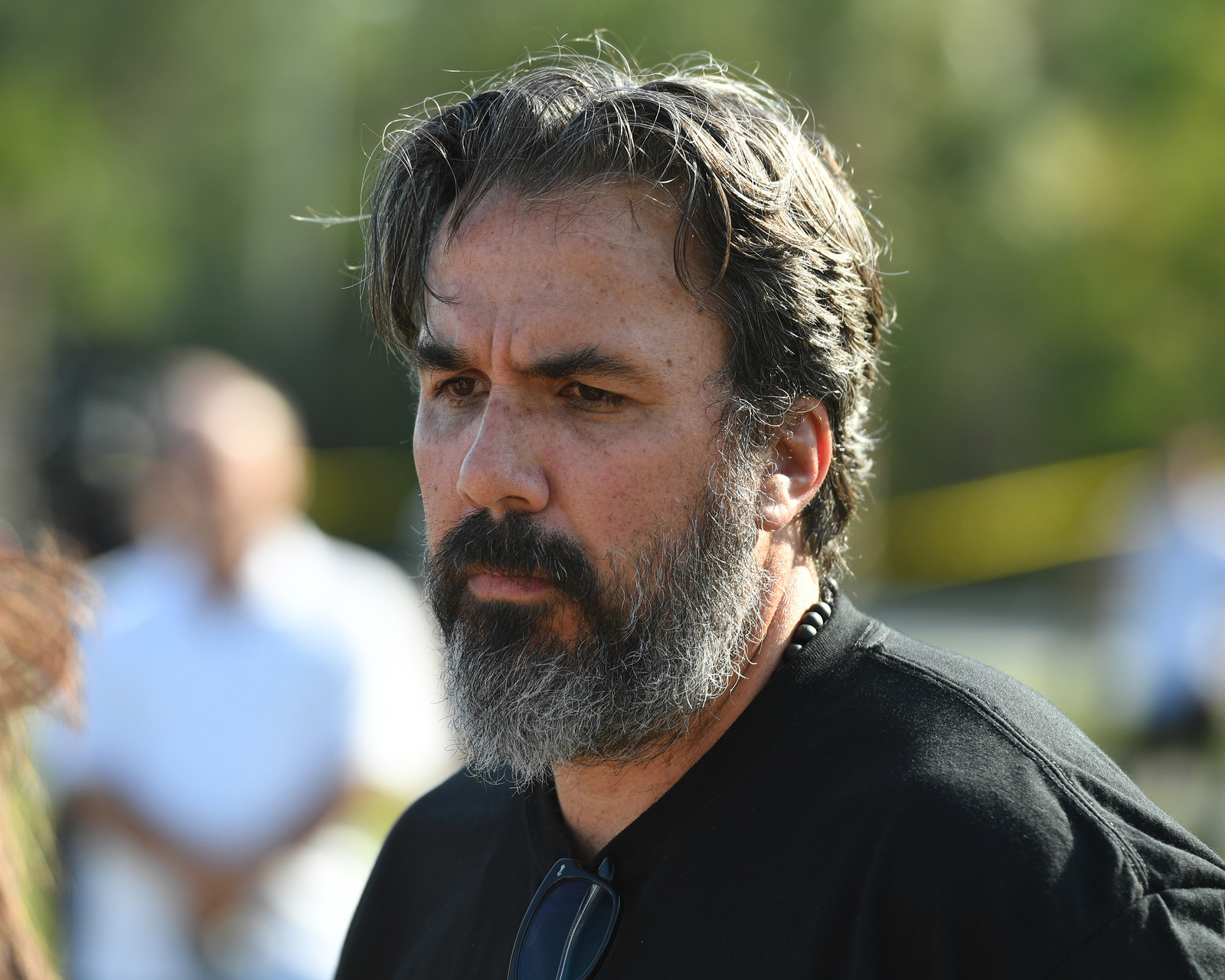 The dad wasn't shocked about not having heard from Trump, until, he said, the president spoke at the NRA. "It wasn't [initially shocking] to be honest. It wasn't, until he showed at the NRA," he said. "That's the tipping point of this whole situation, honestly."
Originally, "I did feel ignored, but I didn't care that much," he said. The NRA meeting changed that, and he wants the president to visit him in Parkland.
The White House didn't respond to several requests for comment.
Trump has reached out to the the family of Meadow Pollack, an 18-year-old who was killed. Her friends honored her at the prom she would have attended on Saturday night, writing "Princess Meadow," on their limo.
Meadow's father, Andrew Pollack, who has been a vocal supporter of adding more armed personnel at schools, told BuzzFeed News said that he met with the president twice within a month of the massacre — once before a public listening session at the White House and again during a separate meeting on school safety.
Pollack said that the White House has been "very helpful."
The president also sent a letter sent to the Pollack family, dated March 12. "I am deeply grateful for your presence at the White House for discussion regarding school safety," the typed message reads.

Pollack said the letter "meant a lot" to his family.

Debra Hixon, whose heroic husband, Chris Hixon, died trying to disarm the gunman and protect students from the bullets, said she had not heard a "single word" from the president, despite seeing him console "other families" and knowing that he did send a letter to the Pollacks.
"I expected maybe a note or something. I feel like he picked and chose maybe based on what we said," she said. "My husband loved [Trump]. I think he would have been disappointed that he didn't reach out to us."
Before he became a beloved athletic director and coach at Marjory Stoneman Douglas, Chris Hixon served in the Navy in the Persian Gulf during Operation Desert Storm and Desert Shield. Yet his wife says she felt excluded from Trump's efforts to discuss safety reforms.
"He just completely ignored us and it's really shitty. I would have loved to have been asked to the table," said the 51-year-old, who is a magnet coordinator at South Broward High School. "A human thing to do is to reach out to everyone. If you reach out to one family you should reach out to all of us."
Fred Guttenberg said it was surprising that Trump reached out to the Pollacks, but not the other families.
"You would think all 17 families would receive a letter," he said.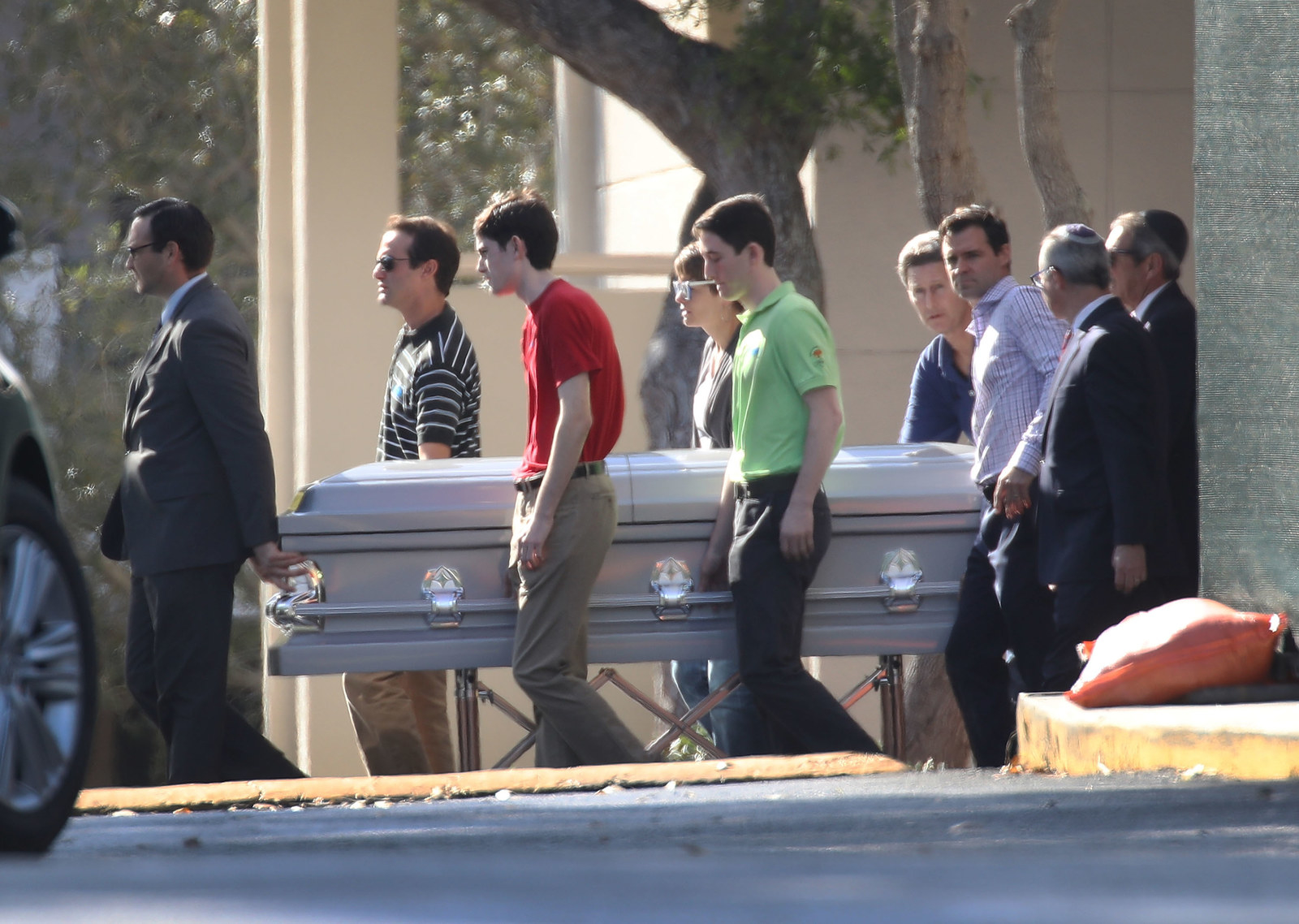 Linda Beigel Schulman and Michael Schulman, the parents of another victim, have received a presidential condolence letter — but from Obama, not Trump.

Their son, geography teacher Scott Beigel, died after he unlocked the door to a classroom, helping students to take cover during the shooting. "Mr. Beigel is and forever will be my hero," freshman Kelsey Friend said. "He one-hundred percent saved my life."
Scott's parents told New York at the end of March that they hadn't heard from the President. They told BuzzFeed News on Sunday that this is still the case.

"It's almost amazing that he would take the time to call Roseanne Barr and congratulate her on such a great show, because it implied how wonderful he was," Scott's father said.
"But when it comes to consoling or helping, or even reaching out to victims, or people who are assisting victims, he has nothing to say," he continued. "You know, it's really mind-boggling."
"I didn't expect to hear from him," his mom said. "It would have been nice. I'm not disappointed. It's who he is."
"I don't think he would contact us unless we could be doing something for him, because he's not doing anything for us," she said.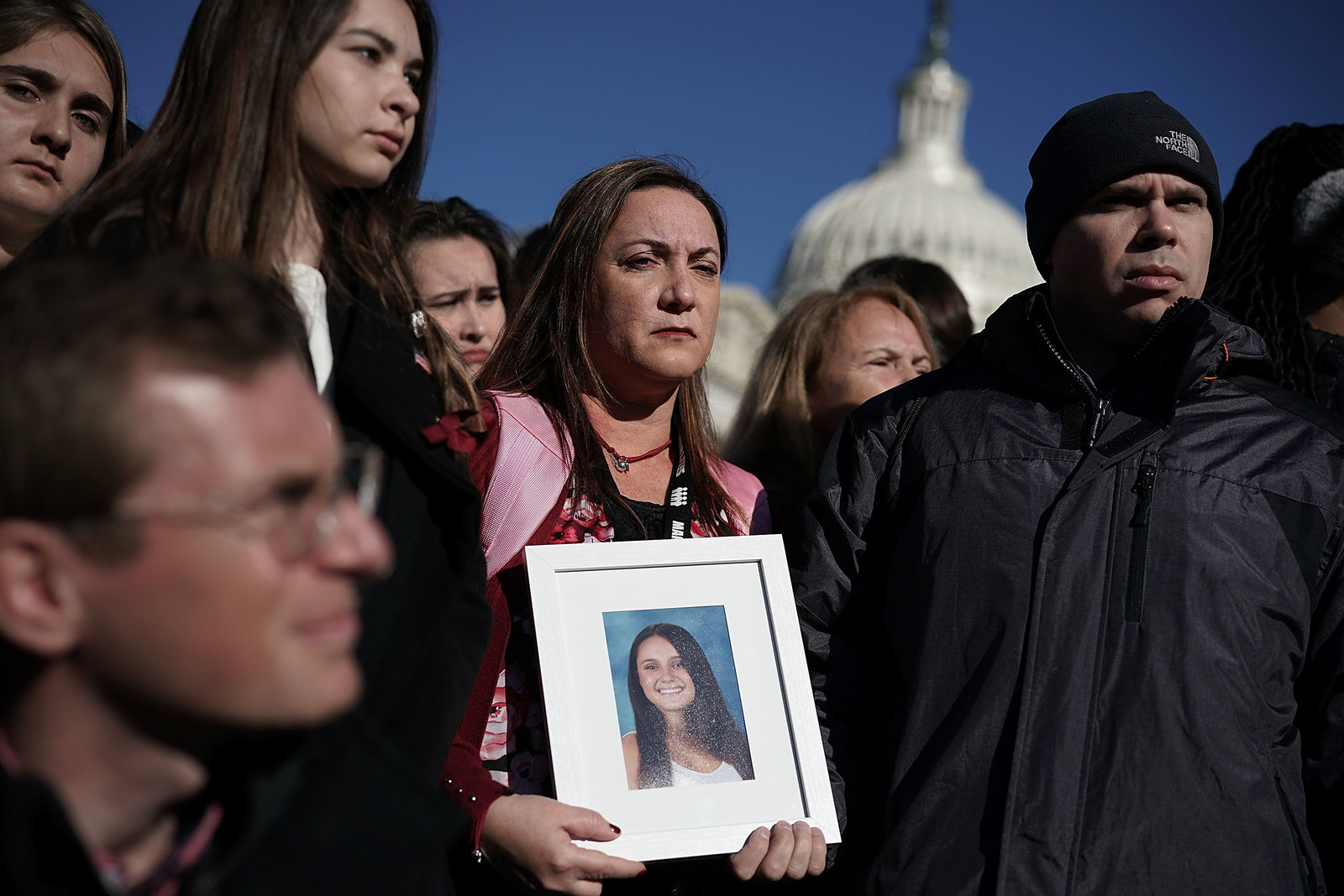 Mother Lori Alhadeff told BuzzFeed News that she also hasn't heard from Trump. Last week, her daughter Alyssa Alhadeff would have turned 15. Instead, on her birthday, her headstone was unveiled.

"It wouldn't have made any of this go away or would not bring back Alyssa, but it would show he had empathy," the mom said. "By not reaching out it shows how little he is willing to do."

The parents of Gina Rose Montalto, who like Alyssa was 14 when she died, also haven't heard from the president.
"We have received a lot of support from people in the country and even some people internationally," her dad, Anthony "Tony" Montalto, told BuzzFeed News. "It's been very special and meant a lot to us, but no, no letter from the president."
If given the chance, the parents would meet with Trump, he added.

It took Max Schachter a few trips to Washington, but he met with Vice President Mike Pence last month to discuss the need for a national set of school safety standards. His 14-year-old son, Alex, died shortly after the gunman peppered his classroom window with bullets.
"They were sitting ducks," said his father, who has since created a foundation in his son's name and hosted several forums with top lawmakers like Sen. Marco Rubio and Education Secretary Betsy DeVos.

There's one leader, though, who he said he had hoped to hear from, but never did.
"I wish the president would have reached out to me," Schachter sighed. "It's not too late. I would like his help to make schools safe. Pence was extremely gracious to meet with me and my family and I would certainly like more help from the administration."
Two days after the Valentine's Day massacre, Trump traveled to Florida and met with injured victims at the hospital. He also visited the Broward County Sheriff's office. He then went to his resort, Mar-a-Lago.
About a week after the incident, he hosted a roundtable discussion surrounded by grieving teens who survived Parkland, their parents, the Pollack family, and parents who lost children in other mass shootings, such as Newtown and Columbine. There, he floated the idea of arming teachers as a way to better secure classrooms.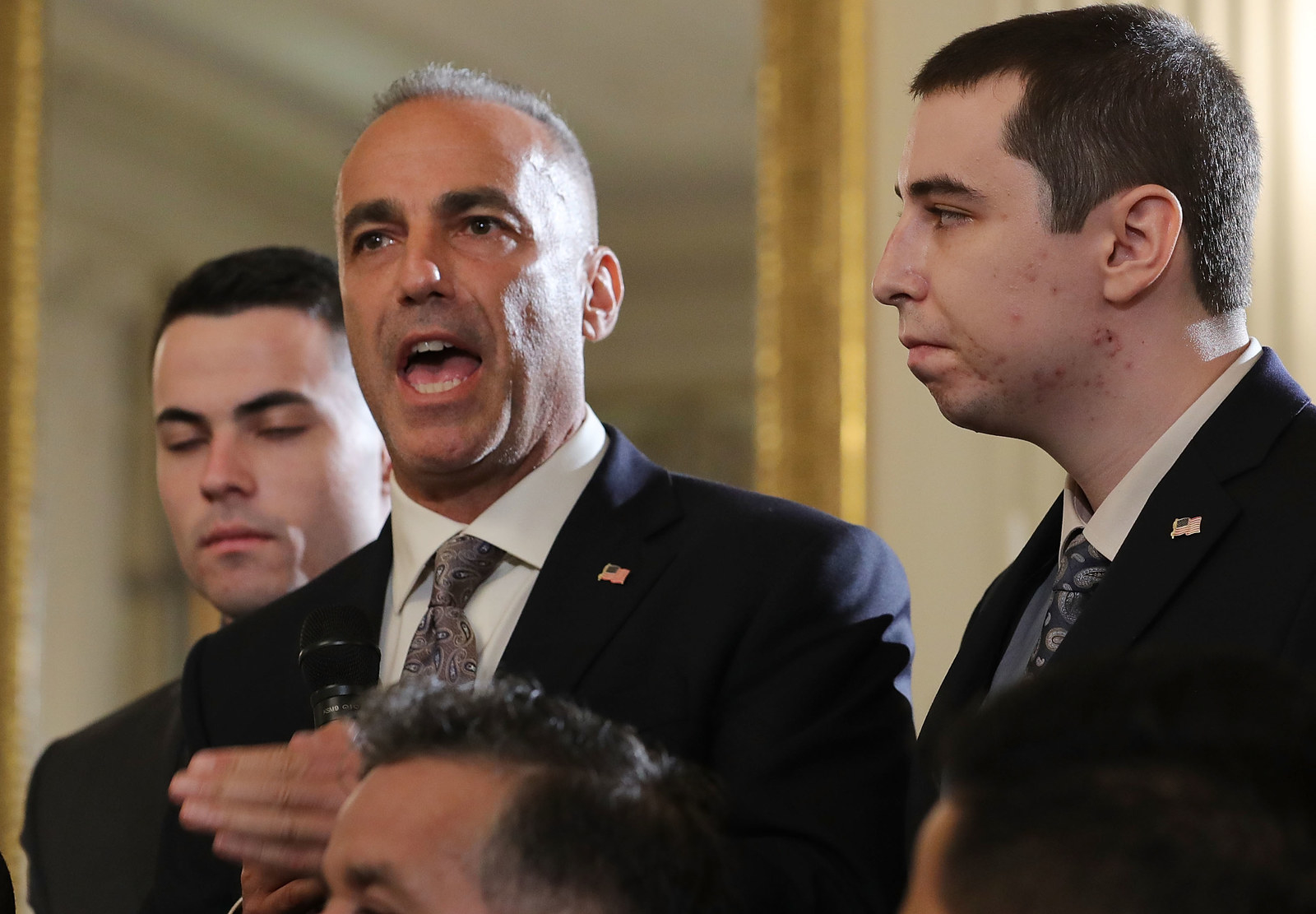 President Barack Obama traveled to Connecticut two days after the massacre at Sandy Hook Elementary School, where he met with the families of more than a dozen victims before speaking at a nationally broadcast prayer vigil.

"Since I've been president, this is the fourth time we have come together to comfort a grieving community torn apart by a mass shooting," he said. "The fourth time we've hugged survivors. The fourth time we've consoled the families of victims."
In 2007, one day after the mass shooting at Virginia Tech, President George W. Bush spoke at a memorial service on-campus for students, faculty and families and also met with roughly 50 relatives of the victims and an injured survivor. ""Laura and I have come to Blacksburg today with hearts full of sorrow," Bush said during his address to mourners.
Several families of Parkland victims mentioned that they still want to meet with Trump.
Guttenberg told BuzzFeed News that he tried to meet with the president, through his congressman Ted Deutch, but was unsuccessful in doing so. The week of Feb. 26, a spokesman for Deutch's office said, the congressman requested the meeting. A White House staffer told them he submitted the request, the spokesman said, and after they did not hear back.
"As pissed as I am, if you want to meet, and talk about common sense gun safety, just tell me when," Guttenberg said, addressing the president directly.
Oliver wants the president to come to his home in Florida to spend time in his son's empty room. "We suffer," the dad said. "We suffer."

"Every morning, every afternoon, and every night, when we go to bed in an empty space. [President Trump] could understand this by sharing this time with us."
Oliver mentioned that his home is in proximity to Mar-a-Lago. "Just come over to Parkland, it's 35 minutes away," he said. "Any weekend that you come to Mar-A-Lago, you can come and visit us."
Hixon, whose husband was killed, still teaches at a Broward County school and is now raising two children by herself and is disheartened that the issue of public safety has become so fraught and polarized when "we all just want to feel safer."
"I don't know how this became so political. We just want to compromise and work together," she said. "But a lot of us were never invited to the conversation."