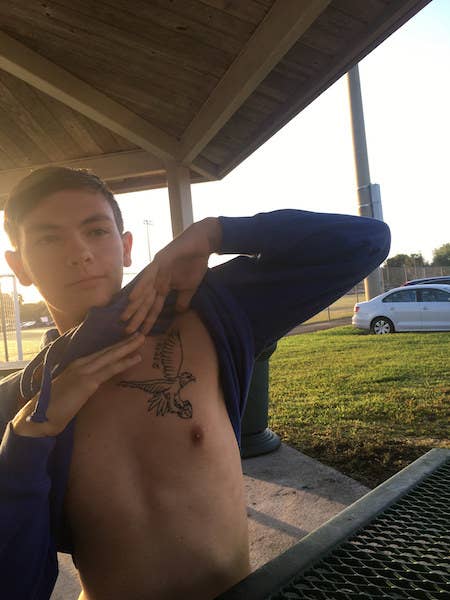 PARKLAND, Florida — Connor Dietrich, 17, returned to school on Wednesday with a massive tattoo of an eagle on his chest — the mascot of Marjory Stoneman Douglas High School in Parkland, Florida.
His classmates, Dana Craig, 16, and Dylan Kraemer, 17, also returned with new ink. Dana's, on her upper thigh, is of a feather above script that says "proud to be an eagle." Dylan's, on his ribs, is the number "17" between angel's wings, the phrase "Douglas strong" and the date of the massacre that killed 17 of his classmates: Valentine's Day, 2018.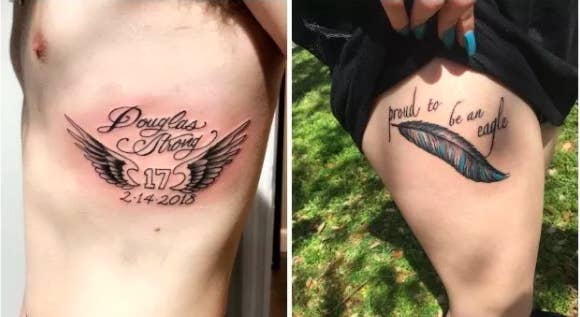 Wednesday was the first day of classes for the Stoneman Douglas students since their former classmate Nikolas Cruz allegedly opened fire with an AR-15 rifle. It was filled with emotion and the signs of grief, which every student processed differently. Jack and Connor, who were together during the shooting, were locked out of a class before a teacher let them in and led them to safety.

Officials made sure therapy dogs and white carnations were on hand. Students wore matching school T-shirts and painted "Fly High" on their cars.

Dietrich, 17, walked to school with his friends, Jack Macleod, 16, and Isabella Pfeiffer 16, passing dozens of news cameras. They were happy that helicopters weren't thrumming overhead — the sound, they said, would have reminded them of that day.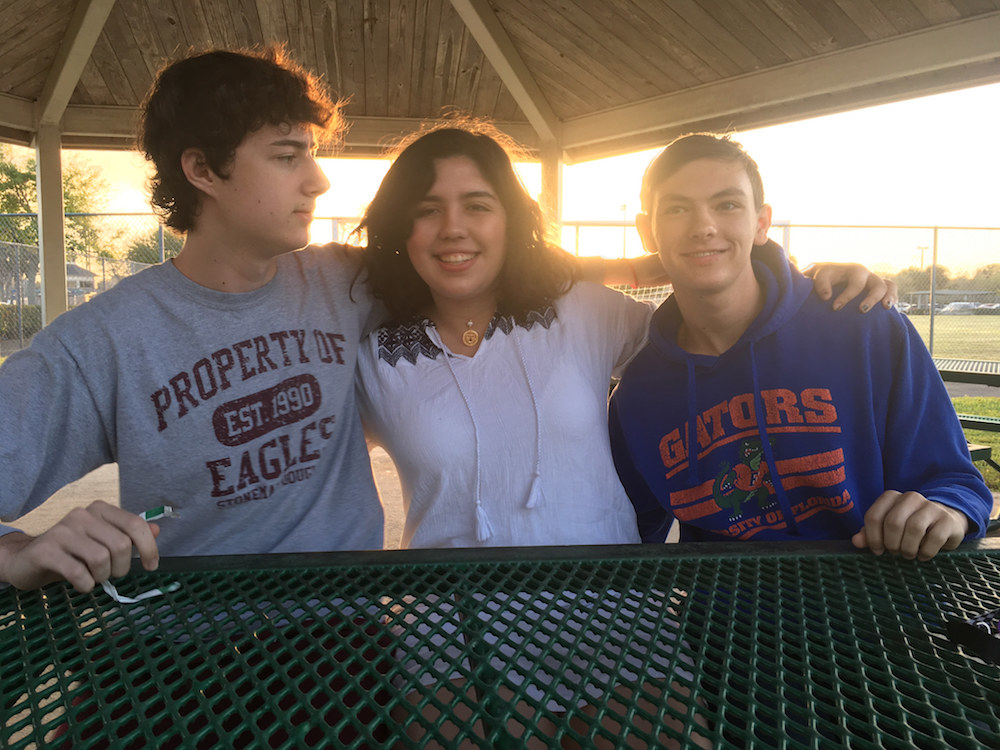 "They're treating me like I'm Kylie Jenner," student Kyrah Simon, 17, told BuzzFeed News about the cameras.
Inside, Simon said, there were stress balls, Connect Four, Jenga, Play-Doh, and stuffed animals.
Senior Carly Novell, 17, said she carried a stuffed white teddy bear all day. "I felt like a 6-year-old," she said, "but I really liked carrying it."
"I knew we had to go back at some point," she told BuzzFeed News. "I was really nervous. It was kind of overwhelming."
It was hard to determine what was normal, she said. "There was just a wall of police saying 'Good morning' to us, which was really strange. Then, after the police, there were a bunch of people saying they support me. And there were horses. And there were goats."
Novell that she wasn't sure what the goat was about: "I pet the goat. I don't know if it's like a therapy goat or what, but there was a goat."
The whole thing felt cinematic. "It feels like a movie," she said, adding, "I just don't want to keep hearing that people are here to support me and they're there for me."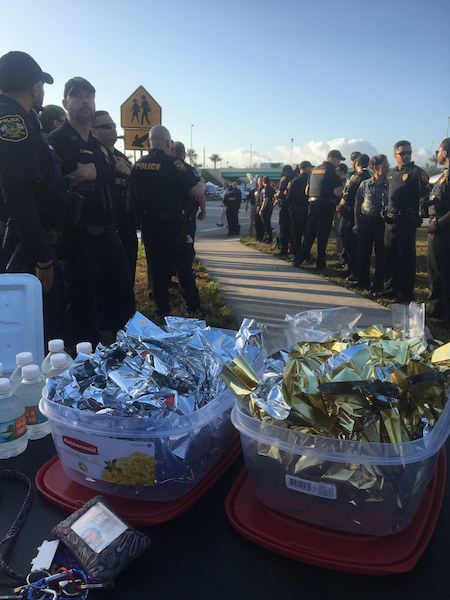 The school principal sent parents an email, viewed by BuzzFeed News, on Monday telling parents there would be extra security on hand. "We will have an increased police presence, along with undercover police," the email read. "I do not want to give a police-state environment, but want the parents and students to know that extra resources will be here and will continue to be here."
Dietrich said that he flinched when the bell between classes rang. During a moment of silence for the 17 victims, he teared up, but added: "I hide it pretty well."
He said that in some of his classes they wrote down how they were feeling. "I think a lot of us bullshitted it," he said. "We were like, 'Yeah, I feel fine. I'm happy to be back in school.' But, you know, we're all sad. It's not a fun experience." It was a day of relaxing and feeling — he played Clue.
Jack, his friend, added, "We sat in a circle talked about how we feel."
Jack's father, Michael, told BuzzFeed News that he tried not to project his own anxiety onto his son. "He's a very strong guy," Macleod said. "As a parent, we have to be careful not to impose our anxiety on our children."
He said he tried to not text his son while he was inside. "We've been together most of the last two weeks, and I just wanted to give him a little space to kind of adjust on his own," Macleod said.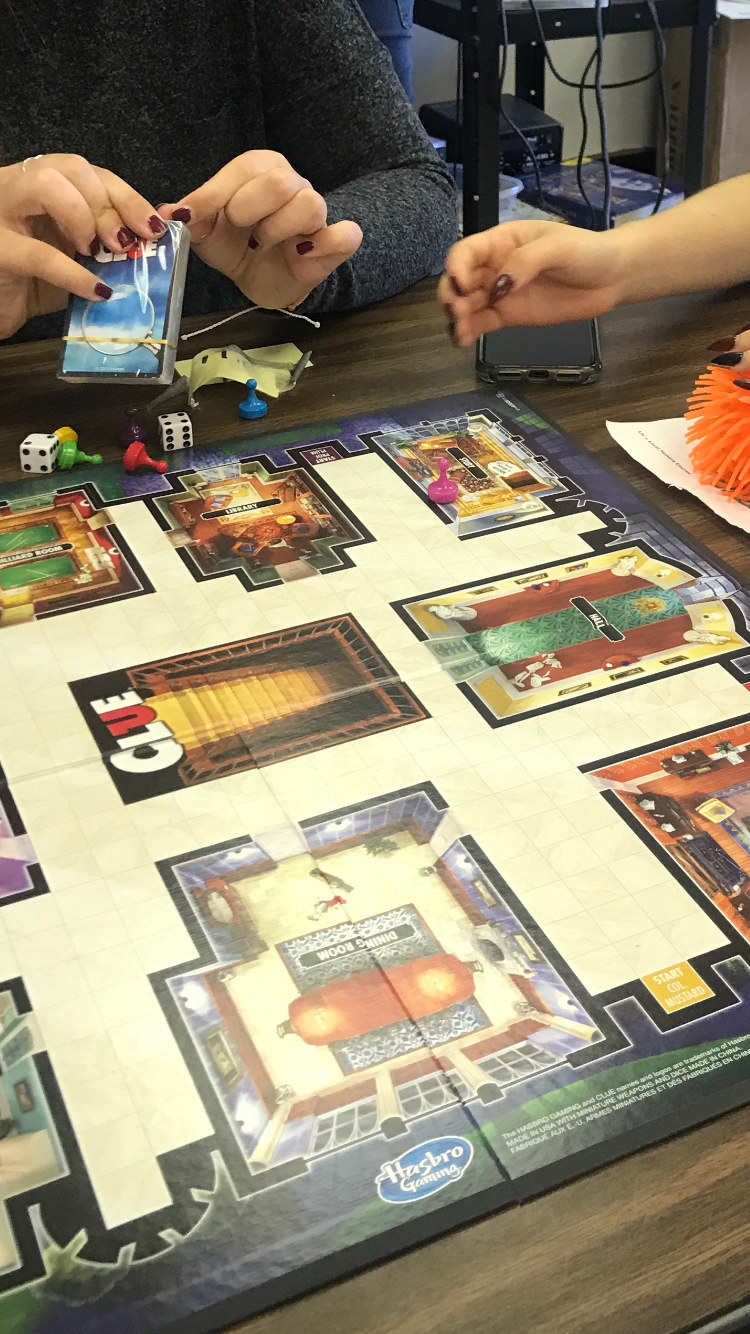 It was an emotional day for parents too. Macleod said he was thinking of those who lost their children in the attack. "My heart again goes out to the victims — those families don't have the luxury I have," he said.
Fred Guttenberg's daughter, Jaime, 14, died in the shooting. His son survived. He called the day "bittersweet."
"The kids were ready to go back," he said. "But unfortunately, my son goes back without his sister."
Even some students who thought they wouldn't return did so, like Sofie Whitney, 18, a member of the Never Again movement. She had earlier told BuzzFeed News that she "wouldn't like to return to school until the federal government starts making some progress." But, she said, she had a change of heart. "We as a community need to be together," she said on Tuesday. "I now realize that less school is not the answer."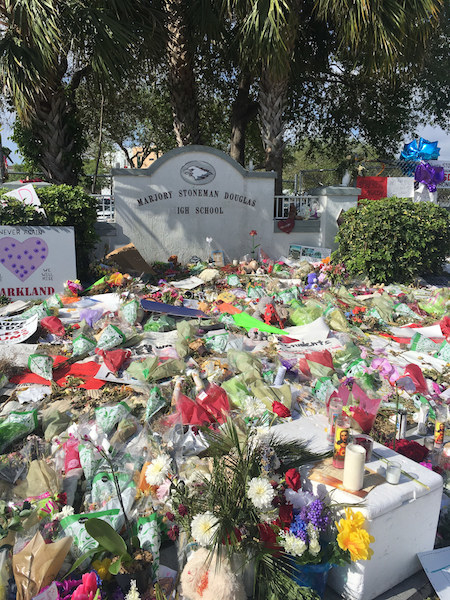 Around 11:30 a.m., before the final bell, families began to gather outside, looking at the school. Many were on their phones. One older man stood close to the fence, staring intently ahead.
"There he is," one mom said smiling, after she spotted her son.
Twenty minutes after the students' release, adults approached law enforcement officials to complain that the sidewalk was lined with cameras and the students couldn't easily leave.
But despite the looks of tiredness and the anxious parents, the departure could have been mistaken for any other day of high school. Outside of the crime scene tape — which teens lifted up to exit — teens greeted or said goodbye to their friends.
"What the fuck? What the fuck?" one high schooler joyously questioned another.
Two teen girls smiled widely at each other after saying goodbye.
Later, at a parking lot down the street from the school, a group of guys bumped music as they drove away.