The principal of a Texas high school has apologized after a video about the school's dress code, shown to thousands of students, drew massive backlash. The footage, which features teen girls wearing shorts, was set to the song "Bad Girls" by M.I.A.
In the video, teen girls roam the halls until they assemble, and there's a close-up shot of their bare legs.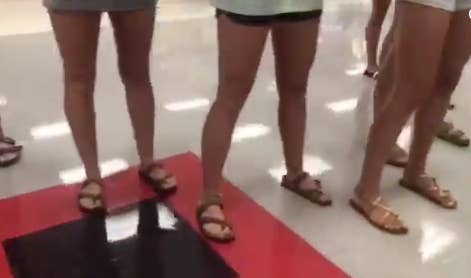 They are then shown in a mock standoff with a disapproving administrator.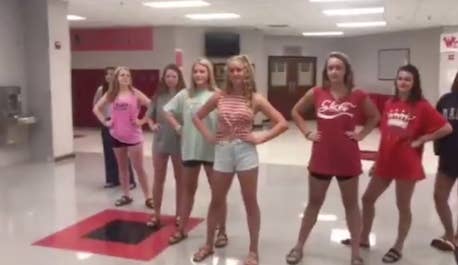 Said faculty member says to the group: "Okay ladies, follow me."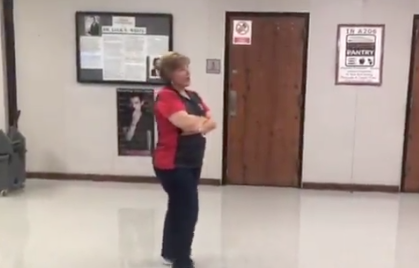 These teens are then ushered into a room marked "dress code violators," where other apparent "offenders" are already seated — all teen girls.
Another faculty member then points to a phrase on the whiteboard: "Repeat after me," she says. Then the students say in chorus, "I will not wear athletic shorts."
According to NBC 5, the video was shown Thursday to around 3,000 students at Marcus High School in Flower Mound, Texas.
A senior at the high school, Catherine Moring, 17, posted the video on Twitter. "ONLY girls are shown as violators," she said of the footage. "Why are we still over-sexualizing teen girls?"
Moring told BuzzFeed News on Tuesday that her first reaction to the video was that it was "clearly sexist." She also mentioned what she said was "a clear lack of diversity" in the footage.
The senior took issue with the song choice too.
"The lyrics 'bad girls do it well,' playing behind footage of girls legs in athletic shorts was shocking," she said, "because it made the implication that by wearing athletic shorts, you were a 'bad girl' even though we live in Texas where it is currently 100° outside."
The principal of the high school, Will Skelton, apologized to parents in a letter Friday.
He said that it was a "poor" decision to have the song "Bad Girls" by M.I.A. play during the footage.
The video was meant to, he said, "remind ALL students" of the school's dress code and he apologized for it not doing so. A representative for the school district told BuzzFeed News that they had no additional comment.
Aug. 17, 2018

Marcus Parents,

I apologized to our students regarding this issue today, but wanted to reach out and apologize to parents as well. I'm a firm believer that when you make a mistake, you own it, you apologize, and you make it right.

Yesterday we showed a dress code video that featured only female dress code violations, and was accompanied by a poor song choice. Construction in and around the campus prevented us from holding student orientation, which is typically accompanied by a fashion show that demonstrates what to wear, and what not to wear. We believed a video would be a good way to replace the fashion show, but this video absolutely missed the mark.

Please accept my sincere apology for not ensuring our video achieved its intended purpose — to remind ALL students of our dress code expectations.

If you want to visit with me about this or any other concern you may have, my door is always open.

Sincerely,

Will Skelton
Principal, Marcus High School