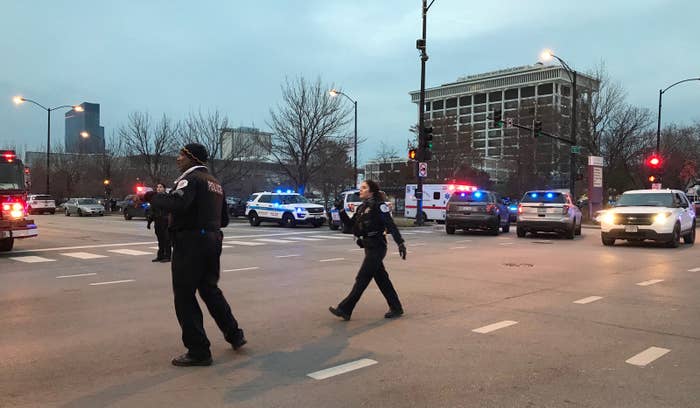 CHICAGO — Four people were killed, including the gunman, Monday afternoon in a shooting at a Chicago hospital, authorities said.

The victims included a doctor, a pharmaceutical assistant, and a police officer, Chicago Mayor Rahm Emanuel said. The doctor, a specialist in emergency medicine, had previously been engaged to the shooter.
Just before 3:30 p.m. Monday, a man and a woman got into an argument in the parking lot of Mercy Hospital on Chicago's South Side, police Superintendent Eddie Johnson told reporters. A third person, a friend of one of the two, then tried to intervene in the dispute.

"At that time our offender, the male individual, lifted up his shirt and displayed a handgun," Johnson said, prompting the friend to run into the hospital where a 911 call was made.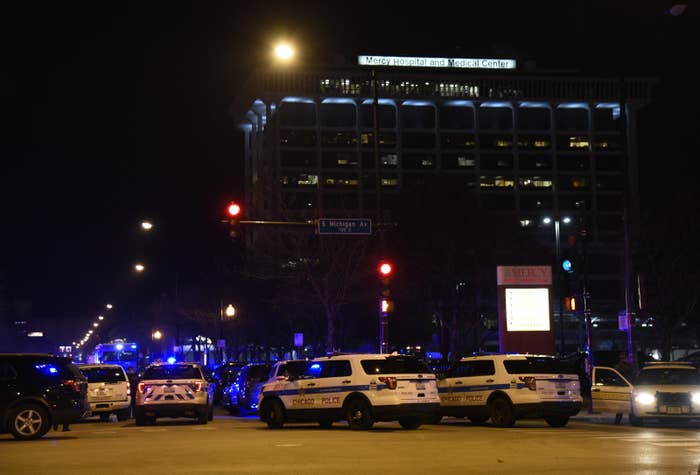 Moments later, a second call to authorities reported shots had been fired in the parking lot.

Before officers arriving on the scene could exit their squad car, the gunman — named by police as 32-year-old Juan Lopez — fired multiple rounds at them. The shooter then fled into the hospital, where he exchanged gunfire with officers. During the exchange, another female employee was fatally shot, as was a police officer.
The officer was identified as Samuel Jimenez, who joined the force last year in February. Jimenez had recently completed a probationary period officers undergo to become a "full-fledged police officer," Johnson said.
"Please pray for his family, his fellow officers & the entire #ChicagoPolice Department," said Anthony Guglielmi, the chief communications officer for the police department, said of Jimenez in a tweet.
"They did what the heroic officers always do," Johnson said of the deceased officer and his partner. "They ran towards that gunfire."

"They weren't assigned to that particular call, but they went, because that's what we do," he added.
In a tweet, the force described Jimenez as "altruism personified."
At a press conference Monday night, Patrick Connor, the emergency department director at Mercy Hospital, identified the staffers who died in the shooting as Dr. Tamara O'Neal, an emergency physician, and a 25-year-old first-year pharmacy resident, named in multiple media reports as Dayna Less, who had recently graduated from Purdue University.
It was not immediately known whether the shooter was killed by his own gun or bullets from responding officers.
One officer at the scene who came under fire survived after a bullet struck his gun holster and became embedded in his firearm. He was not injured.
Maria Tello, a nurse at Mercy Hospital, told BuzzFeed News she heard three gunshots ring out.

"You know what to do, but you're still in shock," she said. "We're putting patients in rooms and trying to lock them down. All you want to do is hide and be quiet and communicate with them."
Tracy Lyons, who was at the hospital for a "routine radiation treatment," said she was about to get in a car to leave when she heard five to six gunshots, and then five to six more. Lyons said she ducked behind the car for safety.
"My heart is beating real fast," Lyons said, recalling the shooting. "My heart goes out to whoever lost their lives in this tragic carnage."

Mayor Emanuel said the first responders, officers, doctors, and nurses engaged in a "heroic effort."
"I want to thank them and remember them," he said.

Johnson said the officers "saved a lot of lives" by engaging the gunman.
"Because this guy was just shooting — that poor woman that got off an elevator, had nothing to do with nothing, and he shot her. Why?" Johnson said. "There's no doubt in my mind that all of those officers that responded were heroes and they saved a lot of lives, because we just don't know how much damage he was prepared to do."