On Thursday, the Washington Post reported allegations that Roy Moore, the Republican nominee for Senate in Alabama, had tried to initiate a sexual encounter with a 14-year-old when he was in his thirties.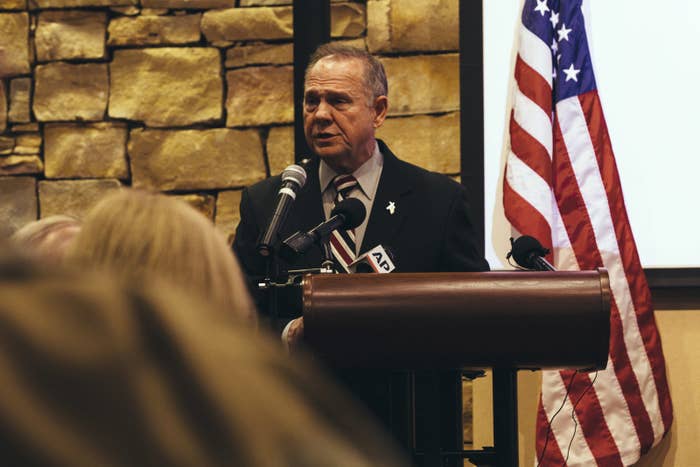 Moore has vehemently denied the allegations.
"I don't know Ms. Corfman from anybody," Moore said on Sean Hannity's radio show on Friday. "I've never talked to, never known her or anything." The candidate called the story "completely manufactured."
He once again denied the accusations on Saturday. "These attacks involve a minor, and they are completely false and untrue, about something that happened nearly 40 years ago," he said.
In response to the accusations, people are sharing photos of themselves at the age of 14, many of them with the hashtag #MeAt14. Many of the photos were posted in response to this tweet from the co-creator of The Daily Show, Lizz Winstead. "Who were you at 14?" she asked.
"I made ribbon barrettes and I babysat on weekends," this person said of her hobbies.
This person shared a memory of waiting with anticipation for the newest Harry Potter book.
"I was riding horses, playing basketball, and trying to survive freshman year of high school."
"This is me at 14, a shy and innocent bookworm."
Actor Alyssa Milano shared a photo of her teenage self too. "I was happy," she tweeted. "I was innocent."
Someone else said that then, "Boys were cool only in the context of hockey."
Others recalled teenage anxieties.
This person remembered scrunchies.
Another, "a face full of acne."
Being grounded.
Without a driver's license.
Others shared evidence of their teenage musings. This person posted some poetry, which includes references to both Hanson and the Spice Girls.
Someone else even shared a diary entry about a sad dance experience.
"I wasn't dating yet," shared another person. "I was playing mini golf with my dad when this was taken."