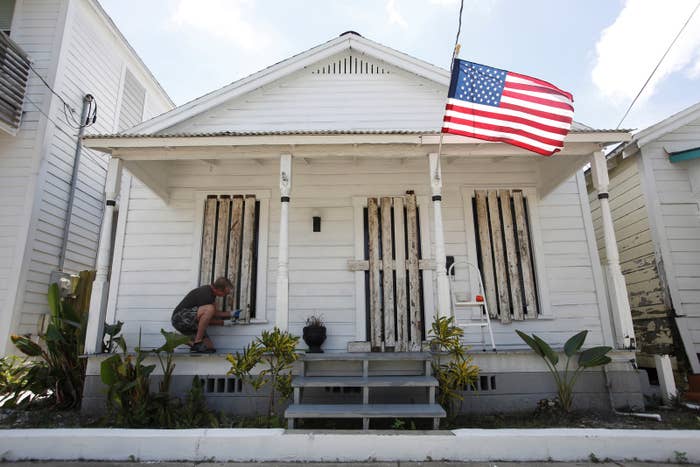 Homeland Security Adviser Tom Bossert stood in the White House press briefing room on Friday and told reporters that if Hurricane Irma were to move westward up the Florida coast, that would be the nightmare scenario.
"I guess maybe worst-case scenario is if it dips down, moves west, and curls around to the other side of the state," Bossert said. "Because right now, it's my belief that people haven't been planning for that."
Now, a day later, that's exactly what's happening.
After days of fears that Miami and the eastern Florida coast would endure the full force of the historic storm, Saturday's forecasts predicted Irma was now moving west and would instead drift up the Gulf Coast, striking the cities of Naples, Fort Myers, and Tampa most directly.
Alyssa Candelmo, a 19-year-old who lives in Bonita Springs between Naples and Fort Myers, said she, her parents, and her 82-year-old grandmother had made plans to "ride it out" when it seemed like the brunt of Irma would be felt on the other side of the state.
But the mood shifted on Saturday morning once it was forecasted that the massive storm was headed directly to them.
"Everyone was like, 'Oh, thank god,' and now it's like, 'Holy crap, this is going to hit right where we're staying,'" she told BuzzFeed News.

Candelmo said that they "might" be able to evacuate still, but she doesn't know if her family plans to, citing a concern over a lack of gas and of traveling with her elderly grandmother.
Gov. Rick Scott urged those in evacuation zones in western counties to evacuate late afternoon Saturday.
"If you're in Collier County or Lee County and you know there is going to be 15 feet of storm surge, and you're in an evacuation zone, I'm pleading with you, for your life, I'm pleading with you, to go to a shelter," he said.
Alanna Gillen left her home in Bonita Springs for her parents' home farther north earlier in the week.
They had planned to evacuate to Georgia together but canceled those reservations on Friday to hunker down. On Saturday afternoon, following news of Irma's updated trajectory, they decided that they were going to evacuate after all.
Gillen said that she "cried a little bit," when she saw that Irma's projected path on Saturday morning was headed west.
"Nothing prepares you for the news saying, 'It's coming for you,'" she said.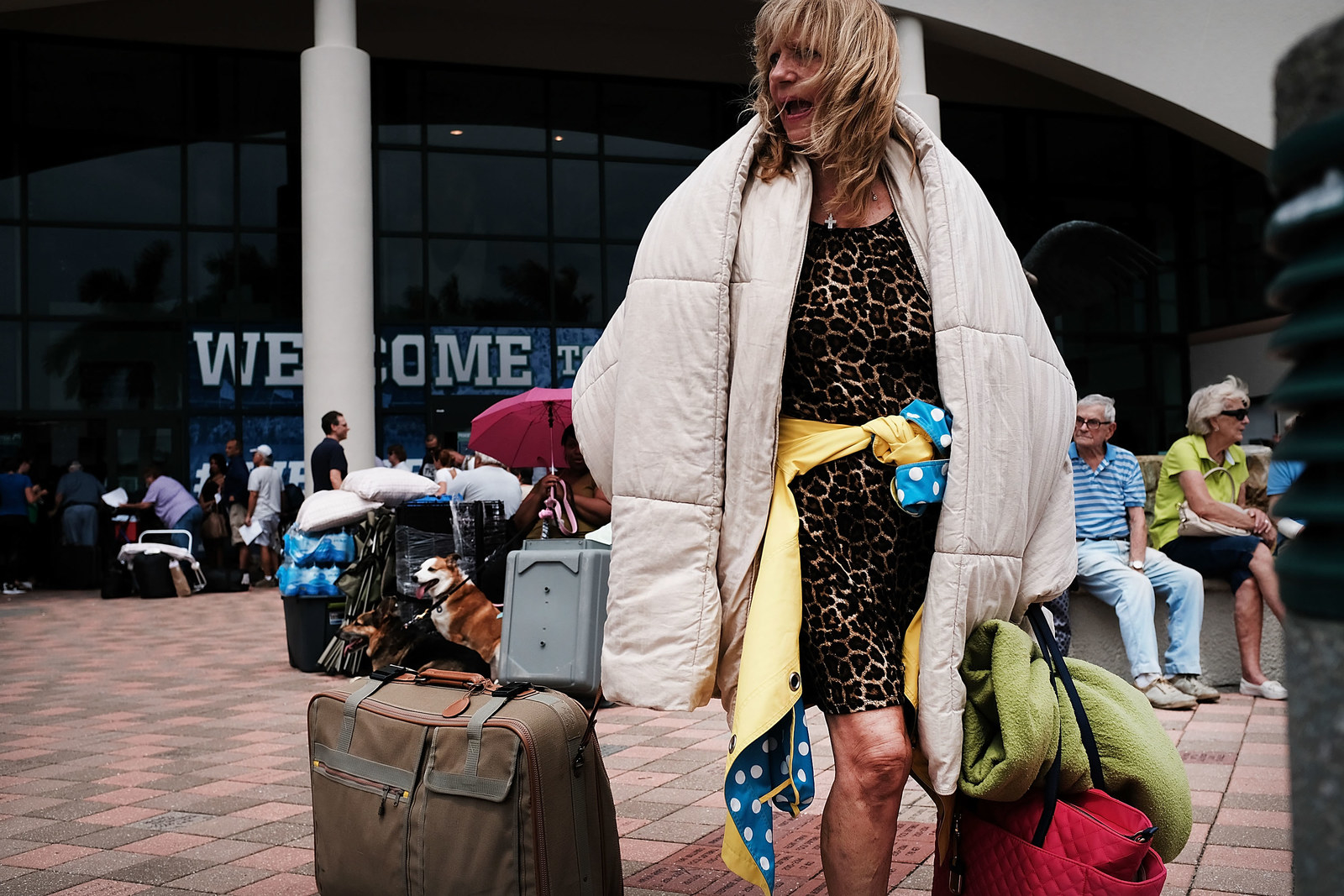 Francis Ryan, a 69-year-old retiree who lives in Naples, told BuzzFeed News that he was waiting out Irma in his condo.
Ryan said that he's one of the few people left in his complex.
"If it's going to hit, it's going to hit here," he said of Irma's western turn.
Ryan said that it's too late now to evacuate, and that if he wanted to he should have done it "a week ago."
"Right now, there's barely any gas in this part of Florida," he said. "You know — Florida's a big state."
Another Naples resident, Vanessa Medina, expressed frustrations to BuzzFeed News over her parents' decision for their family to stay in the area during the storm.
Medina said she was already nervous at the early news of Hurricane Irma being a Category 5 storm before reports said the storm was now headed in her direction.
To prepare, her family has put up plywood and shutters as well as sandbags on their garage door in case of flooding. Their house is 6 or 7 feet above sea level, she said, but still Medina is very worried about the rest of her neighborhood.
While most of her friends have fled Naples, her house currently is holding 27 people through the storm, she said.
Bill Fassold, a spokesperson for Collier County, which includes Naples, told BuzzFeed News Saturday evening that shelters were packed.
"Most of the shelters are at capacity, if not all of them," he said around 5 p.m. ET.
Fassold said that around 25 shelters were filled with over 15,000 people and that the county may try to open up some last-minute shelters.
These additional shelters will be "minimally staffed," Fassold said, and evacuees will have to bring their own supplies. Pets will not be allowed.
Peter Gooden, a 48-year-old taxi driver who lives in Lehigh Acres outside Fort Myers, told BuzzFeed News that he has helped "at least 15 families" to evacuate since Friday. He was still driving his cab on Saturday afternoon.
"Whether it's a hurricane, or any other day of the week, this is what I do," he said.
Erin Connors said Saturday that she was leaving her house in Fort Myers "as soon as humanly possible."
Connors said that she had planned to evacuate before news of the western path, but that when she heard of it she had "a bit of a panic attack."
"It's scary," she said, citing her concern that some homes in her neighborhood have not been boarded up.
Timothy Engstrom, communications specialist for the Lee County Emergency Operations Center, told BuzzFeed News that those still in their homes must act with haste.
"People who do not feel safe in their homes should head inland to friends and family or to shelters that still have capacity," he said. "But they must do so quickly."
Emergency response officials are preparing to deal with the massive storm's aftermath.
Fort Myers Fire Department Chief John Caulfield urged emergency response teams to take care of themselves as they deal with Irma's western impact.
"We're double and triple shifting our firefighters and police officers [and nurses]," Caulfield told CNN. "So we had warned them and discussed this, that you need to take care of your families, and then it's time to get to work for the public safety — but ensure your own family's safety first."
Bob Buckhorn, the Mayor of Tampa, acknowledged Irma's approaching impact in a somber statement. "We know we are ground zero for this storm," he said on Sunday morning.
"We have avoided it for 90 years but our time has come to be ready."