An Instagram account featuring a brash character played by a little girl — who is apparently being coached and managed by other people, though it's unclear who — was suddenly wiped clean in June, but has recently been loaded up with disturbing content that has enabled a torrent of abuse against her.
When BuzzFeed News asked Instagram officials about Lil Tay's account — which has amassed 2.5 million followers — the social media giant said it had nothing to say.
"We're not commenting on this," a spokesperson told BuzzFeed News, when asked about the abuse and if the account would be taken down.
Instagram, the Atlantic reported in October, is filled with rampant harassment and bullying. The abuse is particularly prevalent among teenagers who bully each other in ways both blatant and subtle. "I've had at least 10 hate pages made about me," one teen, 15-year-old Annie, told the magazine. Instagram employees who spoke to the Atlantic said that combating harassment isn't prioritized. "Generally, what you'll find is a lot of these efforts on harassment or bullying, or there's a new feature to track how much time you spend — they're mostly done for PR," a current employee at the platform told the outlet.
Lil Tay's account grew its following because of videos where she pretty much acts like an asshole.
The child, who is originally from Canada but at least temporarily lived in Los Angeles during her meteoric rise in popularity, would say the word "bitch" a lot, wave around wads of cash in fancy cars, and sometimes say the n-word.
Then, in June, it was all suddenly gone, scrubbed for a "rebrand," the family spokesperson said. The account has remained relatively quiet since September.

The account reemerged last weekend with a series of bizarre images and videos that made serious allegations against her alleged birth father, Christopher Hope.

The accusations ranged from claims about his marriage to allegations of abuse against Lil Tay. "Christopher Hope was naked in front of Tay quite often," one post read.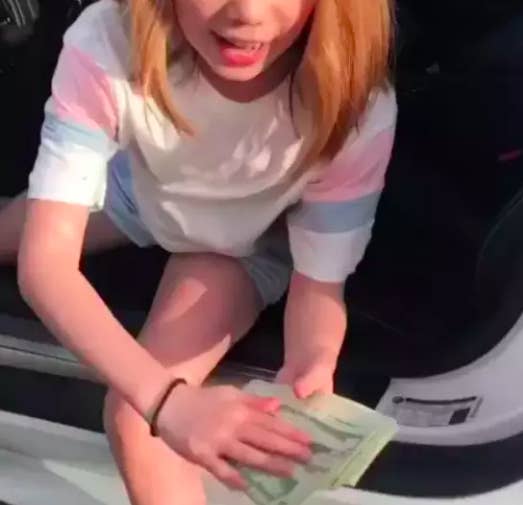 Hope didn't respond directly to questions about the allegations. Chris Jones, who Hope said is working as his daughter's temporary manager, responded to the allegations about Hope by saying, "My response is the account is hacked still and authorities have been notified and Lil Tay is focused on music and her comeback."
The vitriol came quickly in the comments of the new posts:
"hopefully he will beat some since [sic] into her"

"why tf u still alive"

"Just stfu u Chinese fuck. Go eat some fucking dog"
A video posted over the weekend of Lil Tay crying was viewed more than 2 million times. It was removed, before reappearing on Friday. Another video of the little girl crying was posted early Friday and accumulated more than 600,000 views by the afternoon.
Hope, the attorney in Canada who claims to be Lil Tay's father, told BuzzFeed News in an email that he sent a "cease and desist letter" to Instagram on Monday.
BuzzFeed News has been unable to confirm with Lil Tay or her mother, Angela Tian, that Hope is indeed her father. The number BuzzFeed News once used to speak to Tian has been disconnected. Hope and the temporary manager provided family photos of him with the young girl at various stages of her life as proof.
In the letter to Instagram, Hope said he asked for the account to be suspended "until resolution of the issues surrounding its use by the courts here in British Columbia."
It included a file number related to an apparent Royal Canadian Mounted Police Burnaby detachment investigation. The "Lil Tay" account shared a separate apparent case number over the weekend. Authorities declined a BuzzFeed News request to review these alleged cases, saying: "The RCMP, which is guided by the federal Privacy Act, does not disclose personal information where there is a child involved."
On Friday, Hope told BuzzFeed News: "I have followed up with the RCMP in Canada and I have reached out to the FBI in California concerning these ongoing cyber crimes." BuzzFeed News has reached out to both agencies for comment.
It's unclear who is currently running the Lil Tay account.
An unnamed person who responded after BuzzFeed News reached out to the registered email for her Instagram account said, "Lil Tay's Instagram account was recently hacked by someone who we are still unable to identify at the moment as several people who were attempting to sign Tay had access to the account within the past few months." The person added the girl was being well cared for.
Tian, her mother, previously told BuzzFeed News that her daughter's teenage brother, Jason Tian, was the main person driving her internet presence.
"He is the one, only one [who] did an excellent job for her, he guided her, did everything for her without anybody else involved," she wrote in a text.
Hope said in the letter that the girl's teenage brother, Jason, "had taken over" the account. "He has either personally, or encouraged others, or negligently allowed the account to be used by third parties, to conduct criminal extortion and harassment as well as the torts of defamation and libel," the letter read.
Jason couldn't be reached for comment. One of several Instagram accounts claiming to be Jason — none of them verified — responded and said he is not running the account. The user didn't offer proof that he is who he says he is.
"I'm not currently in control of Lil Tays Instagram account," the person responded. "Various people, her 'management' included have had access to her account and it could be a number of people posting." He added anyone claiming to be her management is "slandering my mother and I."

Users have to be 13 to have an account on the platform, and it's unclear how old Lil Tay is. Her age was noted as 11 in Hope's letter to Instagram, although it was widely reported that she is 9.
In a possibly doctored passport photo posted to the account in September, her age was listed as 16, which would make her old enough, per Instagram's terms of service, to run the account herself.