During warmups before their game against the New York Jets on Sunday, several Miami Dolphins players wore "IMWITHKAP" t-shirts. Here's running back Jay Ajayi.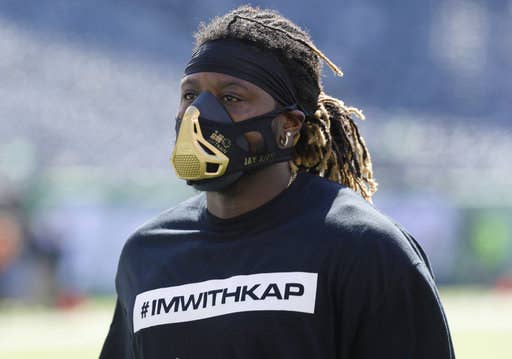 The gesture of support for the former 49ers quarterback, Colin Kaepernick, follows Trump's remarks on Friday saying NFL owners should fire players who don't stand for the national anthem. The comment appeared to reference Kaepernick who repeatedly did not stand during the national anthem in protest.
"Wouldn't you love to see one of these NFL owners," Trump said on Friday, "when somebody disrespects our flag, to say, 'Get that son of a bitch off the field right now, out. He's fired. He's fired!'"
"I am not going to stand up to show pride in a flag for a country that oppresses black people and people of color," Kaepernick said last August. "In case you didn't know," Kenny Stills, wide receiver for the Miami Dolphins tweeted on Sunday.
Kaepernick retweeted a number of photos showing the Miami Dolphin's players in the "#IMWITHKAP" shirts, including this one.