Following the mass shooting at Santa Fe High School in Texas, students have been tweeting about the things they will miss out on if they die in school.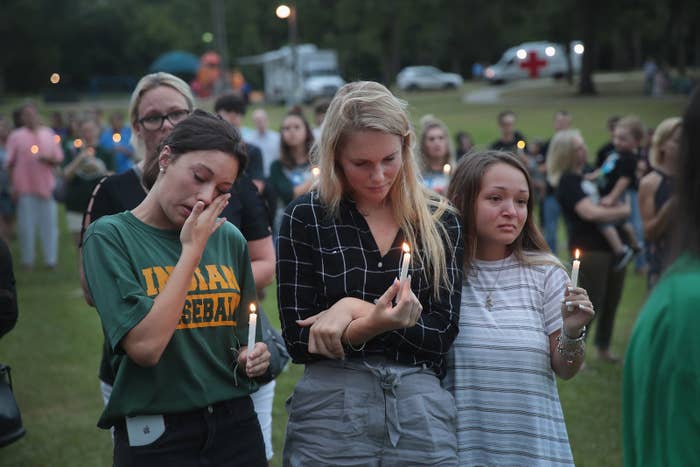 Ten people were killed in the most recent mass shooting in the US — eight students and two teachers.
A Santa Fe high school student named Paige said she wasn't surprised by the shooting, telling a local outlet that she "always felt like eventually, it was going to happen here too."
The massacre occurred days after the three-month anniversary of the mass shooting at Marjory Stoneman Douglas High School that left 17 people dead.
Over the weekend, under the hashtag #IfIDieInASchoolShooting, students listed teenage milestones they'd miss out on if they were to die in school, like prom and turning 16.
Students also shared instructions for where they want their bodies to go.
Andrew Schneidawind, an 18-year-old college sophomore, told BuzzFeed News that he started the hashtag.
"I'll be taking these tweets and sending them to Paul Ryan through letters, and to all the politicians who take money from the NRA," he said.
Here's some of what students said they would miss out on, like studying subjects like "astrophysics."
This student thought of missing out on a "sweet 16" and publishing a book.
"I'll never fall in love for real."
"Buy a car."
Others thought of their families.
This person thought of her little sister. "She will go through middle and high school without her big sister to give her advice and occasional rides," she wrote.
This person thought of her mom. "Her only child would be dead," Quinn Wallace, who is 15, wrote on Twitter. Quinn added to BuzzFeed News that she would also "Never get to see the day that there is an end to school shooting[s]."
"It was important for the public to see that the youth of today don't just live in fear of a school shooting, but also are now thinking about their own mortality," Lane Murdock, 16, told BuzzFeed News of why she participated in the hashtag.
Teachers, or soon to be teachers, participated too, like Emily Paul, 20, who is an elementary education major at the University of Northern Iowa.
"So what I, and a lot of my other friends who are becoming all sorts of different teachers at my school are feeling, is not only the pressure of a potential shooting in our own classrooms as current students, but later on as teachers," Paul said.
"The difference between us and others is they will leave the classroom and the schools, while we will be in them rest of our lives. So it's a very weird concept because we are scared in two different ways as teachers in training."
Students also tweeted requests related to their bodies. This teenager wants hers "thrown on the steps of the Capitol building."
A 16-year-old named named Jordan Joseph, when asked if she had anything to add to her tweet, told BuzzFeed News: "If I died in a school shooting I would want my body delivered to Paul Ryan with a price tag on it."
This person requested to be placed "in the parking lot of the NRA."
The White House.
Student-activist Emma González tweeted that she'd get to see her friend Carmen Schentrup again, who died in the mass shooting at Marjory Stoneman Douglas High School.
And 17-year-old student activist Zion Kelly, whose twin brother, Zaire, died during an armed robbery, said that if he dies in a school shooting, he wants to be buried "right next to" him.