This is North Farmington High School in the suburbs of Detroit, Michigan. The school has a tradition where every year the seniors pose for some wacky student ID photos.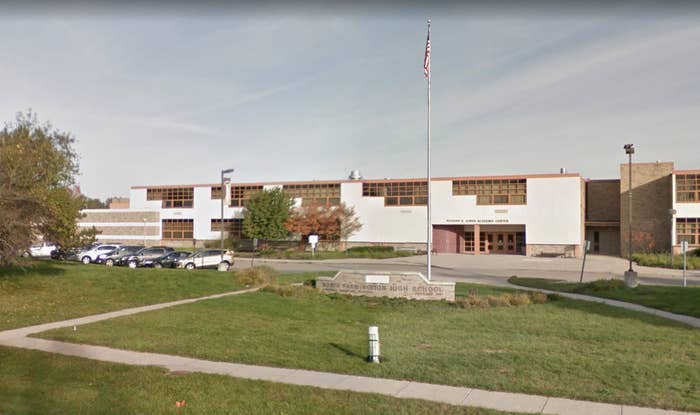 This year, a bunch of their ID pics have gone massively viral. The reason? They're absolutely incredible.
Take this one of 17-year-old Gabriela Sgambati, the senior class president:
"It's a great way to kickoff senior year," Sgambati told BuzzFeed News of the tradition.
Sgambati said she picked out her costume well before picture day on Thursday.
"I actually planned mine over the summer. I know a few friends who planned over the summer," she said. "We all get ideas from last year's class; it's a big thing."
Another senior, 17-year-old Mara Gordon, said that she had been excited for her senior year ID pic "ever since [she] was a freshman." Her tweet also went viral.
"This year we really stepped it up and got every single person involved," she told BuzzFeed News.
"I had to make sure it was perfect so I bought the costume pieces and practiced my face in the mirror for days!" she said.
"Everyone at my school tells me I have the biggest cheeks ever and I'm also only five-feet tall, so I decided to find a little kid that was famous for something funny," 17-year-old Abby Coleman said of what inspired her student ID.
All of the photos were spot-on. Check out 17-year-old Shelby Sheridan embodying Cher from Clueless during this iconic moment. "At North Farmington high school usually the seniors do a fun ID, but this year it really blew up," she told BuzzFeed News.
Because all of the IDs are seriously amazing, here's a TON of photos that were posted under the hashtag:
After photos of the IDs went viral, lots of people had a revelation.
TWO Halloweens?
The perfect IDs made this person emotional.
NOT FAIR.
North Farmington High School...
...you're doing amazing, sweetie!