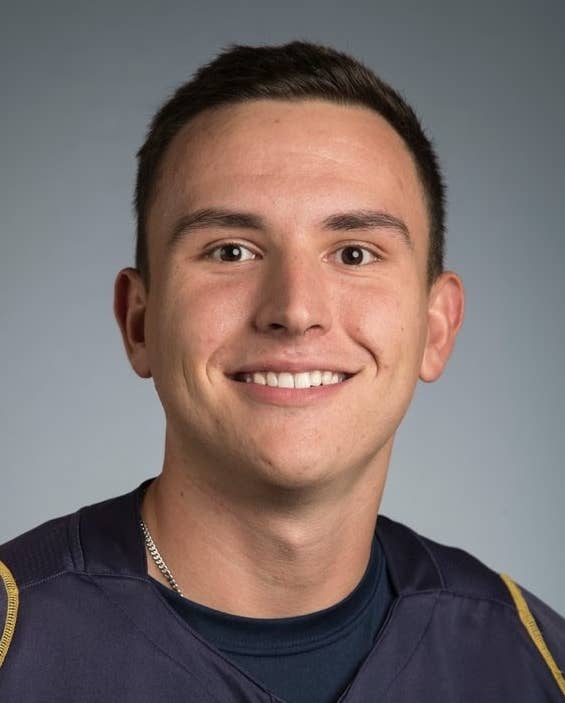 Andrew Sipowicz was walking out to his car Monday night near his Buffalo, New York, home when he discovered the front of his red Ford Mustang had been badly damaged.
"I was like, 'You gotta be kidding,'" the 21-year-old said.

Sipowicz, a senior at Canisius College, told BuzzFeed News that he was "kind of in a panic" after seeing the front of his car crumpled from an apparent hit-and-run.

"And that's when I saw the note," he said.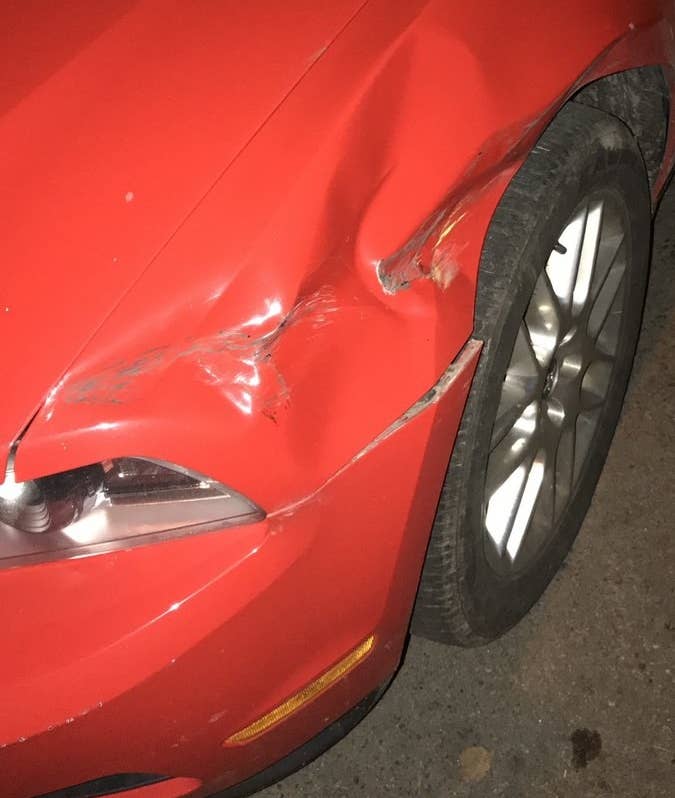 That handwritten note included an artistic rendition of the bus that hit his car, complete with the faces of apparently screaming children in the backseat.

The sixth-grader who purportedly penned the letter described what happened to his car in detail, using bullet points to offer the owner a full breakdown of the events that transpired. Finding the note "eased [his] mood."

"I thought it was funny," he said, pointing to the young student's attention to detail.

"She made a dent and I saw what happened," the student said of the Buffalo Public Schools bus driver. "She hit and run."

"Sorry," another bullet point reads.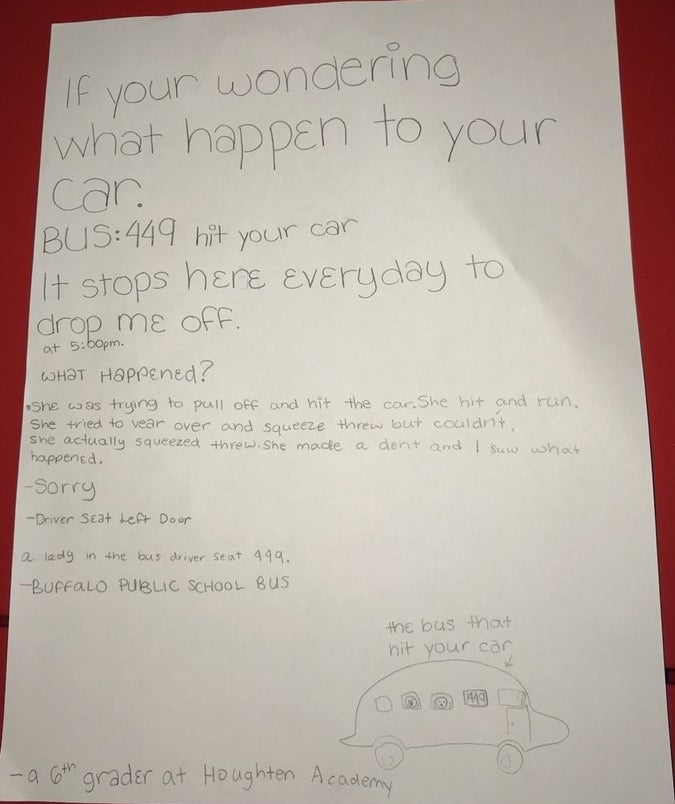 Relieved to have found the note, Sipowicz posted a picture of his damaged car and the notice on Twitter Tuesday afternoon.

"Shoutout to the anonymous 6th grader for saving me a couple thousand (Bus not drawn to scale)," the college student wrote.

Sipowicz said that his favorite part of the drawing was the children in the backseat — something people on Twitter focused on too.

"Dammnnn this mf picasso👀🙌🏼," one person said.
"Maybe there's more to this story," someone joked.
Another person speculated about the child's future profession.
Hm.
Reached for comment, Buffalo Public Schools directed BuzzFeed News to First Student, which it said owns the buses and employs the drivers.

In a statement, the bus company said that it had met with Sipowicz to initiate an "insurance process" and stated that it will "cover the full cost of the repair."
"The actions of our former driver are completely contrary to First Student's training and what we stand for as a company," the company said. "We have initiated the process to terminate the driver."
As for the sixth-grader, Sipowicz said that a teacher at the student's school recognized the handwriting. He is hoping to set up a meeting and reward the kid.

The bus company, too, thanked the student in its statement to BuzzFeed News.

"We would be remiss if we didn't mention that we are very impressed by this exceptional sixth grader," First Student said.

"We commend her for her actions."