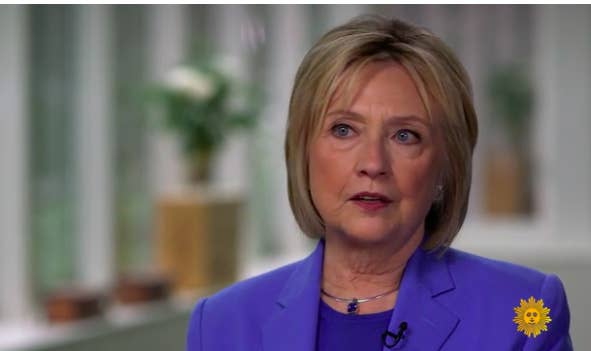 In an interview with CBS Sunday Morning, Hillary Clinton said that Bill Clinton's affair with Monica Lewinsky, a White House intern in her twenties, was not an abuse of power, and that her husband was right to have not resigned.

"In retrospect, do you think Bill should've resigned in the wake of the Monica Lewinsky scandal?" CBS correspondent Tony Dokoupil asked Clinton.

"Absolutely not," the former first lady and secretary of state responded.
"It wasn't an abuse of power?" Dokoupil asked.
"No, no," she said.
Clinton in turn shifted the conversation to President Donald Trump and the accusations of sexual assault and misconduct that he has faced.
"There are people who look at the incidents of the '90s and they say, 'A president of the United States cannot have a consensual relationship with an intern; the power imbalance is too great,'" Dokoupil said.

Clinton responded that Lewinsky "was an adult" and added: "But let me ask you this: Where's the investigation of the current incumbent, against whom numerous allegations have been made and which he dismisses, denies, and ridicules?"
"There are even some people who feel my White House experiences don't have a place in this movement, as what transpired between Bill Clinton and myself was not sexual assault," Monica Lewinsky wrote in Vanity Fair in March, referencing the #MeToo movement, "although we now recognize that it constituted a gross abuse of power."